Families tackling Take It Outside Challenge to bond … and win!
3/1/2023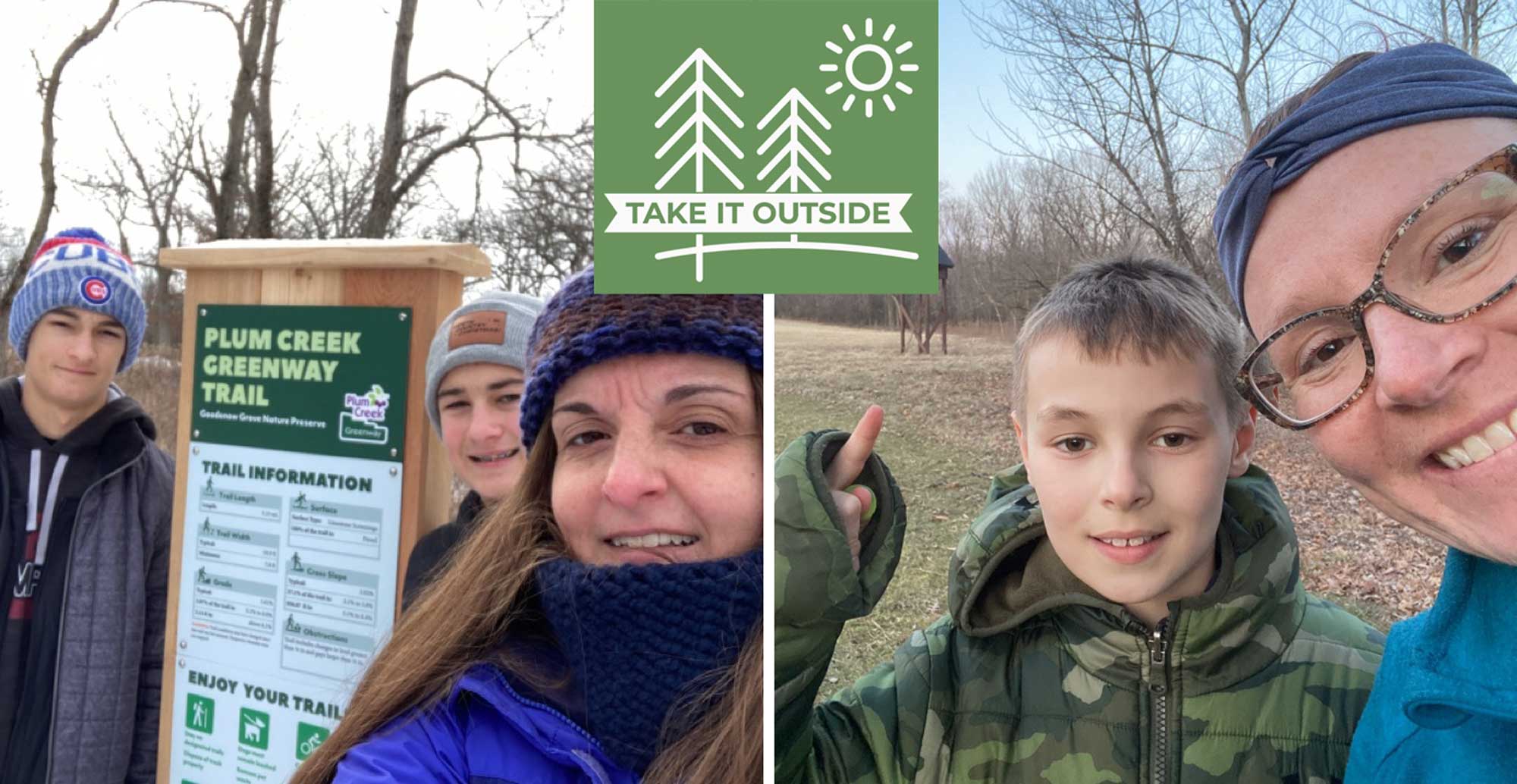 Families that are tackling the Forest Preserve District's yearlong Take It Outside Challenge together say it is firing up their competitive spirit and boosting bonding time.
"We are all very competitive and we do a lot of hiking anyway, ... so the year-long Take It Outside Challenge, with so many different missions, is perfect for us," participant Amy Bartling of Monee said in an email.
The Bartlings are among the many families who are finding the Take It Outside Challenge a fun way to recreate in nature.
To take part in the challenge, participants use the free Goosechase app on their phones to complete missions, earn points and monitor their standings on the leaderboard. Five random winners are picked each month to receive T-shirts and other prizes. Overall competition winners will receive $500, $250 and $150 gift cards for first, second and third place finishes, respectively, when the challenge concludes on Dec. 31. Participants should read the rules before joining the challenge.
So far, more than 800 people have signed up for the Take It Outside Challenge and they've completed more than 11,000 missions. This yearlong challenge is part of a larger "Take It Outside Campaign" that is designed to help people enjoy the mental and physical benefits of being outside.
Learning a lot
Amy Bartling said she shares a Goosechase account with her 10-year-old Zoey because her daughter doesn't have her own phone yet.
"She loves doing the mission check-ins and answering the trivia questions," Amy said. "She reads the articles linked with the trivia questions and is learning a lot about the preserves and wildlife."
So far, the Bartlings' favorite outings have been to hike the boardwalk at Thorn Creek Woods Nature Preserve, sled the big hill at Goodenow Grove Nature Preserve and visit the Blanding's turtles at Isle a la Cache Museum.
"Zoey really likes the missions where you have to find and take pictures of things like animal tracks and the beaver chew," Amy added.
In addition to Zoey, Amy is completing missions along with her husband, Matt, and their 13-year-old son, Logan. Their 16-year-old son, Ryne, competes with the family when he has time. The family also works on missions with Amy's sister, Vicki, and her husband, Jason Ciesielski, and their 1-year-old daughter, Amber, of Dyer, Ind.
"We complete missions with them whenever we can, while also trying to stay ahead of them on the leaderboard," Amy said. "We are having a great time so far and hope to complete every mission by the end!"
A fun way to explore
Jennifer Black of Frankfort said she is competing in the challenge because she loves being outdoors and hiking.
"My husband, Jeff, and I were born and raised in rural Wisconsin where natural resources and protecting the environment were the way of life," she said in an email.
Jennifer said as a child she played in the woods with her siblings, and her husband, who grew up on the shores of Lake Michigan, spent time swimming, kayaking and fishing. Prior to living in Frankfort, the couple lived in Idaho where they enjoyed visiting national parks with their sons, Aiden and Liam.
"We decided to partake in the Take It Outside Challenge for more opportunities to enjoy Mother Nature closer to home," she said. "We love exploring new places and seeing a variety of wildlife. We hope to pass our respect and admiration for the environment on to our children. This challenge has given us a fun way to explore many of the different places in Will County."
Funding for this campaign is provided by The Nature Foundation of Will County.
Haven't joined in the challenge yet? What are you waiting for?! There's plenty of missions to choose from and you have until the end of the year to check out all that the Will County forest preserves have to offer as part of these fun activities. Don't miss out!
To get started, participants can download the free Goosechase app on their smartphones. After downloading the app, use join code 6DW83B or search for "The Take It Outside Challenge," and create a profile.