Preserves We Love: A connected group along the DuPage River Trail
5/16/2023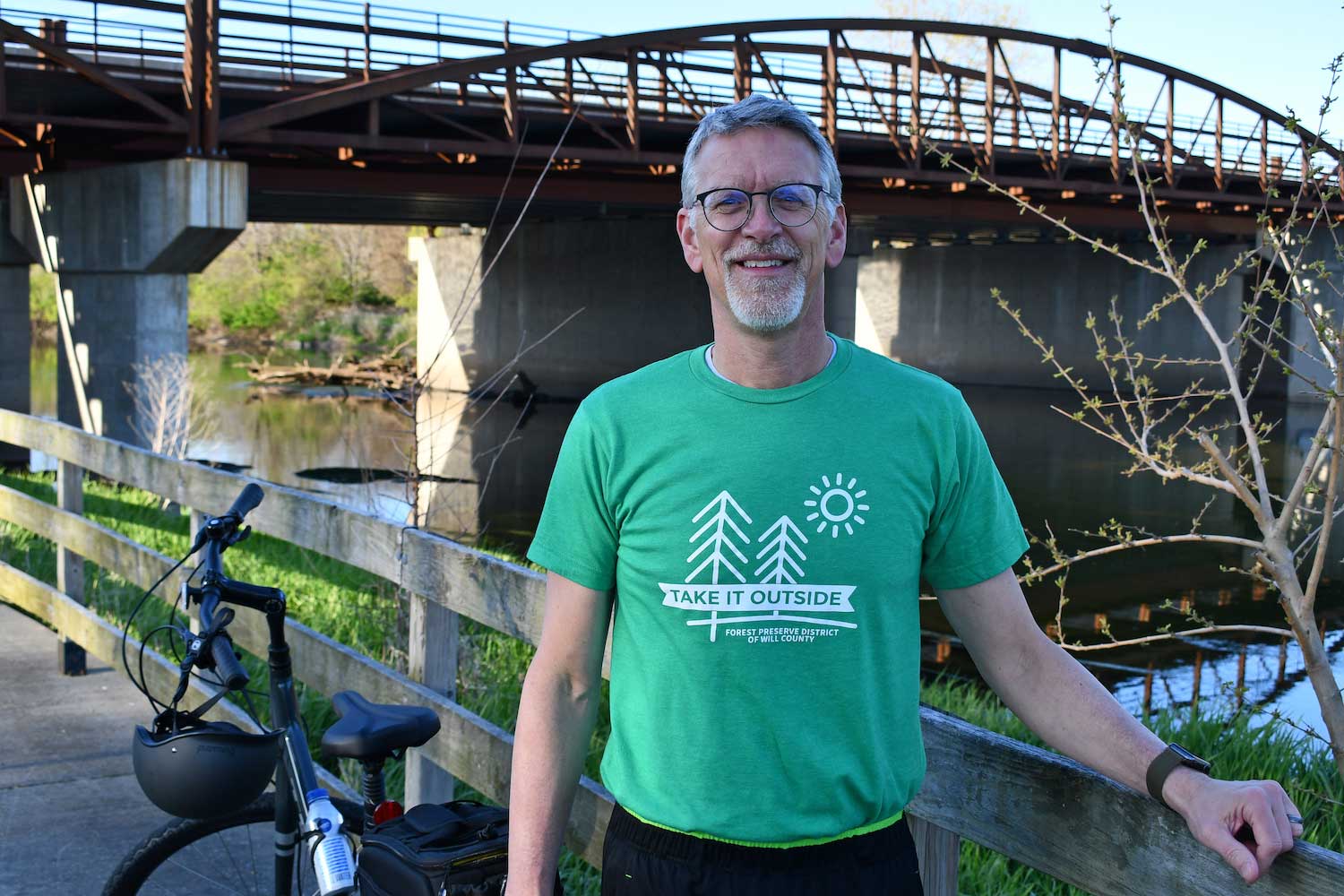 About this series: The Will County forest preserves mean many things to many people, including Forest Preserve District staff. Some of us enjoy the peace and tranquility of a particular preserve, while others among us enjoy the bustling feel of some of our more well-traveled trails. For some, the work we've done in the preserves is meaningful and fulfilling. "Preserves We Love" allows Forest Preserve staff to expound on their favorite preserve and why it's special to them. In this edition, Executive Director Ralph Schultz tells us why he loves the DuPage River Trail.
When asked about my favorite preserve, if I'm being honest, my answer is I don't have one. In my current line of work, I've learned not to pick favorites. And in reality, each of our forest preserves has unique aspects I've come to appreciate over the years. The time of day, the season of the year and my mode of being (sitting, standing, walking or riding) all affect how I feel and see my surroundings. Spring in a woodland, summer in a prairie, autumn just about anywhere and a winter hike exploring the structure of the natural landscape are all fulfilling, inspiring and refreshing. Another thing I enjoy is seeing other people actively engaged with their forest preserves doing some of the things I do and others I find equally intriguing — reading, writing, bird watching, photography, sharing conversations with others or just "being".
But the goal for this assignment was to pick a favorite. For the reason I stated above, I'm going to bend the rule and not pick just one but an interconnected group that is close to home and accessible by foot — even more so on my bicycle and easily in my car. I'm choosing the forest preserves and other open spaces along the DuPage River. While we're working with partners to slowly and methodically connect the spaces within the DuPage River Trail greenway, the fact that nature already did this thousands of years ago is sometimes lost. In Will County, our preserves and protected spaces along the greenway through Bolingbrook, Naperville, Plainfield, Joliet, Shorewood, Minooka and Channahon offer me endless opportunities to explore our natural and cultural history, get some exercise and enjoy the mental and spiritual benefits of being outside and interacting with nature. More than 25 years ago, Trish and I chose to plant our family smack in the middle of it all.
I can see the DuPage River from my kitchen window, step onto the DuPage River Trail from my backyard and be in Hammel Woods in 15 minutes on foot or five on my bike. I enjoy being outside, and my morning routine includes a challenge to myself to log 5 miles on foot. Pretty much half the year that is spent on the streets and sidewalks of the subdivisions and neighborhoods between Caton Farm and Black roads, but when spring unfolds, summer blooms and autumn approaches, I'll be headed to Hammel Woods at a brisk pace on the trail, admiring the sunrise, the changing landscape, wildlife encounters and others I might happen to pass along the way.
So whether I stop to take a quick peek at Hidden Oaks Preserve, ponder the geologic scale of the DuPage River as I drive down the bluff into Whalon Lake, sit on the porch of the Thomas Clow House at Riverview Farmstead Preserve, get a bit winded on the trail headed up from Grinton Grove in Hammel Woods, people watch as I walk the loop trail at Lake Chaminwood Preserve alongside the I&M Canal or check in to see the changes at Four Rivers Environmental Education Center in McKinley Woods, I'm having a great time in one of my favorite preserves.