Here We Go Again: Another Bird Killed by Fishing Line in the Preserves
7/21/2020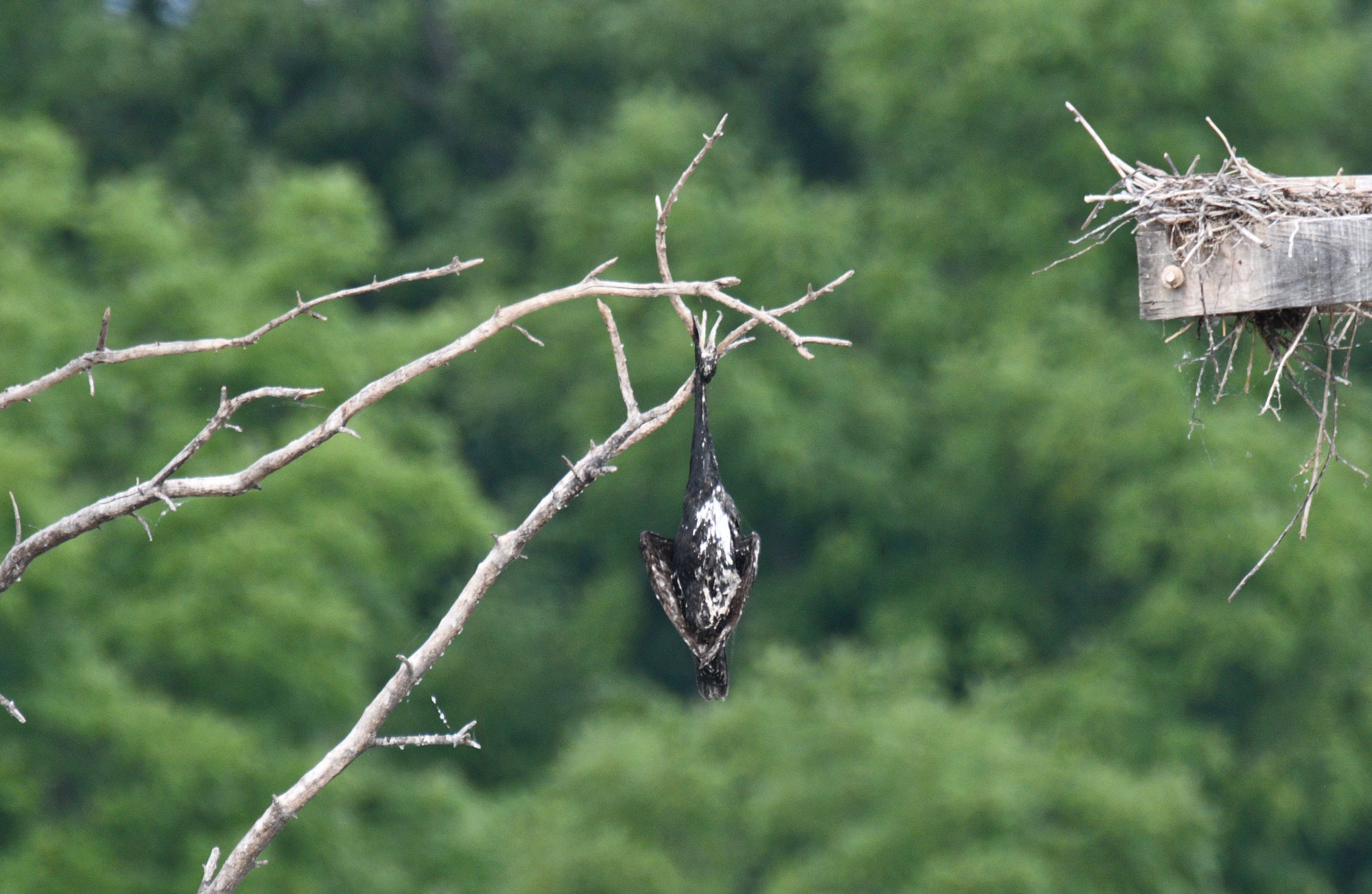 It's becoming an all too common occurence in the preserves, seeing dead birds hanging from trees after getting tangled up in fishing line.
The latest instance of human carelessness on display comes to us from Lake Renwick Heron Rookery Nature Preserve in Plainfield, where on Tuesday morning, District employees spotted a double-crested cormorant hanging by its neck near the nesting platforms.
It's another grim reminder of the importance of properly disposing of fishing line. Failing to do so will continue to be a death sentence for wildlife.
At this time of year, the Heron Rookery access point is closed to protect the great blue herons, great egrets, black-crowned night herons and double-crested cormorants during their nesting season. Keeping the preserve closed allows them to carry on their nesting activities — which take place both on the platforms and in other areas of this access point — without human interference.
That's partly what makes this scene even more heartbreaking. The preserve is closed in order to protect the birds, but yet one still died because someone couldn't do the right thing when it comes to their fishing line.
It's important to note that fishing isn't allowed at the Heron Rookery access point, and the line could have gotten in there any number of ways. Whether it was from someone illegally fishing here or fishing in an area where it was legal, the bottom line is still the same. Human carelessness killed this bird.
It was just a few weeks ago when we were able to help a Canada goose at Monee Reservoir that had a hook through its leg with fishing line wrapped completely around it.
But not all birds are as lucky. For example:
In March 2018, a pelican was found tangled in fishing line at McKinley Woods - Kerry Sheridan Grove. It was rescued but later had to be euthanized because its injuries were too severe.
Just a month later, an egret was found dead, tangled in fishing line, hanging from a tree at Lake Renwick.
In May 2019, a robin became entangled in fishing line at Isle a la Cache preserve and died.
And in March of this year, a dead great blue heron was found hanging from a tree at Rock Run Rookery Rookery Preserve.
Just a few months later, a robin was found hanging from a tree at Monee Reservoir.
Those are only the ones we've seen first-hand because they've been close to a trail and in plain view. With more than 22,000 acres of open space in the preserves, there are undoubtedly many more birds losing their lives because of carelessly discarded fishing line.
We routinely see — and remove — line strewn about on the ground, caught in trees, etc. If you're one of those people who gets your line stuck in a tree when casting, you need to find a better spot to cast. Or maybe just stop fishing altogether.
According to the Chicago Audubon, thousands of animals are killed each year after becoming entangled in man-made materials.
The group has tips for preventing these kinds of animal injuries and fatalities:
Always cut fishing line into pieces less than 6 inches long.
Dispose of it, along with hooks and tackle, in appropriate covered containers so it does not become a risk to wildlife.
Volunteer your time to clean up fishing line debris at local ponds, lakes or beaches.
Support the use of biodegradable fishing line that does not have an indefinite life span in the environment.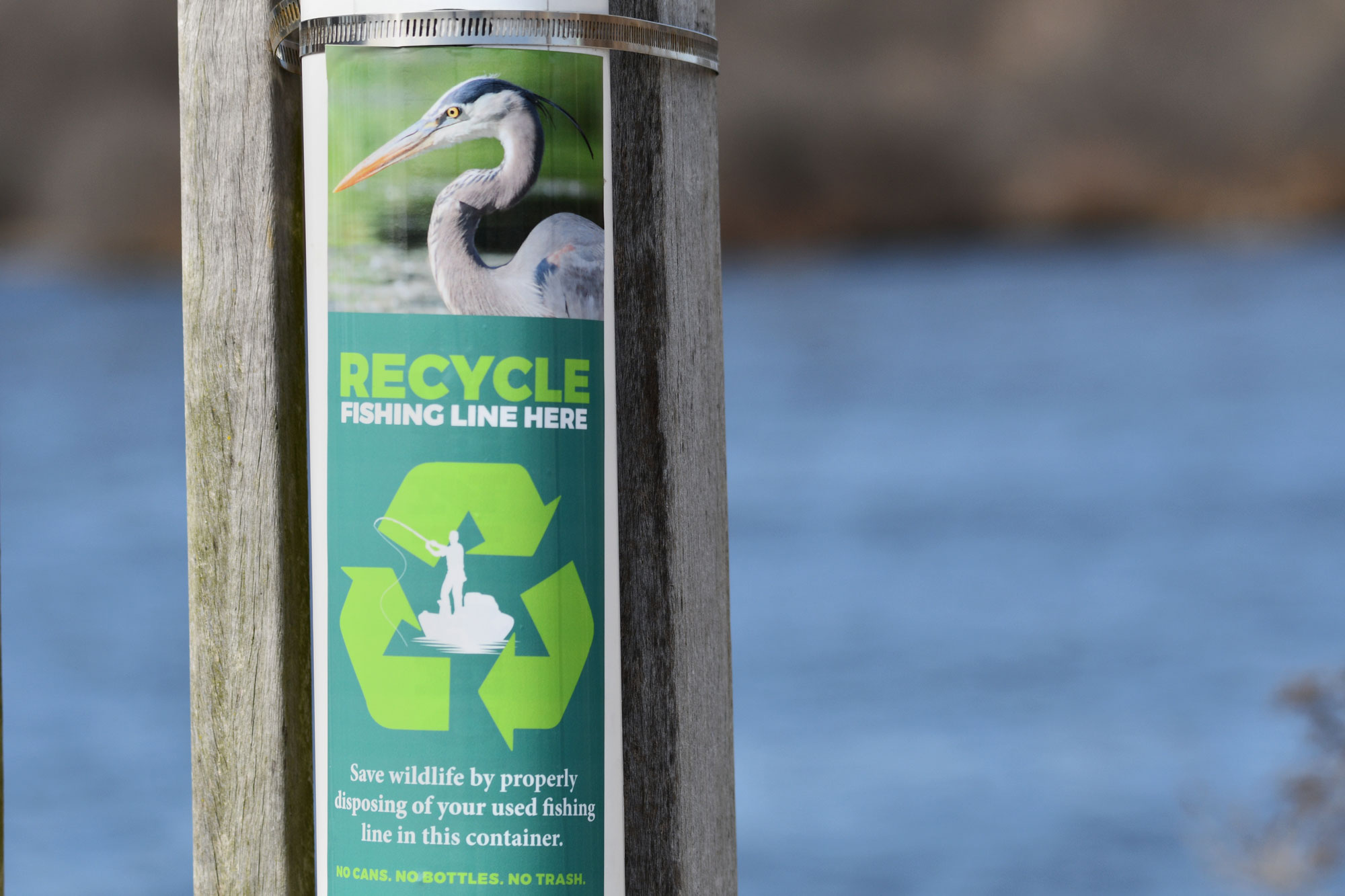 The Forest Preserve has receptacles to dispose of fishing line at all of its main fishing sites. Choosing to use them is truly a matter of life and death for the animals that call our forest preserves home.
The health and safety of wildlife in the preserves is an important issue and with warmer weather when more people flock to the local waterways, we urge everyone to act in a responsible manner and think about how your actions impact everyone, including wildlife.
_______________
Stay up-to-date on the happenings in Will County's forest preserves by subscribing to The Citizen, our weekly digital newsletter that provides subscribers with updates on Forest Preserve news, upcoming events, and other fun and useful information for the whole family. If you're only interested in programs, subscribe to The Weekly Five, which outlines the five must-do programs each week. Signing up for either newsletter is easy and free of charge.