Meet a Naturalist: Bob Bryerton, a naturalist from his earliest days
8/28/2023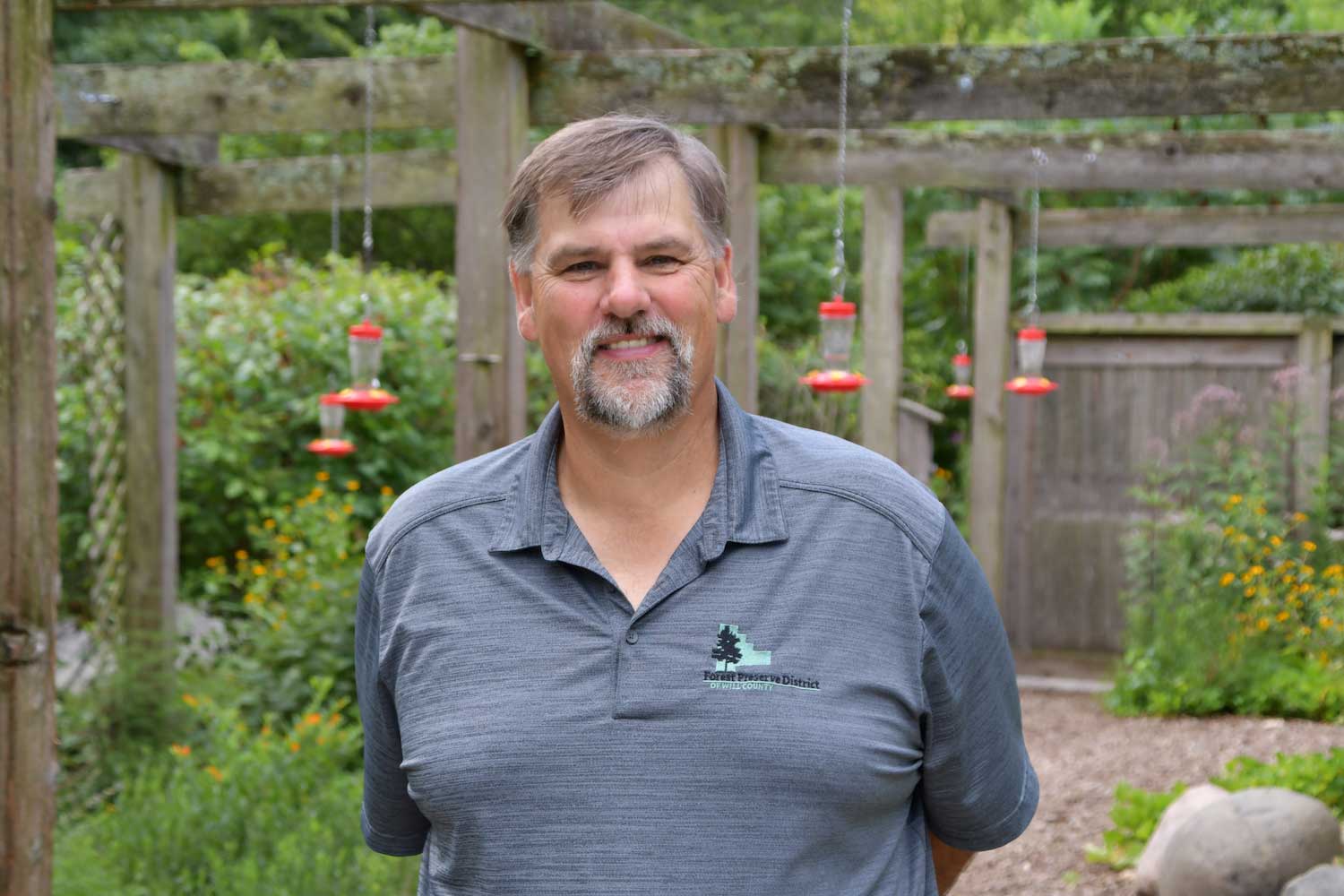 Bob Bryerton has worked as a naturalist for most of his adult life, but his time as an interpreter began long before that.
"To some degree, I've been doing this since I was 8 years old," said Bryerton, who works as a program coordinator at Plum Creek Nature Center and Monee Reservoir. "I've been doing interpretation since I was really, really young."
His interest in nature as a kid focused on the things he would encounter where he grew up outside Chicago. He loved snakes, frogs, toads and the like, and when people had questions about them, he found he often had answers.
Today, he loves being able to provide the answers when kids and other visitors make a new discovery in nature and want to know more. It's the best part of the job, he said.
"Sometimes on field trips we can't even get all the kids off the bus before they find things — bugs, spiders — that they want to inspect and know more about," he said. "For some kids, it's so new. All they want to do is look at this little bug."
One of the most popular education programs at Plum Creek is a wetland field trip. The kids get to take a trip to Snapper Pond, and it never disappoints.
"At the pond, we're always going to find some critters," he said. "It's awesome. Even though it's stuff that we wouldn't get excited about, it fires them up. It starts to get them exploring and looking and learning."
For some kids, and even some adults who haven't spent a lot of time exploring in nature, it sometimes takes awhile to get comfortable with new experiences. He said he recently hosted a dragonfly program for kids, and when he started dipping into the water and muck to see what they could find, everyone stood back and watched but no one wanted to join him in digging for critters.
"By the end, though, all the kids were in there doing it," he said.
Creating a comfortable environment for exploring nature is one of his goals. "What we try to do here is make the experience as pleasant as possible," he said.
As an interpretive naturalist, he looks for those spots where people can be immersed in nature in a safe, comfortable way. "If your introduction isn't negative, then you're more likely to go out and do it again," he said. "We want to have the introduction be as safe and as friendly as possible and then find things that they are interested in, for little kids especially."
Frequent visitors to Plum Creek Nature Center and those who have participated in the bird hikes offered as part of the Forest Preserve's public programs have probably come to know Bryerton as an avid birder, but that hasn't always been the case.
His earliest interest was reptiles, and he started getting into birds when he worked at a nature preserve in nearby Lake County, Indiana. He discovered he had a knack for bird identification, and his supervisor told him he was good at teaching people about birds and other wildlife.
"I learned birds from my mentor in Hammond, but I wasn't a hard-core birder at that point. I knew birds, I enjoyed birds, but I never recorded anything," he said. "It was more of an appreciation."
Technological advances, like the advent of eBird and other birding apps, have made it easier to record his observations, which he appreciates and takes advantage of. That has allowed his interest in birding to grow. Today he's among the go-to birding experts on the Forest Preserve staff.
He particularly loves the seasonality of birding and how migration effects what we see throughout the year. "It's like old friends coming back," he said. "That's the way I look at it."
Birding is also something he can enjoy from anywhere, whether in his own backyard or traveling far from home. When he's away from home, he likes to look for local nature centers to poke around in.
"There's people like me there," he said. "That's where to go if you want to know about the area."
Naturalists at a nature center will know about the local flora and fauna and can tell you about the region's cultural history too, he said. "They know all this stuff about the area because that's what they do. I just think it's an untapped resource for a lot of people."
Visiting other nature centers is also a way to draw inspiration and find ideas to bring back home.
"It's cool to see how they do things," he said. "Good ideas we borrow."
Back home, he's happy to split his time between Plum Creek, where the focus is Will County's natural history, and Monee Reservoir, where recreational pursuits like fishing and paddling are popular. Both nature and recreation have been a big part of his professional career dating to its earliest days in Indiana, where he broadened his knowledge and skills.
Through his more than two decades with the Forest Preserve, Goodenow Grove Nature Preserve, where Plum Creek Nature Center is located, has become a familiar comfort and the place he most enjoys.
"This is home," he said. "I love this place. I love this preserve."