Recycle Your Bicycle program expands to Hidden Oaks Nature Center
9/8/2022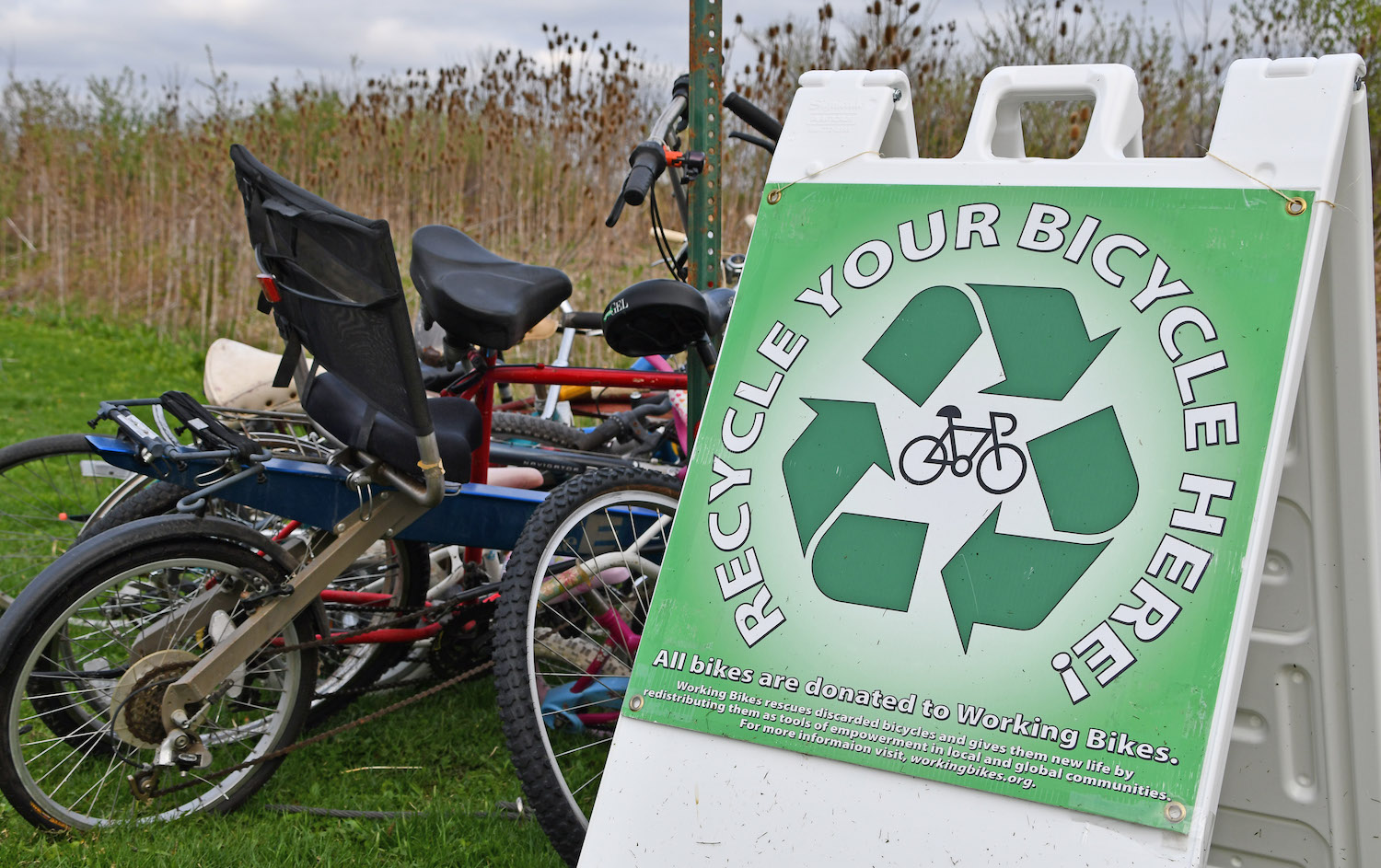 The fall Recycle Your Bicycle program will be even more convenient this fall with two locations for dropping off cobweb-encrusted bikes you no longer want or use.
All donated bikes are given to Chicago-based Working Bikes, which refurbishes and distributes them locally and globally to those in need of an affordable and sustainable mode of transportation for work, school, community services, recreation and more.
In the past, the Forest Preserve's spring and fall bike-recycling program has been hosted at Monee Reservoir in Monee Township, but this fall, the program also will be offered at Hidden Oaks Nature Center in Bolingbrook.
The Recycle Your Bicycle collection program will take place from Saturday, Sept. 17, through Sunday, Oct. 2.
Bikes can be recycled from 6 a.m. to sunset at Monee Reservoir. The bike drop is on the north side of the parking lot.
Bikes can be recycled from 8 a.m. to sunset at Hidden Oaks Nature Center. The bike drop is in the parking lot across from the nature center.
Bikes and bike parts can be in any condition, from brand new to beyond repair.
Also, as part of the Recycle Your Bicycle program, both Monee Reservoir and Hidden Oaks will have power bike demonstrations supplied by Working Bikes. Members of the public can pedal exercise bikes hooked up to generators to power a record player. The bikes will be available during visitor center hours.
Working Bikes tour
To find out more about Working Bikes, Forest Preserve staff visited the facility in June.
"After the tour I was able to understand the entire scope of how their process works and how many communities and countries that they reach out to," said Jason Stevenson, concessions manager at Monee Reservoir Visitor Center. "To see the pride they all put into their work to give to others just reaffirms my willingness to continue this program and continue to make it bigger."
Stevenson is working on a bike recycling exhibit at Monee Reservoir that will showcase Working Bikes and the benefits of upcycling and recycling.
"With the new exhibit, I hope to encourage more people to bring in bikes and bike parts for the program," he said.
Suzy Lyttle, a Forest Preserve program coordinator, was inspired by her tour of the site for August's episode of "The Buzz" nature program, which she hosts.
"The staff and volunteers at Working Bikes are so passionate about their mission," she said. "From teaching people mechanical skills to providing volunteer opportunities to shipping bikes around the world, it is just a feel-good operation. There is no reason to give your bike to the landfill when Working Bikes can give it a new life."
SUBSCRIBE TO OUR YOUTUBE CHANNEL
Working Bikes refurbishes some of the donated bicycles and sells them in its shop to raise money for the operation, but most are donated to individuals with disabilities, youths and families in developing countries in Africa and Central America. The group collected more than 10,000 bikes in 2021 from all over the Midwest.
"Bikes help recipients access critical resources and opportunities, provide a sustainable and safe transportation alternative and bring people together!" the group stated in its 2021 annual report.