Forest Preserve serves as forensic entomology classroom for law enforcement
9/30/2019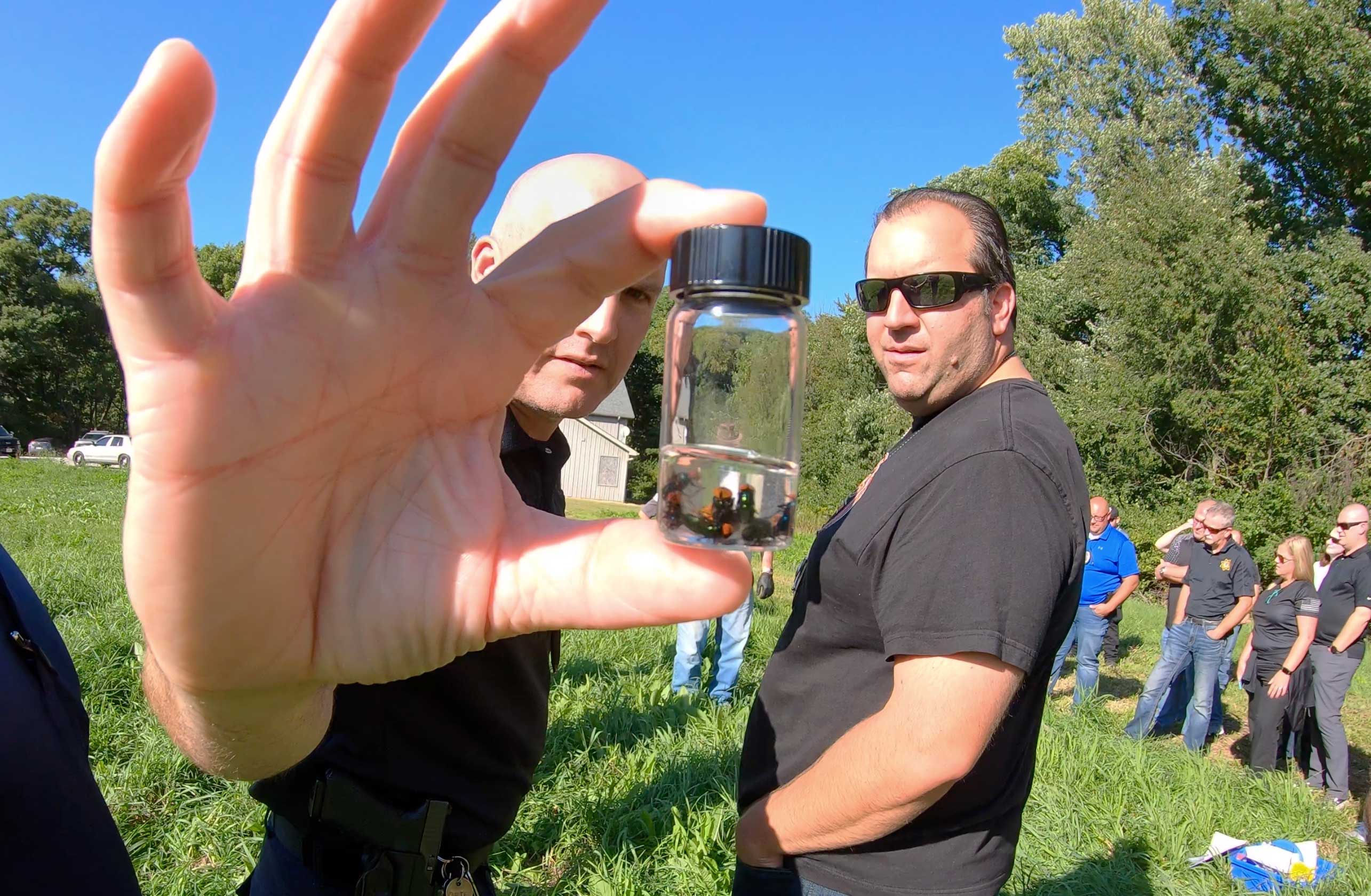 Thirty death investigators recently scooped, plucked and netted insects from pig carcasses during a forensic entomology workshop at a rural forest preserve.
The pupils were members of area law enforcement agencies who signed up for the course to learn how to estimate the time of a person's death based on the types of insects and the stages of bug larvae – including maggots – that can be found on corpses.
But in this case there were no corpses. Instead, pig carcasses in various stages of decomposition were placed in an unimproved preserve for educational purposes in a partnership between the Forest Preserve District and the Tri-River Police Training Region organization. Forest Preserve police contacted local pig farmers who agreed to donate specimens for the workshop.
"No animals were killed to provide this course," said Forest Preserve Police Chief Tracy Chapman. "The pigs died naturally at local pig farms and were donated specifically for the course."
The two-day workshop was taught by Neal Haskell, Ph.D., an internationally known forensic entomologist who has testified in more than 1,000 death investigations. Haskell was assisted by Ralph Williams, Ph.D., entomology professor emeritus at Purdue University.
"By tomorrow you all will be maggot wranglers," Haskell told the group of 30 students on the first day of the two-day "Entomological Evidence from the Death Scene" workshop.
Bug sleuthing
The group of crime scene investigators, detectives and evidence technicians boned up on bug sleuthing techniques at the Will County Sheriff's Office, Public Safety Complex, on Laraway Road before heading to the forest preserve for field training.
In the preserve, workshop attendees inspected the eggs, larvae and insects that were collecting on the pig carcasses, and they learned how to take samples that could be used to estimate the time of death. Adult insects went into jars marked with an "A" that were filled with isopropyl alcohol. Those bug bodies had to simply be preserved.
Larvae were placed in jars marked with a "K" filled with glacial acetic acid and kerosene. The mixture penetrates the membrane and preserves the specimen without changing its color so the age of the larvae can be determined later.
Workshop participants pulled on rubber gloves before netting live insects in the air, and using tweezers to remove bug, larvae and egg samples from the pigs' bodies, mostly from the orifices.
Once there is a combination of insects on a corpse, it's a clue as to when a person died; first come the flies, and then the maggots and the beetles, Haskell explained.
"They are telling you a story," he said. "They're telling you how long this guy has been there."
Haskell noted that many factors can create variables in the forensic entomology process. One of the biggest variables is temperature. The hotter it is, the quicker the insect invasion, although the mama bugs will seek shade to lay their eggs. That is why it is crucial to know what the temperature was around the time the body was discovered, Haskell stressed.
Forensic partnership
Chief Chapman said she was more than willing to help make the course a reality after being contacted by Sheriff's Deputy Terry Bergin, a crime scene investigator for Will County Sheriff's Police.
"After some discussion, we decided that one of our preserves would be the perfect location for such a course," Chapman said.
She said she helped organize the workshop and included the field training opportunity with pig carcasses because she believes in the value of forensics, which is the use of science in criminal investigations.
"This type of information is hard to simulate, so it was important for us to make the hands-on experience as realistic as possible," she said.
Because of all of the work that went into creating the two-day workshop for law enforcement, Chapman said a shorter summary course was also offered to local high school students.
"We didn't want to waste this opportunity to share the knowledge," Chapman said. "We reached out to Minooka High School's forensic classes and invited them for a field trip."
Rare opportunity
Forest Preserve Master Patrol Officer Michael Reilly said the workshop was informative and it will help him perform his job.
"I guess what surprised me most is that the flies usually land on a body 20-30 seconds following a death," he said. "I think this will help me better identify how to preserve a scene for an entomologist, should that information be relevant to the case, and how to immediately begin looking for a timeline of events for a death investigation based on the initial observation of insect colonization."
Will County Coroner Patrick O'Neil, who attended the two-day course, said forensic entomology is a vital part of criminal death investigations, and knowing when a victim died can have crucial consequences for a case.
"If someone murders somebody and dumps their body out in an open field, determining a scientific conclusion on when they passed away can be important in proving or disproving an alibi," he said.
O'Neil said he's attended courses taught by Haskell in the past, but having the pig specimens was very helpful.
"As far as field case studies like this, it's very rare," he said. "All of these specimens were placed out here at different times. So it's definitely a learning experience being able to determine how long they've been out here and how long these insects have been feeding on the pig carcasses. Pictures don't do this justice."