Leaving the wheelchair behind: Accessible kayak launch provides a smooth, dry experience
10/4/2023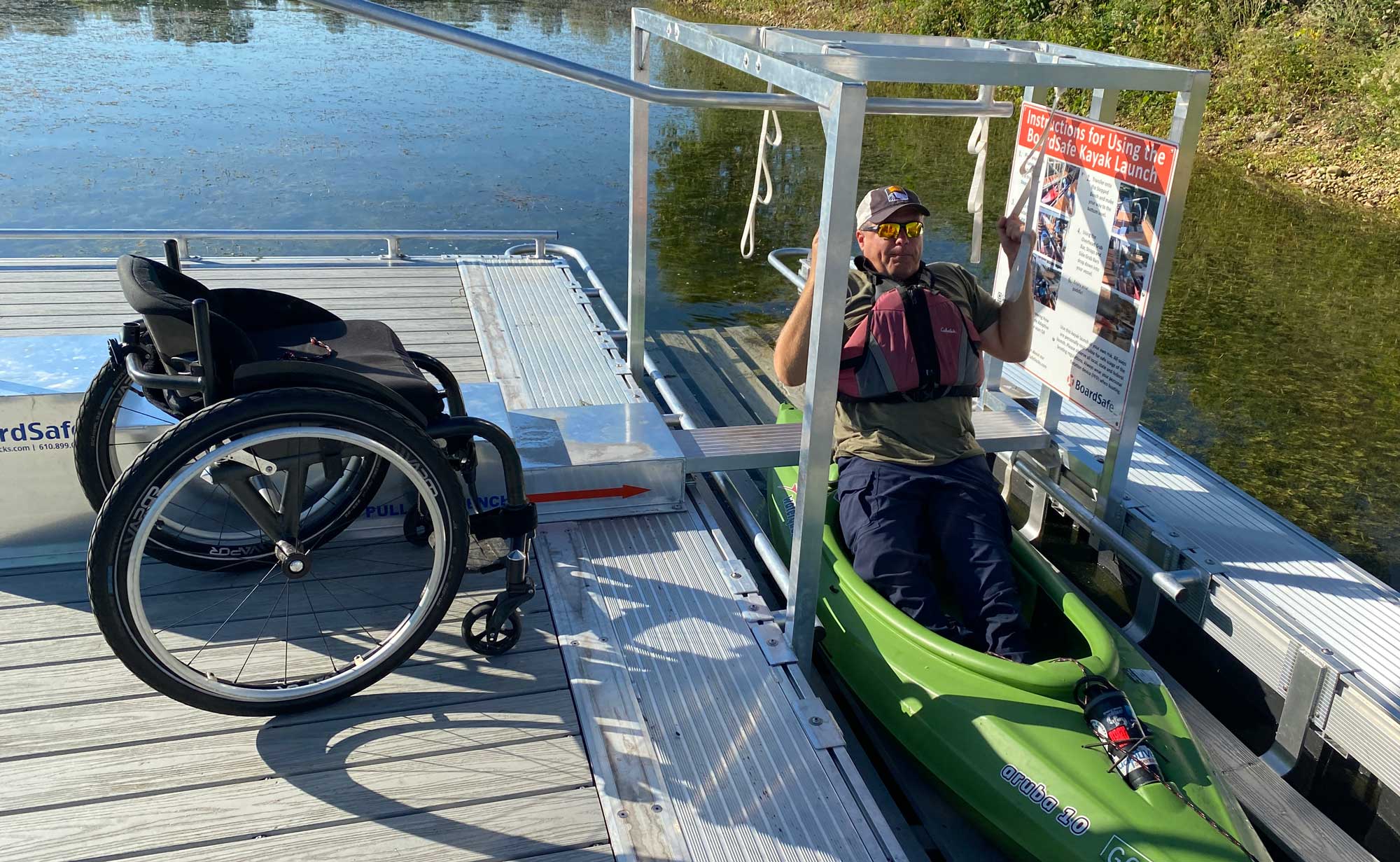 The new accessible kayak/canoe launch at Lake Chaminwood Preserve is a hit with Bill Bogdan, an adaptive recreationalist from Mokena.
The launch opened in mid-September as part of phase one improvements at the preserve, which also expanded the parking lot and created a new welcome plaza for pedestrians.
As soon as he heard a new launch by a company called BoardSafe had been installed, Bogdan headed to Lake Chaminwood to test it.
"It is totally awesome," he said during a recent interview at the preserve.
Bogdan, who is an incomplete paraplegic because he is paralyzed from his knee down on his left leg and from his hip down on his right leg, said anyone can use the launch to enjoy a fun day of paddling on the lake.
He works as a disability liaison for the Secretary of State's office and has participated in many adaptive sports, including mountain biking, indoor rock climbing, hand cycling, scuba diving and sled hockey. But he said being on the water is special.
"The best thing I love about kayaking is that I get to leave my wheelchair behind," he said.
Dry feet
But without an accessible launch, it is much more difficult for Bogdan to enjoy kayaking. Typically, Bogdan said, his wife, Laura, and others have had to help him get into his kayak on dry land and then step into the water to drag him into or out of a lake. After trying the Lake Chaminwood launch, Bogdan said his wife noted that she was able to kayak for several hours with her husband and her feet never got wet.
"(With) this one, I was able to transfer smoothly and dryly," Bogdan said with a big smile on his face.
The accessible launch at Lake Chaminwood allows Bogdan to roll down a ramp while he pulls his kayak on an adjacent gangway to a floating dock. He then transfers himself to the kayak using a three-level seat and he uses the launch's overhead bars and side rails to pull himself out of the chute and into the water.
Bogdan said he really likes that instructions are posted on the side of the launch and a QR code that can be accessed with a smart phone links to a video demonstration.
SUBSCRIBE TO OUR YOUTUBE CHANNEL
Universal design
Matt Novander, the Forest Preserve's chief landscape architect, said the kayak/canoe launch project is one of many ways the District is working to make the preserves accessible to all.
"The Forest Preserve and accessibility – we take it seriously, as everybody should," he said. "And universal design is our guiding principle for all of it."
Universal design provides equipment that can be used by everyone and that blends into the landscape seamlessly, Novander explained.
"The canoe and kayak launch isn't just for people with disabilities or adaptive sports users," he said. "It's designed so that anybody, whether you need an accommodation or not, can use it."
Another universal design example is the new trailhead signs installed by the District that feature path slope information, which can help those of all abilities make informed decisions before attempting a trail outing, Novander said.
Future improvements
If Lake Chaminwood's new launch, which was partially funded with an $80,000 Illinois Department of Natural Resources Boat Access Grant, continues to get good reviews, the design may be used at other Forest Preserve launch locations in the future, Novander added. In addition to the state grant, improvements at Lake Chaminwood were made possible by a $750,000 gift to The Nature Foundation of Will County.
"This is definitely going to be a tool in our toolbox, especially in locations that have water access like this," Novander said.
The kayak launch and floating dock will remain in the water year-round. Kayaking on Forest Preserve lakes is only prohibited when there is ice on the water.
Next up for Lake Chaminwood is phase two improvements, which are scheduled to be completed by June 2024. The project will add two accessible fishing piers along the paved trail and connect Lake Chaminwood's trail to the 61.5-mile, state-owned I&M Canal Trail to the south. The trail extension will feature a 90-foot bridge over the I&M Canal.