Love a good sunset? Visit these preserves to soak up the setting sun
10/1/2022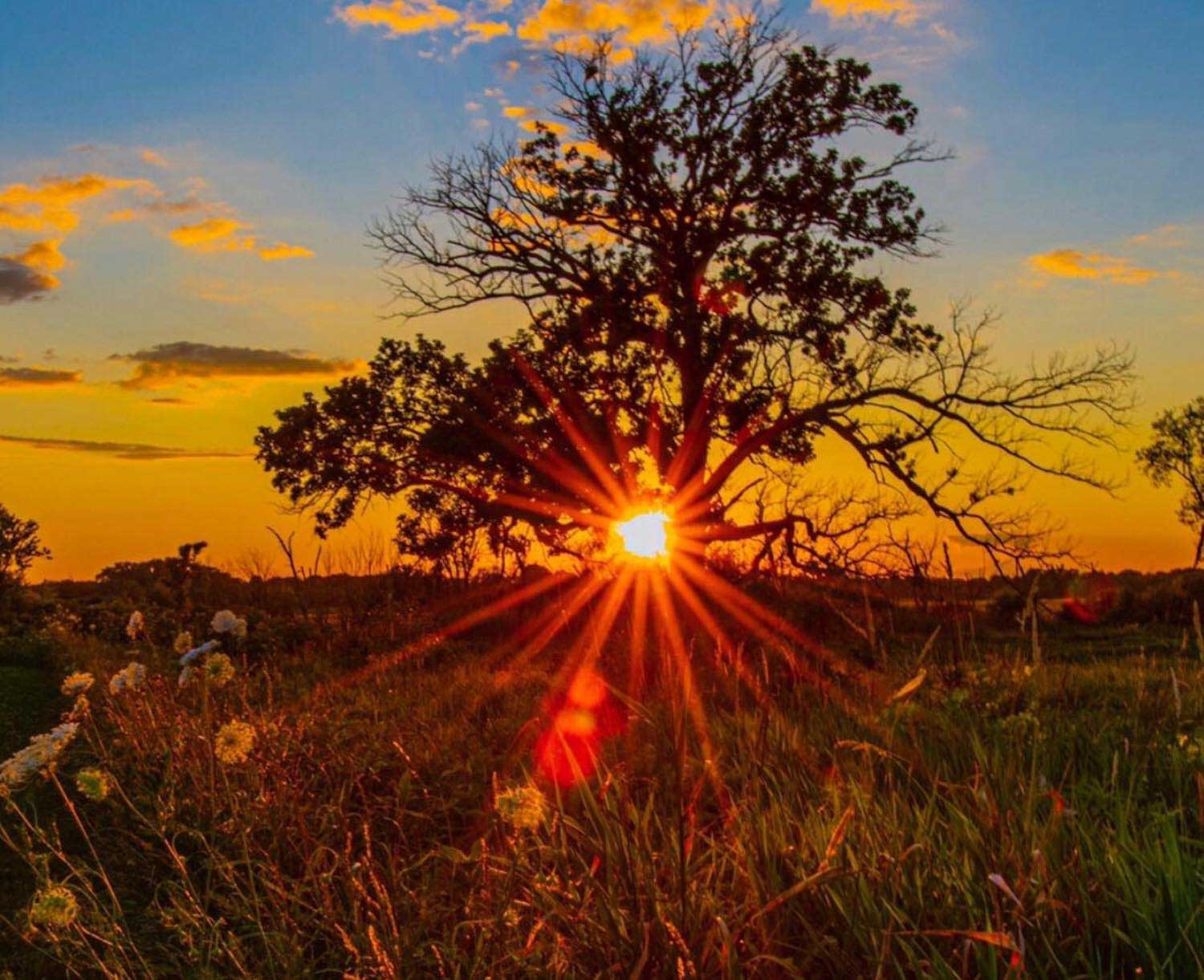 Is there a better way to end a busy day than by watching the sun slowly slip below the horizon? Even better, of course, is when the setting sun is a spectacular sight, with the sky a riot of reds, pinks and oranges that can take your breath away.
Beaches are well-known for being good places to watch a sunset, and for good reason. Water can make even a rather ordinary sunset just a little more magical. While we may not have any beaches in the Will County preserves, we do have plenty of bodies of water. But water isn't the only thing that can make a sunset truly remarkable. Clouds help too.
While a cloudy sky can blot out the view of the setting sun, a few puffball clouds can make a sunset stand out. That's because clouds reflect the last rays of the sun's waning light back toward the ground, creating a more vivid sky, according to the National Oceanic Atmospheric Administration.
RELATED: THE SCIENCE BEHIND THOSE PICTURE-PERFECT SUNSETS
Although summer may seem like the season for good sunsets because of the longer days and warmer temperatures, it's really late fall and winter that give us our best sunsets, because the normal weather patterns at this time of year usually result in a clean lower atmosphere, according to the NOAA. That helps the colors look more vivid.
Here are a few preserves where the sunset really shines. And remember, most preserves are open until sunset each day, so don't stick around for too long after the sun slips below the horizon.
Hadley Valley
At Hadley Valley, you can take in sweeping views of the rolling prairie from just about any spot in the preserve, and those same views are a just a little sweeter when the skies are alight with a spectacular sunset. Spring Creek Greenway Trail circles the preserve, so you can easily take in the sunset while walking, jogging or biking. Would you rather sit and take it all in? There are a few benches along the trail that offer scenic views, or you can pack a picnic and enjoy it in the picnic shelter.
Lake Chaminwood Preserve
Looking for a place to get in a workout while also enjoying the sunset? Check out Lake Chaminwood Preserve, which has a paved trail circling the larger of the preserve's two lakes that is perfect for walking, running, biking and inline skating. Even the water itself can be a good place to take in the setting sun, with visitors able to launch kayaks, canoes and small fishing boats at the preserve. (Only watercraft that can be carried on top or inside of a vehicle are permitted because there is no trailer parking on site.)
Lake Renwick Preserve
Water can, of course, make a sunset a little more picturesque, and that's what makes Lake Renwick Preserve a great place to take in the setting sun. The preserve is home to several lakes, so there's plenty of places to take in a sunset whether you want to do it while enjoying an evening stroll on the preserve's trails or relaxing on a bench or at a picnic table. The preserve has three access points: Copley Nature Park, Lake Renwick Heron Rookery Nature Preserve and Turtle Lake Access. Copley Nature Park and Turtle Lake Access are open 8 a.m. to sunset all year, but the rookery is closed from March 1 to Aug. 15 each year to protect nesting birds.
Monee Reservoir
Monee Reservoir is a picturesque spot at any time of day or year, but the setting sun really makes it shine. The 46-acre lake is a perfect place to watch as the sun sets on the day. Luckily there are plenty of benches where you can sit and relax, or you can walk around the water to make it a more active experience. If you want to turn your trip into more of an excursion, the preserve has a visitor center that is open Tuesdays to Sundays from March through October where you can rent boats and fishing equipment and purchase snacks, drinks and bait. Visitor center hours vary throughout the season.
Riverview Farmstead Preserve
While a body of water does add a certain something to many picturesque sunsets, it's definitely not a requirement. Case in point: Riverview Farmstead Preserve. With three farm buildings dotting the landscape, the preserve can be a scenic place to take in at the end of the day. As the sun sets, the buildings can have a warm glow, adding to the ambiance. While enjoying the sunset, you can learn about the Clow family that lived on the farmstead in the 1800s through the interpretive signs installed around the buildings.
Whalon Lake
If you're looking to get a few steps in while taking in a sunset, look no further than Whalon Lake. A paved trail circles the 80-acre lake, making it a good place for viewing the setting sun year-round. If you'd rather sit and take in all the scenery under the setting sun, have a seat on one of the many benches around the lake, including a few facing west.