Have stroller, will travel? Check out these preserves for stroller-friendly adventures
6/22/2022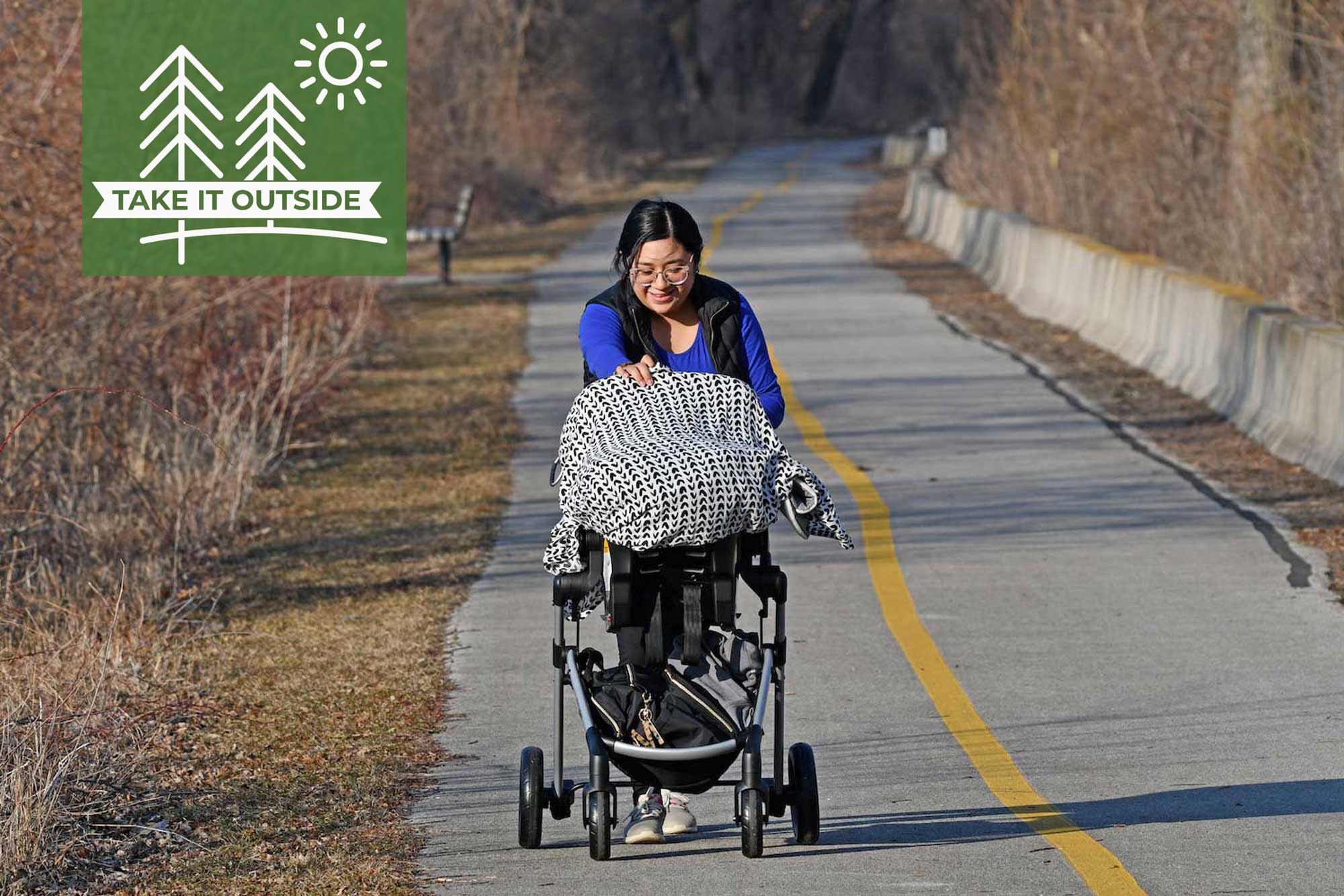 Whether you need a nice, paved trail so you can bring the stroller along for your daily exercise or you're just looking for place to spend a little time exploring the great outdoors with little ones, the forest preserves are full of options.
Our paved trails traverse just about every kind of habitat, from forests to wetlands to prairies, and a few will take you on a tour of local history. Many of the paved trails in the preserves connect with short, natural-surface trails where little ones can stretch their legs for a short adventure.
And if you're looking to turn your stroller adventure into more of an outing, pack a picnic lunch. Many preserves have picnic shelters available, and no reservation is needed for groups of 25 or less. Shelters are available on a first-come, first-served basis. Benches can also be found along many trails, and these can be a perfect spot to stop the stroller for a meal with a view.
JOIN OUR TAKE IT OUTSIDE CHALLENGE
Check out these preserves and trails for our best stroller-friendly outings.
Goodenow Grove Nature Preserve
Goodenow Grove Nature Preserve is home to miles and miles of trails, including a 0.48-mile paved trail. The stroller-friendly trail travels through forested land and passes by Snapper Pond, a popular place to look for snakes and turtles sunning themselves and spot plenty of other wildlife too.
The preserve is also home to Plum Creek Nature Center, a family-friendly destination where kids can learn about the natural world around them and also play on the natural playscape around the building. The paved trail is located behind the nature center, making it a perfect place to keep kids entertained and occupied for a morning, afternoon or even a full day.
Hammel Woods
The paved DuPage River Trail travels through the heart of Hammel Woods, providing a stroller-friendly option in addition to the preserve's 1.6 miles of natural surface trails. Because the preserve is mostly forested, it's a good place to watch the seasons change, with each season bringing a different view.
The DuPage River Trail also connects to the Rock Run Greenway Trail, which passes through nearby Rock Run Preserve. The river trail also extends north of Hammel Woods, continuing its path adjacent to the DuPage River.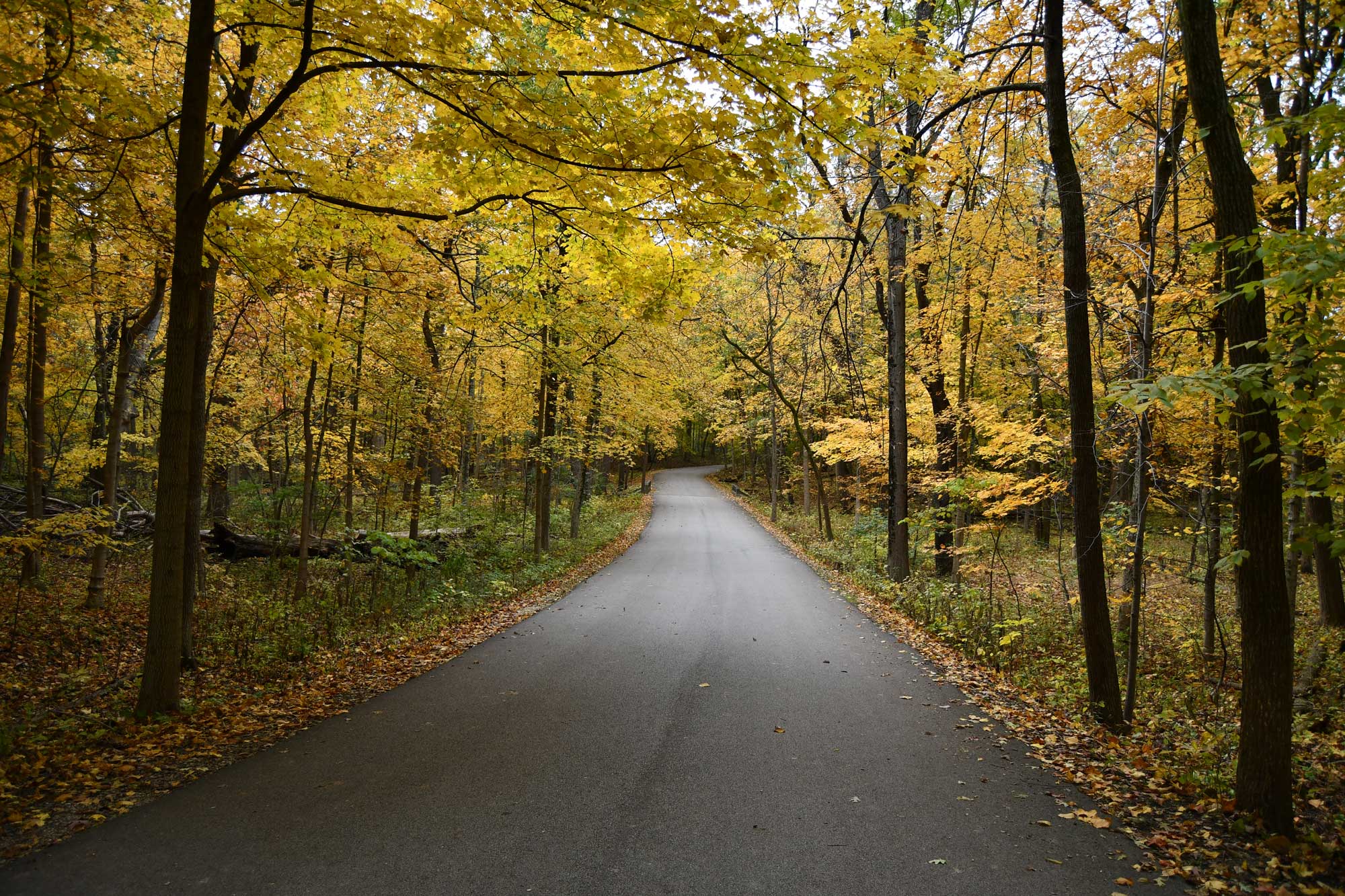 (Photo by Glenn P. Knoblock)
Hickory Creek Preserve
Hickory Creek Preserve is the District's largest preserve, and it has something for just about everyone, including families with young children. All three access points — Hickory Creek Barrens, Hickory Creek Junction and LaPorte Road Access — offer access to the paved Hickory Creek Bikeway. Hickory Creek Barrens and Hickory Creek Junction also provide access to another paved trail, the Route 30 Bikeway.
At Hickory Creek Junction and Hickory Creek — LaPorte Road Access, the paved trails intersect with short natural surface trails. These trails may not be suitable for all stroller types, but it might be a good place for little ones to put their walking legs to the test and get up close and personal with nature. The natural surface trail at Hickory Creek Junction is 0.55 miles, connecting to the Hickory Creek Bikeway at both ends. LaPorte Road Access has two natural surface trails: the Hickory Creek Nature Trail travels 0.39 miles, and the LaPorte Road Nature Trail travels 0.86 miles. Both are loops that connect to the Hickory Creek Bikeway on both ends.
Joliet Iron Works Historic Site
Little ones confined to a stroller may not have much interest in local history, but they may enjoy viewing the ruins of an iron-manufacturing facility that operated on the site from the late 1800s to the early 1900s. The paved trail at the preserve travels 0.59 mile and serves as a self-guided interpretive tour of the site, allowing you and your little ones to learn about the area's historical significance.
While Joliet Iron Works mostly showcases the area's industrial past, you may also see and hear some of the area's current industrial identity, with a rail yard located nearby. And kids may get a glimpse of wildlife along the trail as well.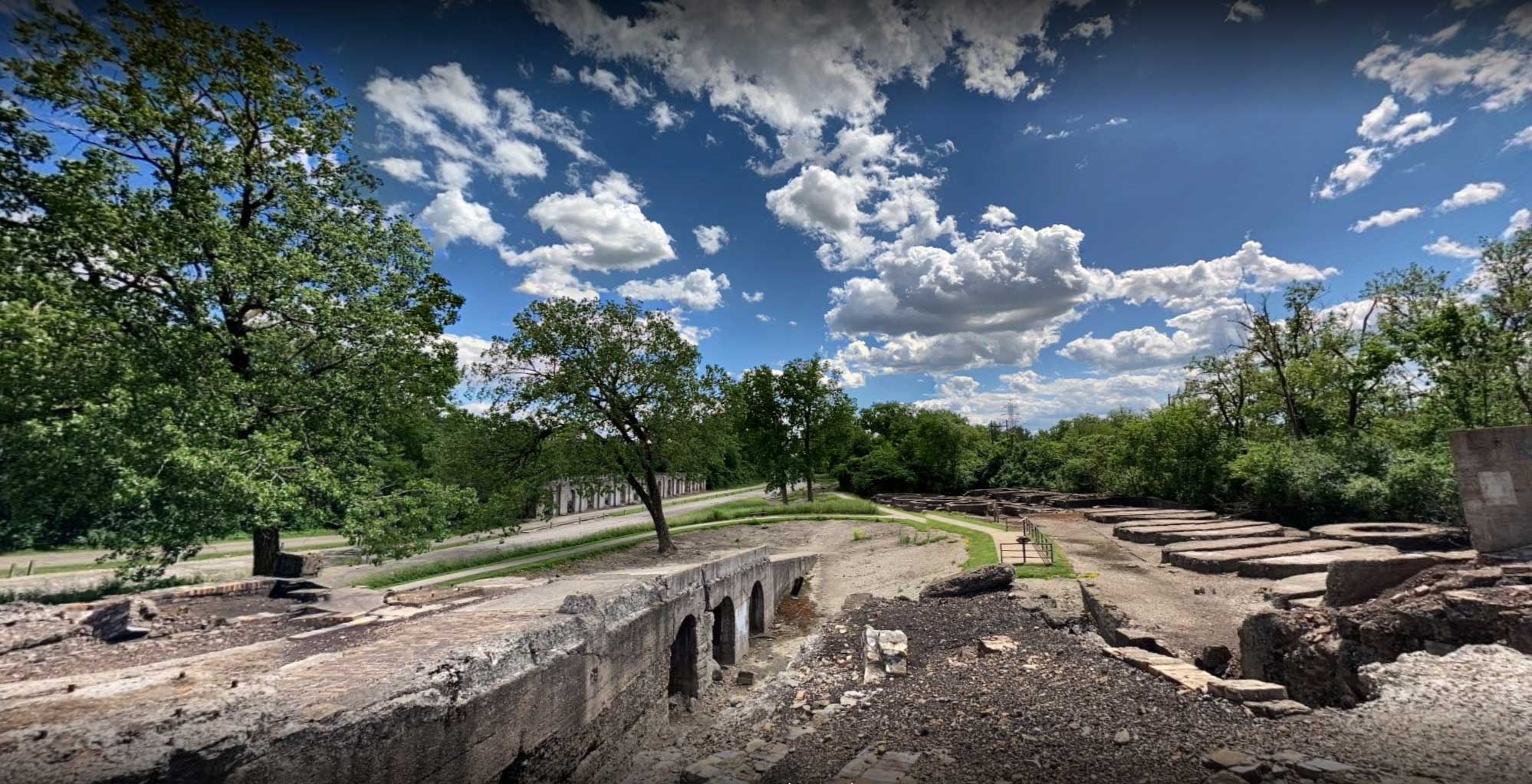 (Photo by Chad Merda)
Lake Chaminwood
Lake Chaminwood is home to two quarry lakes, the larger of which is surrounded by a 0.7-mile paved trail that's an easy loop for exercise or a nature walk. It's a popular spot for fishing as well as canoeing and kayaking. Parking is limited at the preserve, but planned improvements include expanded parking.
The water at Lake Chaminwood is very clear, so kids will delight in being able to see the fish below from along the shore. Other wildlife you may catch sight of at include turtles, frogs, groundhogs, muskrats and all manner of birds.
Lake Renwick Preserve
The Lake Renwick Bikeway travels through Lake Renwick Preserve, and the paved trail is accessible from one of the preserve's three access points: Turtle Lake Access. From this access area, families can enjoy a shorter stroll along a looped path that is part of the bikeway.
The looped trail circles Budde Lake, and young kids might enjoy checking out all the activity in and along the water. The preserve is also home to the Lake Renwick Heron Rookery Nature Preserve, which includes large nesting platforms in the middle of Lake Renwick. The Heron Rookery access area is closed from March 1 to mid-August each year to protect the nesting activities of the many birds that live there, but the Copley Nature Park Access, which is open year-round, has a viewing gazebo from which the nesting platforms can be seen.
McKinley Woods — Kerry Sheridan Grove
The trails at McKinley Woods — Kerry Sheridan Grove are mostly paved, traversing 1.75 miles through the preserve. The paved trails include two looping paths, one that is 0.37 mile and a longer one that is 0.7 mile. The longer paved loop also connects to two natural surface nature trails, one traveling 0.12 mile and the other traveling 0.13 mile. Each of these natural surface trails connect to the paved trail at each end.
McKinley Woods includes many habitats, including forests, prairies and wetlands, and the paved trails travel through multiple habitats. Young kids might delight in the ducks and other waterfowl in the local rivers and the pond near Four Rivers Environmental Education Center, and there's no telling what you might come across as you stroll through the prairie and forest. You can also pop into the nature center to check out the kid-friendly interactive nature exhibits.
Prairie Bluff Preserve
The paved trail at Prairie Bluff travels 3.21 miles in all, and the majority of it is a large loop perfect for exercise or a leisurely stroll. The preserve is mostly a prairie, and it serves to protect wetland habitats.
Visiting Prairie Bluff at different times of the year allows you to see how a prairie transforms with the seasons. Prairie plants typically bloom from late spring to early fall. As what is in bloom evolves, the colors of the prairie do to. Young kids may delight in looking at all the prairie plants and the many insects they attract.
Riverview Farmstead
Like at Joliet Iron Works Historic Site, a stroll at Riverview Farmstead Preserve gives you a glimpse into the area's history. Before the Forest Preserve District acquired the property, it was the site of the Clow family farmstead, originally settled in the 1800s. A short segment of the DuPage River Trail traveling 0.83 miles runs through the preserve.
After a stroll to look at the old farmhouse and farm buildings, kids might enjoy a short jaunt to the DuPage River, which runs alongside the east side of the preserve. There is no paved trail to the river's edge, but it is just a short walk from the trail.
(Photo by Glenn P. Knoblock)
Rock Run Preserve
Rock Run Preserve has two access points — Black Road and Paul N. Nichols — that are connected by the paved Rock Run Greenway Trail. You can do a full, 2.44-mile loop from either access point or opt for a shorter trip by taking the paved trail that loops around a small pond at the preserve.
If your little one's legs need some stretching, consider ditching the stroller for a short hike on either of two limestone trails that connect to the paved trail. Both are short — the Prairie Trail traveling 0.23 miles and the Sedge Meadow Trail traveling 0.29 miles — and both connect to the paved trail at both ends.
Rock Run Rookery
The paved trail at Rock Run Rookery, on the southwest side of Joliet, is short — only 0.41 mile — so it's a good spot for a quick nature walk with a stroller or for young kids to test their legs without the stroller as a safety net.
The main attraction at Rock Run Rookery is the larger of the preserve's two lakes — an 84-acre body of water that the trail runs alongside of. A few small islands dot the lake, and birds can be seen in the trees on these islands and in the water all year long. Birds of all sorts are present at the preserve all year, including many types of songbirds, great blue herons, great egrets and, in the winter especially, bald eagles.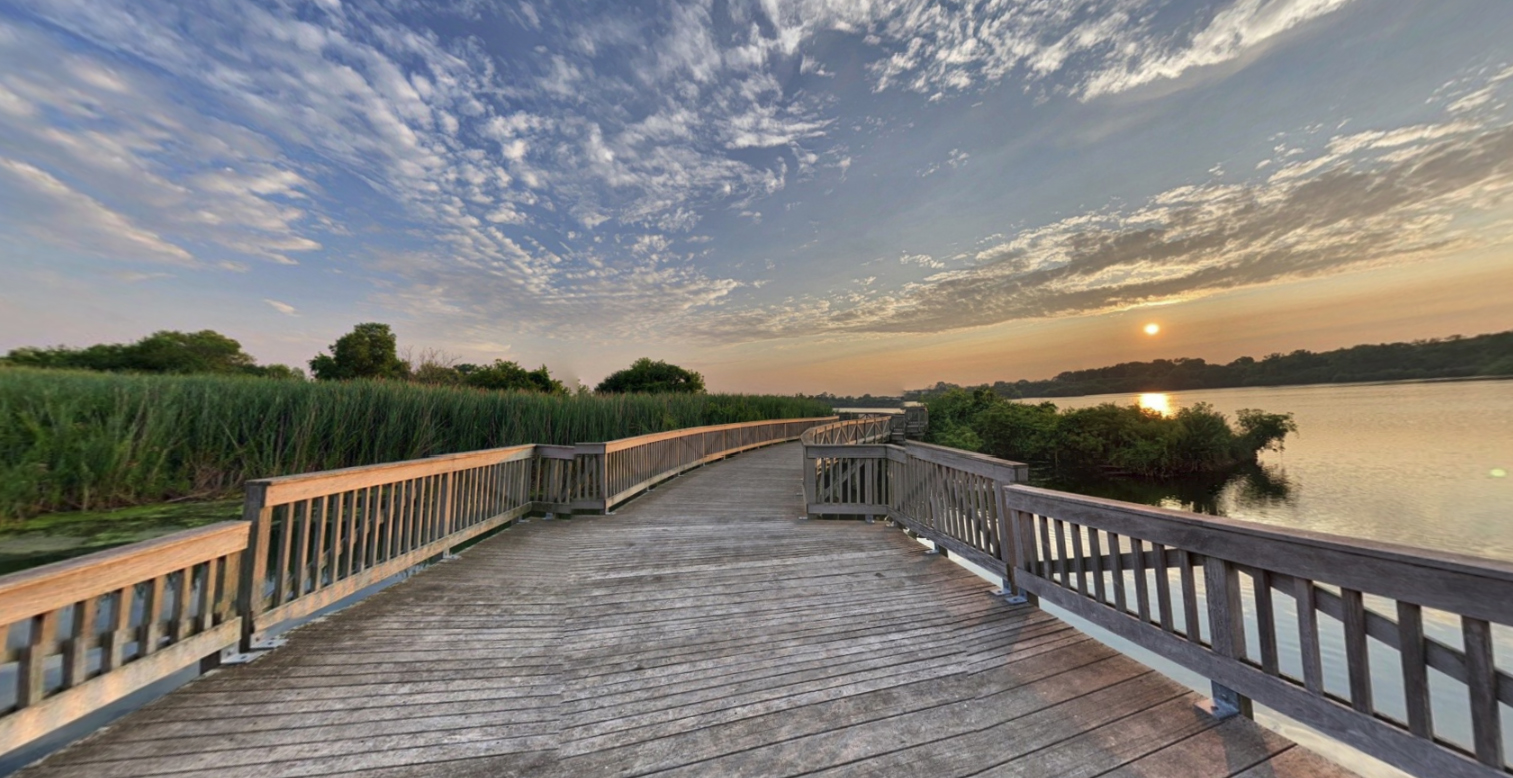 (Photo by Chad Merda)
Sugar Creek Preserve
Sugar Creek Preserve is home to the Forest Preserve District's Administration Center, and the preserve surrounding the building includes both paved and natural surface trails. The paved trail that runs through Sugar Creek Preserve is a segment of the Wauponsee Glacial Trail, which travels 22.42 miles from Joliet south to the Kankakee River.
The stroller-friendly paved trail in the preserve is linear, not looped, so any trips will have to be there and back. The Wauponsee Glacial Trail through Sugar Creek is mostly tree lined. A looped natural surface trail that connects to the Wauponsee travels mostly through prairie habitat.
Theodore Marsh
The most kid-friendly attraction at Theodore Marsh is the preserve playground, but youngsters may also enjoy a stroll through the preserve's prairie and wetland habitats. The paved trail connects to an area near the playground, making it a perfect diversion to extend a visit.
The paved trail at Theodore Marsh is a segment of the Rock Run Greenway Trail, which travels 11.24 miles from Crest Hill south through Joliet. The preserve also provides access to the 4.36-mile paved Joliet Junction Trail, which also travels from Crest Hill south through Joliet.
Whalon Lake
Sandwiched between Naperville and Bolingbrook, Whalon Lake is home to a large, 249-acre lake with a 1.62-mile paved trail surrounding it. The path includes part of the DuPage River Trail, a popular path for biking, running and other outdoor pursuits that provides connections to nearby preserves and parks and also to surrounding neighborhoods.
There's lots for little ones to check out on their stroller ride, whether it's a leisurely water around the water or a fitness excursion with Mom or Dad. The lake is a popular spot for fishing and kayaking and canoeing, and it's not hard to find ducks and other aquatic birds in and around the water.
Plus Whalon Lake connects to the Forest Preserve District's newest preserve: Hidden Oak Preserve, which is home to Hidden Oaks Nature Center as well as Hidden Lakes Trout Farm. The two preserves are connected via a 0.39-mile paved segment of the DuPage River Trail.