Two new bicycle repair stations installed along Forest Preserve trails
10/2/2023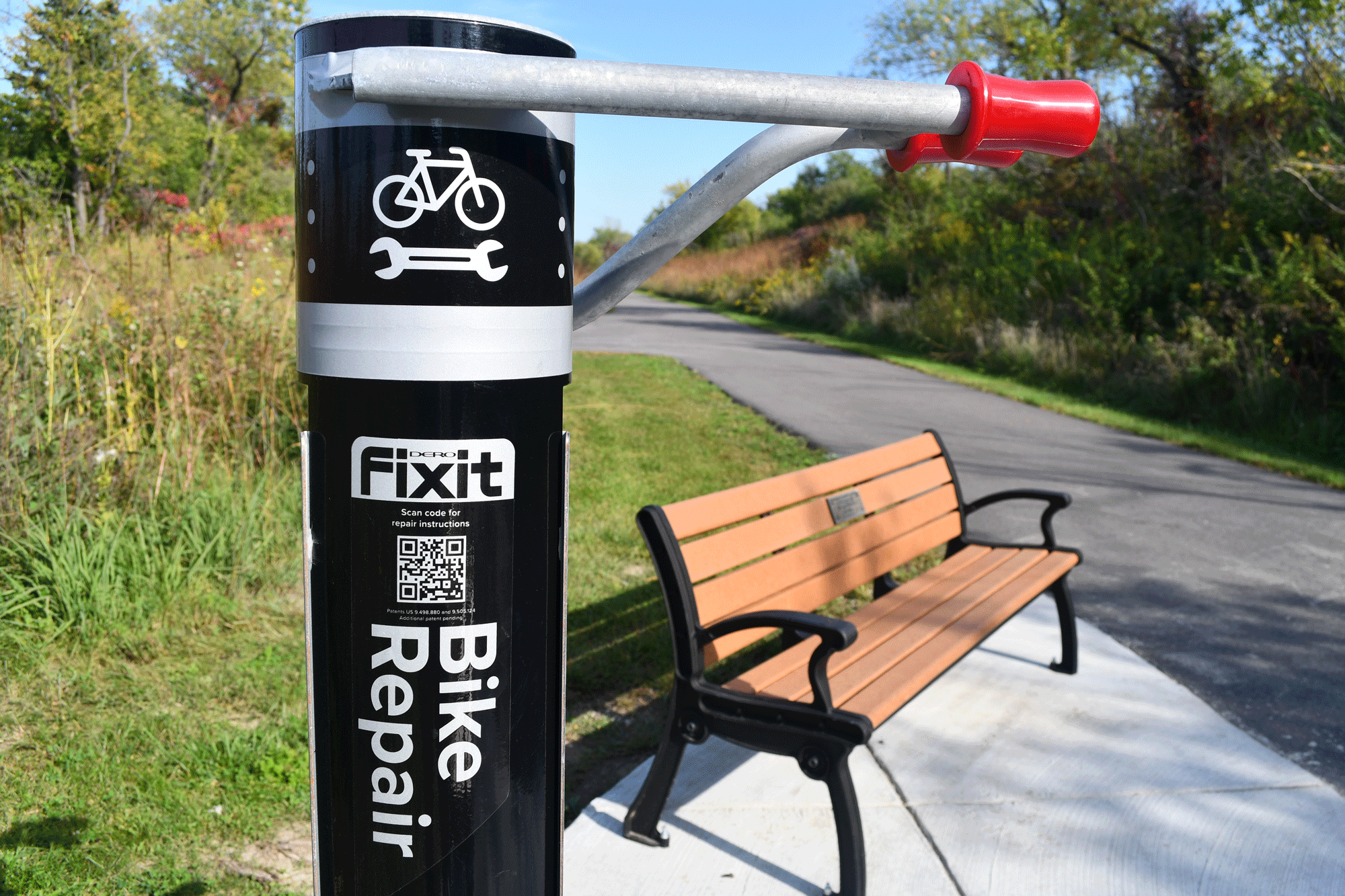 The Forest Preserve District has added two bicycle repair stations to its trails, bringing the total number of repair stations to six.
The Joliet Bicycle Club donated money for the repair station at the intersection of the Old Plank Road Trail and Hickory Creek Bikeway in Mokena. And the Nature Foundation of Will County helped fund one where the Spring Creek Greenway Trail connects to the Veterans Memorial Trail in New Lenox. The repair stations were installed this summer.
Four additional bicycle repair stations installed in 2020 are located on the:
"Placing bicycle repair stations at strategic trail locations is one more way to encourage people to visit the preserves and use the trails," said Colleen Novander, director of planning and land preservation for the Forest Preserve.
"With any mode of transportation, there is a level of upkeep and maintenance required, and other times, stuff just goes wrong," she added. "By having these bike repair stations in our Forest Preserves, it offers bicycle users the added security of assistance with tools and an air pump if ever needed."
The bike repair stations have been a joint effort among the Foundation, the Joliet Bicycle Club and the Forest Preserve District.
"The bicycle repair stations are extremely helpful to cyclists who use our local trail systems," said Janae Hunziker, president of the Joliet Bicycle Club. "I have seen riders using them to pump up tires, adjust their bike seat height and fix a chain. There are many tool options on the station for other adjustments on a bicycle to help a rider in need of a minor repair or bicycle maintenance."
Bicyclists can hang their bikes at a comfortable level to work on the drive train, added Conrad Brouwer, treasurer of the bicycle club.
"Many riders don't own a bike stand and these stations provide them with access to make adjustments, keeping their bikes in good working condition," Brouwer said.
The padded hanger arms that can be used to suspend a damaged bike at eye level. Wrenches, screwdrivers, and tire levers are suspended in the station's central cavity by stainless steel aircraft cables that prevent the tools from being lost or stolen. Tools included Phillips and flat-head screwdrivers, Allen wrenches, box wrenches, torx wrenches and tire levers.
Bike club member Bill Goldschmidt said the new stations also have an improved air pump system.
"There is a grooved out tire in the stall in the middle of the pump base to place your wheel in while you fill the tire along with a gauge so you can properly inflate your tire," he explained.
At the September Forest Preserve Board meeting, Foundation Chairwoman Ragan Pattison read an email from Hunziker praising the partnership with the Foundation to supply bike repair stations to Will County bicyclists.
"We appreciate all that The Nature Foundation of Will County has done and continues to do in support of cycling in our Will County communities," Hunziker wrote.