Forest Preserve receives federal funding for Route 66 trail project
6/2/2023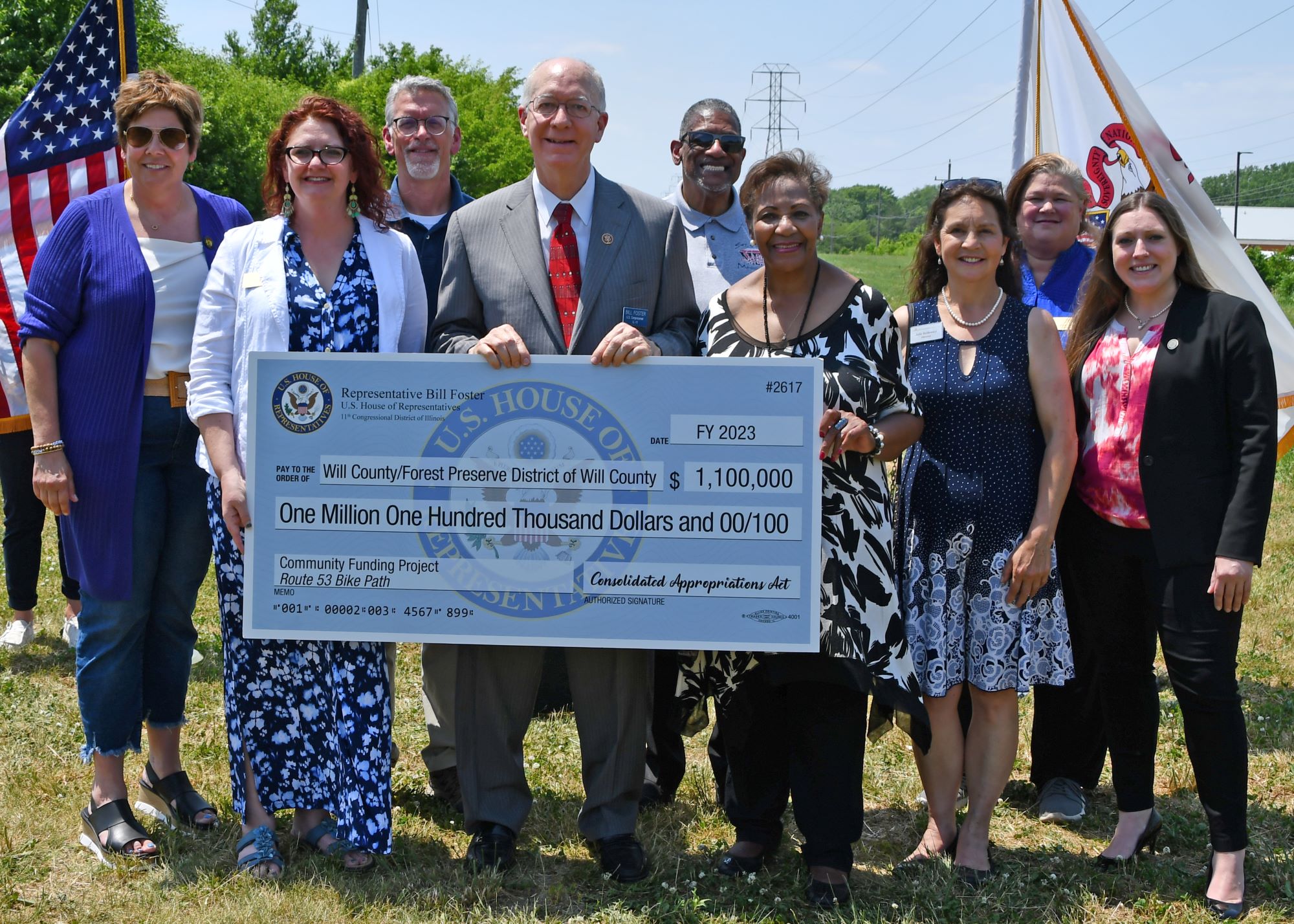 Pictured from left to right are: Will County Executive Jennifer Bertino-Tarrant; Forest Preserve Board President Meta Mueller; Forest Preserve Executive Director Ralph Schultz; U.S. Rep. Bill Foster; former Forest Preserve Commissioner Herbert Brooks Jr.; Forest Preserve commissioners Denise Winfrey, Julie Berkowicz and Janet Diaz; and state Sen. Rachel Ventura. (Photo by Glenn P. Knoblock)
The Forest Preserve District received a check for $1.1 million on Friday, June 2, that will pave the way for a new trail linking the District's longest path with Route 66 in Joliet Township.
U.S. Rep. Bill Foster presented the check during a ceremony along the proposed trail route in the Preston Heights area, just south of Laraway Elementary School on Rowell Avenue.
The 1.34-mile, multi-use trail will be built on a ComEd utility corridor that links the Forest Preserve's 22.42-mile Wauponsee Glacial Trail with Route 53/Chicago Street, which is also historic Route 66.
Trail funding is coming from an appropriation by Foster and U.S. Sen. Dick Durbin in the 2023 federal budget.
"I was proud to secure $1.1 million to establish a safe pedestrian and bike path along Route 53," Foster said. "This project will help connect residents to local businesses, schools, and more, all while helping to reduce emissions. I'll continue fighting for the federal resources to bolster our local economy and preserve our outdoor areas for future generations to enjoy."
The Wauponsee Glacial Trail to Route 66 Bikeway also will establish a safe pedestrian connection to health care facilities and other regional trail systems including the Old Plank Road Trail and I&M Canal Trail as well as the 20,083-acre Midewin National Tallgrass Prairie.
"Today marks the beginning of our project," said Meta Mueller, the Forest Preserve's Board president. "Unfortunately, it will still be a few years before it becomes a reality. But, as we all know, the longest journey starts with a single step. And thanks to the assistance of Congressman Foster and Senator Durbin, that first step just became a leap."
The short trail connection is a part of a regional network of trails 30 years in the making, and many of those trails have become possible due to partnerships with local, state and federal agencies, she added.
"Now there are multiple agencies working to achieve this goal and together we're expanding a fabulous trail network throughout the county," Mueller said.
The trail project is the result of a collaboration between Will County and the Forest Preserve District.
"This project will create a safe connection for pedestrians and cyclists between the popular Route 53 corridor and Will County's beautiful regional trail system," said Will County Executive Jennifer Bertino-Tarrant. "I'm thankful for both Sen. Durbin and Rep. Foster for seeing the potential of this project to increase access for residents in this community."
Once the funding allocations are received, including an expected $800,000 Rebuild Illinois grant from the Illinois Department of Commerce and Economic Development, the Forest Preserve District will begin phase one engineering of the project to develop a design and a construction timeline.
Eventually, the new trail section in Joliet Township will connect to a Route 66 Bikeway that the Illinois Department of Transportation plans to build along Route 53 from Midewin National Tallgrass Prairie to just north of Interstate 80 on the south side of Joliet.
The Wauponsee Glacial Trail to Route 66 Bikeway project was first identified as a Will County priority within the Sugar Run Creek Area Neighborhood Plan, which set a vision for community reinvestment in unincorporated areas south of the City of Joliet. The plan supports the inclusion of pedestrian-friendly infrastructure.