Preserves We Love: Thorn Creek, for the endless discoveries
9/5/2023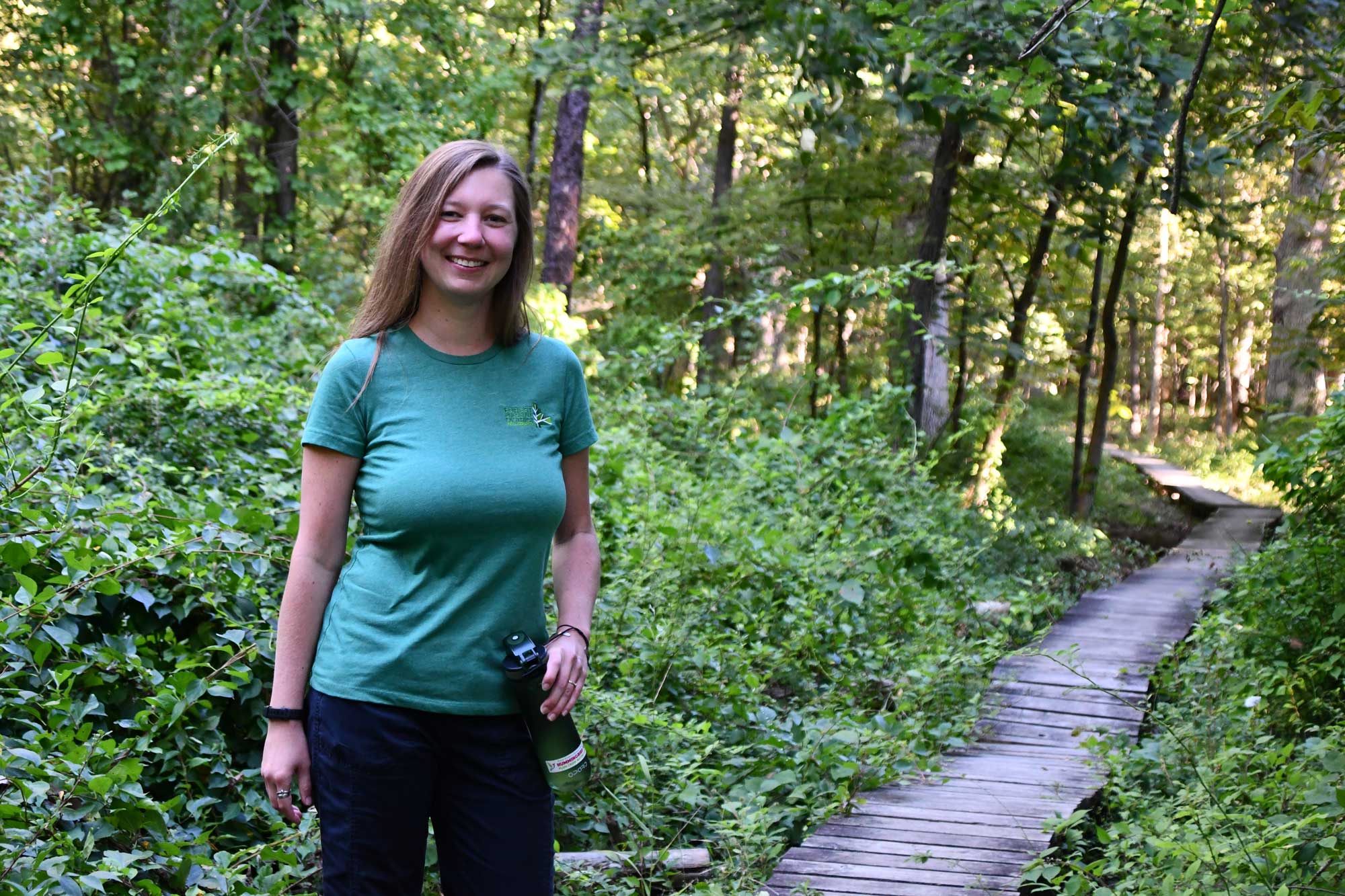 About this series: The Will County forest preserves mean many things to many people, including Forest Preserve District staff. Some of us enjoy the peace and tranquility of a particular preserve, while others among us enjoy the bustling feel of some of our more well-traveled trails. For some, the work we've done in the preserves is meaningful and fulfilling. "Preserves We Love" allows Forest Preserve staff to expound on their favorite preserve and why it's special to them. In this edition, interpretive naturalist Brittany Schaller tells us why she loves Thorn Creek Woods Nature Preserve.
Thorn Creek Woods Nature Preserve is a hidden gem in Park Forest. No matter the time of year, adventure and new discoveries can be found in the forest of Thorn Creek. I still vividly remember my first visit to Thorn Creek back in September 2011, the first year I discovered the Forest Preserve District of Will County's Woods Walk program. After this hike, my camera was loaded with pictures of mosses and mushrooms, deer and salamanders, and striking images of the boardwalks. I guess some things never change.
The 3 1/2 miles of natural surface trails are clearly marked with signs and arrows, ensuring you are on the right path. The gently rolling hills of these trails lead you to charming and picturesque footpaths, bridges and boardwalks. The bridges and boardwalks are mottled with mosses, and you might find an engraved sign from the past that has been repurposed as planks for the bridge. Even on hot summer days, the mature trees of Thorn Creek provide shade and cooler temperatures below the canopy.
Even though this preserve holds just 3 1/2 miles of trails, a hike always takes me hours to complete. Continuously walking without stopping is difficult as you find yourself gazing with awe and delight at many of the sights. The trails are split into three conjoining loops, each with its own wonders to discover.
While walking, I tell myself, "Just this one loop, then I'll head back." Coming up to the next sign and intersection, I tell myself, "OK, just one more loop." Coming up to the next sign, I tell myself, "I've gone this far, I've got to complete the final loop as well." I wind up doing all three loops and force myself to head back to the parking lot only when my tummy tells me it is time for dinner.
I often find myself pulling out my wildflower guide or identification app to learn the name of something new. My phone always runs out of battery when I am hiking this preserve because I am constantly looking up every new bird and flower and mushroom I come across.
My most recent hike through Thorn Creek Preserve started out with an exciting deer encounter. As I stopped to watch a mature doe munching on leaves, I heard an abrupt clatter down the trail. It was the fawn of the doe awkwardly ambling to meet up with his mother. He was trotting along the trail until he saw me, then stopped in his tracks and let out a little "meep!" of confusion. He turned and met up with his mother, stopping to munch some leaves. There is no doubt you will have sets of eyes silently peering at you as you travel these trails, because the deer are plentiful in this preserve.
Further down the trail, heading into the upland woods, owls can often be heard hooting in the distance. The woodland trail then takes you through stands of pine trees. The rich fragrance of these pines cannot be matched, especially after a spring rain.
Even further down the trail, you will find vernal ponds that are home to many creatures, including crayfish and salamanders. At one vernal pond in particular you will find knobby wooden mounds growing from the wet earth. These are the knees (aerial roots) of a cypress tree, uncommon to this area. These cypress knees are positioned among newly emerging cypress saplings — a sure sign that these trees are happy to make Thorn Creek their permanent home.
Taking the wetland trail, you can be met with the sounds of green frogs plucking away on their banjo strings as well as tiny American toads hopping along the path as you walk around Owl Lake. Heading to the farthest point on the trail, you will find an observation platform with a few benches overlooking the marsh. This area is great for birding and taking a break after all the exploration you've already done. There is never a dull moment when you are exploring the woods of Thorn Creek. The good news is that you are only halfway done with your journey at this point.
The winding, natural paths give this preserve an extra sense of adventure. Here, you feel you are somewhere truly spectacular because you are, in fact, somewhere spectacular. When spending time in Thorn Creek, you may feel that you are the only one in the 1,022-acre nature preserve, because oftentimes you are. The mosses, tall trees, footpaths, bridges, boardwalks, sights, smells, flora, fauna — all of this and more — will make for a magically peaceful visit within Park Forest.