Don't miss the fall color at these preserves
10/13/2023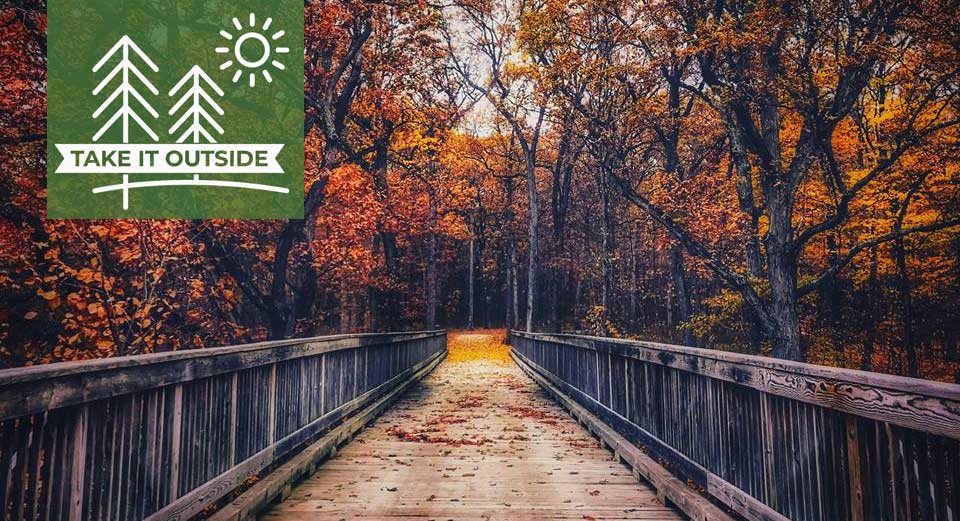 If fall is your favorite color, it's time to seize the season and head outdoors. Whether you hit the trails, pack a picnic or simply sit and take it all in, make sure you make time to experience the annual display of warm reds, oranges, yellows, purples and browns before it's gone for good. Only Mother Nature knows how long the show will last, so don't delay.
Are you looking for a new place to experience fall like never before? We have plenty of preserves where the season really shines, and not just the obvious spots where trees dominate the landscape. Need a little extra motivation? Many of the preserves where fall is at its best are home to trails included in this year's Woods Walk challenge. Hike seven of the 10 Woods Walk trails to receive a commemorative medallion and also experience the best the season has to offer in Will County.
SUBSCRIBE TO OUR YOUTUBE CHANNEL
These are some of the places where you can see fall at its finest.
Goodenow Grove Nature Preserve
Goodenow Grove is one of the largest Will County preserves, home to varied habitats including prairies, wetlands and plenty of forest acreage. At this time of year, it's the woods that really shine. One of the best ways to take in the best of autumn's scenery is a hike to the big bridge along the Plum Creek Greenway Trail. The 267-foot long bridge spans a 40-foot ravine, so when you're walking across the bridge, you're nearly as high as the tree canopy, bringing you right into the color. If you're not sure how to get to the big bridge, stop by Plum Creek Nature Center to ask for directions. Hours are 10 a.m.. to 4 p.m. Tuesdays to Saturdays and noon to 4 p.m. Sundays.
Hammel Woods
If it's got woods in the name, there's a good chance it's a can't-miss spot for fall color, and Hammel Woods doesn't disappoint. The preserve includes some old forests, as parts of the preserve were among the Forest Preserve's earliest property acquisitions, in 1930. The preserve is home to 1.6 miles of natural surface trails that cut through and into the forests and along the DuPage River. You can also travel through the heart of the preserve via a 3.77-mile segment of the DuPage River Trail.
Hickory Creek Preserve
At 1,541 acres, Hickory Creek Preserve is the Forest Preserve District's largest, and it's heavily forested in many areas, so it offers no shortage of places to watch the fall color evolve throughout the season. All three of the preserve's access points — Hickory Creek Barrens, Hickory Creek Junction and LaPorte Road — offer access to trails that make it easy to experience the autumnal display, whether it's on foot or by bike.
Hidden Oaks Preserve
The Forest Preserve's newest preserve doesn't disappoint when it comes to fall color, with the trees across the preserve coming alive at this time of year. The preserve has a 0.6-mile natural surface trail where you can experience the color firsthand. Looking for a longer experience? You're in luck. Hidden Oaks connects to nearby Whalon Lake via the paved DuPage River Trail, so you can enjoy a walk, jog or bike ride while taking in all the seasonal scenery.
Keepataw Preserve
Keepataw Preserve might not seem like an obvious choice for fall color because the walkable part of the preserve isn't as forested as some others, but the preserve has a very unique feature — a 60-foot bluff carved from limestone deposits. And while the 0.28-mile trail might not bring you right into the trees to see the vivid fall colors, you'll be able to view the colorful forests at a distance, allowing you to take in much more at once.
Lake Renwick Preserve
Lake Renwick is known for its heron rookery, which hundreds of great blue herons, great egrets and double-crested cormorants use each year as their nesting grounds, but it's still worth a visit in fall, when bird activity has quieted down a bit. The preserve's Heron Rookery and Turtle Lake access areas both offer access to trails, allowing you to explore the lakes while also experiencing the seasonal show.
McKinley Woods
Like Hammel Woods, McKinley Woods advertises its forests right in the name, so it's a no-brainer that it's a great place to experience the annual fall color show. And with many miles of trails at both its access points — Frederick's Grove and Kerry Sheridan Grove — there's no shortage of places to experience it at its various stages throughout autumn. As an added bonus, several rivers run adjacent to the preserve, and the addition of water set against the fall backdrop is just that much more beautiful.
Messenger Woods Nature Preserve
Messenger Woods is the Forest Preserve's oldest property, so it's no surprise that the fall color can be spectacular here, with stands of mature trees across much of the 441-acre property. You can surround yourself with the reds, oranges, yellows and browns while walking on the miles of natural surface trails that criss cross the forests.
O'Hara Woods
O'Hara Woods is a small preserve, but the fall color display does not disappoint. And you don't need a lot of time to take it all in, which you can easily do by strolling along the 0.67-mile trail that cuts through the colorful woods. Can't make it out there this fall? Make sure to hit it up come spring, when the Virginia bluebells put on a show of their own in late April and early May.
Raccoon Grove Nature Preserve
Raccoon Grove isn't as large as some of the other preserves that shine in fall, but it's still worth a trip. The 213-acre preserve is largely forested, and the leaves come alive with color each fall before creating a blanket of fallen leaves across the ground. You can take it all in with a short walk along the 0.27-mile natural surface trail that loops through the woods.
Riverview Farmstead Preserve
Riverview Farmstead is another preserve that isn't heavily forested, so it might not seem like an obvious place to visit to experience fall's splendor. The site's historic backdrop, though, adds another layer to the scenery. As the color changes, you can stroll the preserve to learn more about the 19th-century farm and the Clow family who lived there, maybe wondering if past generations of Will County residents appreciated the changing of the leaves as much as we do today.
Thorn Creek Woods Nature Preserve
Thorn Creek Woods is another big preserve with lots to see, and all of it is made just a little prettier at this time of year. A 1.94-mile natural surface trail cuts through the heart of the preserve and allows you to experience 360-degree views of the color. And with its large swaths of forest, it's a good place to visit throughout the season to experience the evolving color.