Weber family's 'Happy Place': Hiking at Hammel Woods
12/28/2018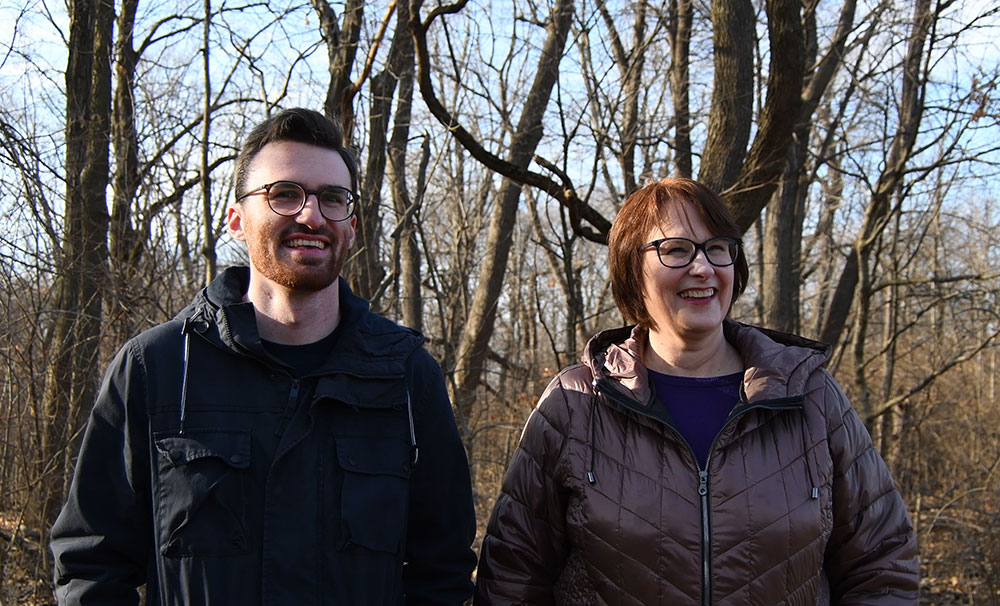 Editor's Note: Have you found your "Happy Place" in the forest preserves of Will County? If so, share your story with us so we can let people know about all of the wonderful spots that bring joy to preserve visitors year-round. If you have a "Happy Place" story to share, contact public information officer Cindy Cain at [email protected].
Wendy Fox Weber of Joliet discovered her forest preserve "Happy Place" in Hammel Woods when she was searching for a way to get some exercise close to home.
But when she faced a serious health scare two years ago, it became much more than a fitness outlet. Walking in Hammel Woods is now a way to celebrate the return of her good health and to spend quality time with her family in a beautiful outdoor environment.
"My son Eric went away to college in January 2016 and that first summer he was home we realized we would both like to hike more often together," Weber said. "My husband, John, and my son Jack hike with us on special occasions, but it's usually just Eric and me.
"Hammel Woods was our first hike," she added. "We had lived in Joliet for years and had not really taken advantage of the preserves. From there we would go all over, but it started there, and that's why it is special to me."
Her health scare came in late 2016 when she suffered complications from gallbladder surgery that led to a coma and months of recovery.
"And when I was back on my feet, we started hiking again," she said. "Because of my recovery we did not do a lot in 2017. In 2018 we did more. We don't visit in the winter, but when the weather is good we try to go on at least one good 4-5 mile hike a week."
Now that Eric has graduated from college and has returned home to Joliet to start a new job, the walks can continue and be more frequent.
"It's just a great opportunity to step away from all of the busyness and chaos of life and enjoy some nature and hike around for a little bit," Eric said.
Their favorite spot in Hammel Woods is by the DuPage River dam, and it's something they discovered on their very first hike to the Shorewood preserve. For Wendy, making it to the river is a visual reward for the outing and it signifies the halfway point and a sense of accomplishment.
READ MORE STORIES IN THE 'HAPPY PLACE' SERIES
Hammel Woods has the kind of views that make hiking worth every step, Eric added. "There are some really cool isolated spots," he said. "They're right in your backyard, you've just got to go out and make the effort to find them."
The hikes at Hammel Woods have led the Webers to tackle more Forest Preserve outings, including the "Woods Walk" challenge, which is a self-paced program that encourages participants to hike seven to 10 different trail segments from September 1-November 30.
"We decided that we wanted to do that because it was a good time to extend (our outings) into the fall," Wendy said.
For years the family would go to Starved Rock on Wendy's birthday in September. But this year, they decided to hike the Thorn Creek Woods Nature Preserve trail, which was part of the 2018 "Woods Walk" program.
Hiking is the perfect way to celebrate special occasions, Eric said.
"Having a chance to put the screens away and go out and have some time to talk in a genuine setting and to see all of the wildlife and the beauty that is around us, it sounds very 'hippy dippy' but honestly, I do love it. … It makes me happy."
And while the Weber family has hiked on trips to other U.S. locations, "There's not always time for a big out-of-state vacation," Eric said. "So having these places kind of bookmarked in our minds to go to and reconnect with nature, even for an hour or two a day, is really nice. It's good for the soul."
And it's something the family missed when Wendy was so sick, Eric said.
"When something like that happens, when there is a serious illness, it lets you take stock of what's important and kind of puts you in that moment where it's like, 'OK, this big thing just happened and we're all still here. What do we want to do with the time we've got left?'"
For the Webers, some of that precious time will be spent hiking in Hammel Woods, soaking up nature and cherishing the hours they can spend together as a family in their forest preserve "Happy Place."