Mike Nagrocki's 'Happy Place': A backyard escape teeming with wildlife
12/14/2020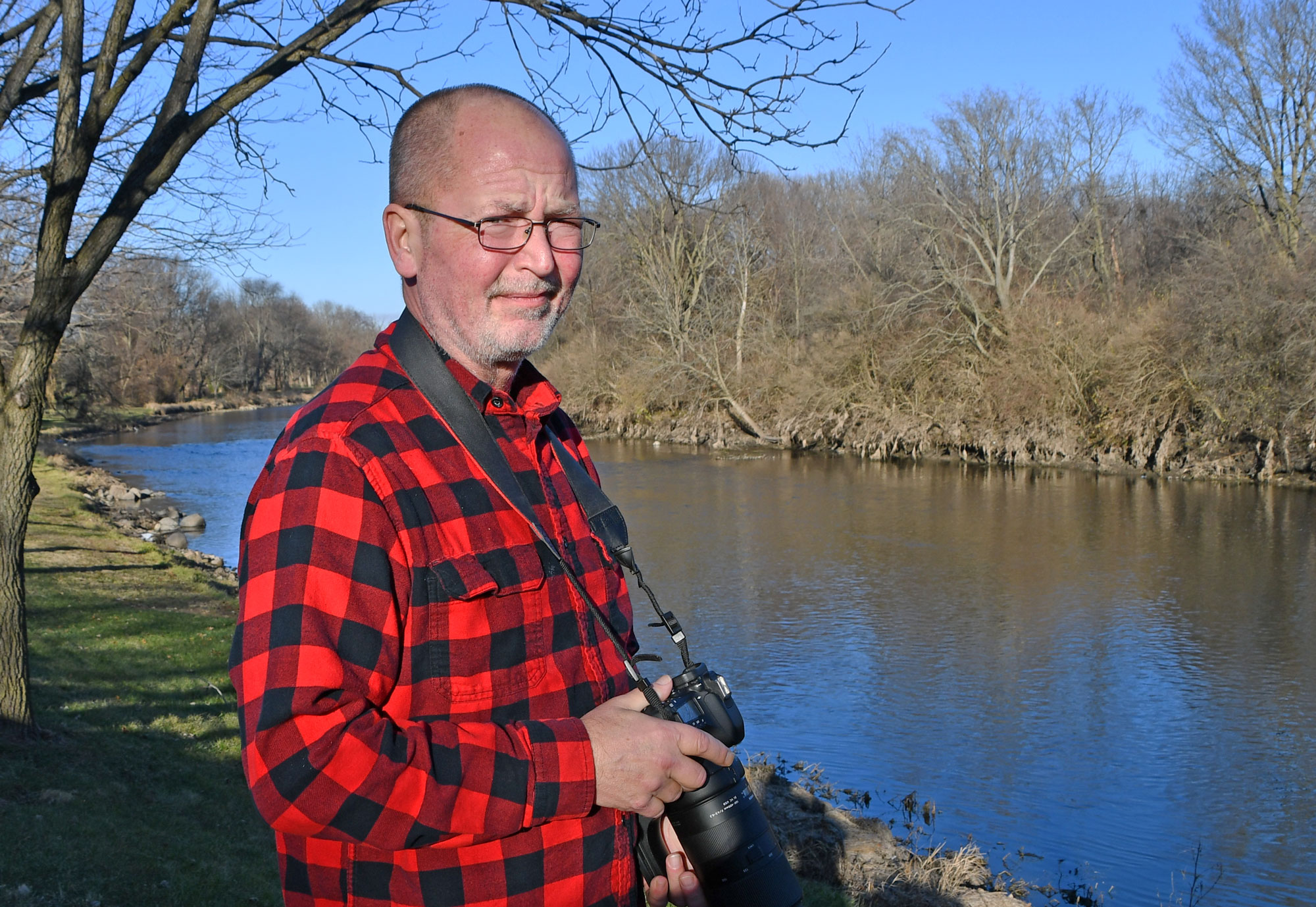 From a small deck perched near the water's edge, Mike Nagrocki has an unlimited view of a landscape that provides countless hours of beauty, relaxation and entertainment.
While he didn't realize it when he first bought his home along the DuPage River in Shorewood, he quickly learned that the undeveloped land on the other side of the water was a 17-acre unimproved preserve called Hastert-Bechstein. While the preserve has no public access, Nagrocki can see a big chunk of it from his backyard.
Everyday escape
In the five years he's lived there, the preserve's proximity across the river has quickly transformed Nagrocki into a wildlife photographer and a bird-watcher and it's become his "Happy Place." A place where he unwinds after work as a manager in the retail sector.
"It is a great way to escape everyday life," he said while standing on his deck with his camera hanging around his neck one recent warm afternoon. "It's like taking a vacation, very relaxing. You never know what you are going to see next."
The preserve really pulled him in three years ago when he spotted a pair of great horned owls roosting in a dead tree across from his property and they started hooting at each other. He had never seen an owl in the wild before.
"I still had enough daylight to actually capture a photo with my camera," he said. "And then instantly (I) became a nature photographer."
It's more common to hear owls in the dark than to see them in the sunshine, he added.
"It was a real treat to have them sit across the river from me and just put on a show, basically," he said. "They're amazing because a great horned owl is a big bird with a 6-foot wingspan."
Zooming in on animals
Nagrocki is now completely hooked on wildlife photography and has had to upgrade his camera twice so he could zoom in on the animals he was seeing.
Some of his memorable animal sightings include bald eagles flying low over the water, 17 deer jumping in the river to swim across and a great blue heron chomping on a bullfrog.
"I had just photographed the bullfrog and posted it the day before," he said. "And the next morning, the great blue heron is over here eating it, and I caught it just hanging out of his mouth, which was fantastic."
But those animals are just the tip of the iceberg. He has also seen red foxes, coyotes, snakes and a wide variety of ducks. His bird-watching list is long and includes cedar waxwings, Northern flickers, scarlet tanagers, Eastern bluebirds, barn swallows, rough-winged swallows, blue martins, egrets, green heron, osprey, broad-winged hawks and Cooper's hawks, to name a few.
His goal is to see a snowy owl this year, something he hasn't been able to capture yet with his camera.
"It's been on my list for several years, though," he said. "… I hope to run into one of them this winter, that would be great."
Will County Wildlife posts
Nagrocki posts only his best pictures to the Forest Preserve's Will County Wildlife group page on Facebook. The group has taught him a lot about bird-watching and identifying animals, he said.
And seeing other photographers' work makes him want to explore even more preserves. Nagrocki said he is lucky because he also is close to Lake Chaminwood and Rock Run Rookery preserves and McKinley Woods.
"It's just amazing all the things you see if you pay attention," he said of his forays into the preserves. "Most of these animals I didn't even know existed in Illinois." For instance, four years ago he photographed his first pelicans and became aware that American pelicans stop in Will County twice a year during migration.
He recently made a splash in the bird-watching world when he photographed a Baltimore oriole at Rock Run Rookery. It was the first time the bird was spotted in Illinois in December. Typically, all Baltimore orioles have migrated south by this time of year. He equated the rare find to the sport of fishing.
"It's like when your casting a lure into the water, it's the thrill of not knowing what you're going to get next," he said. "Sometimes I go out and I get skunked and I don't see anything. But other times I'm thrilled when I get pelicans and eagles and red-tailed hawks ...."
Nagrocki said his enthusiasm for nature photography has become contagious and now his friends and neighbors are all on the lookout for wildlife for him to photograph, including one neighbor who called when he saw a bald eagle eating a squirrel in his tree.
"He immediately called me to say, 'Hurry up, get your camera!'"
'Instantly on vacation'
Nagrocki said living across from Hastert-Bechstein has given him a much better appreciation of the importance of preserving land.
"I think the forest preserves play a huge role in making sure that people all over the place can go and see things that they can't see in their own backyards. I'm kind of lucky here because I have a forest preserve in my backyard. (It's) important to keep places wild so the animals can flourish and we can enjoy them all."
Because he grew up living next to Lake Michigan, Nagrocki said he's always had a good appreciation of the great outdoors and water.
But when he realized he was living across from a forest preserve, he started researching the Forest Preserve District of Will County to find out more. He likes that the District encourages people to "go out and enjoy what they are paying for" by educating them about the preserves, he said.
"What the nature preserves do is give you a spark to go out there and see and interact with what's around you so you are not in this tunnel world all the time and not noticing things," he said. "I never really paid attention as much as I do now to the things I see. I'm always looking."
While Nagrocki has really enjoyed his preserve views and photo and bird-watching hobbies the past few years, the activities are even more important this year during the COVID-19 pandemic.
"This is my happy place," he said. "When I come home from work, I walk back here and I'm instantly on vacation. I'm back here and the troubles of the world are behind me. ... This is where I enjoy myself the most. I'm in my element. I love being outside. I love the fresh air. I love seeing different animals and birds and everything else that all of this has to offer me."