Greg Duffner's Happy Place: Commuting on the Old Plank Road Trail is 'good for the soul'
4/10/2019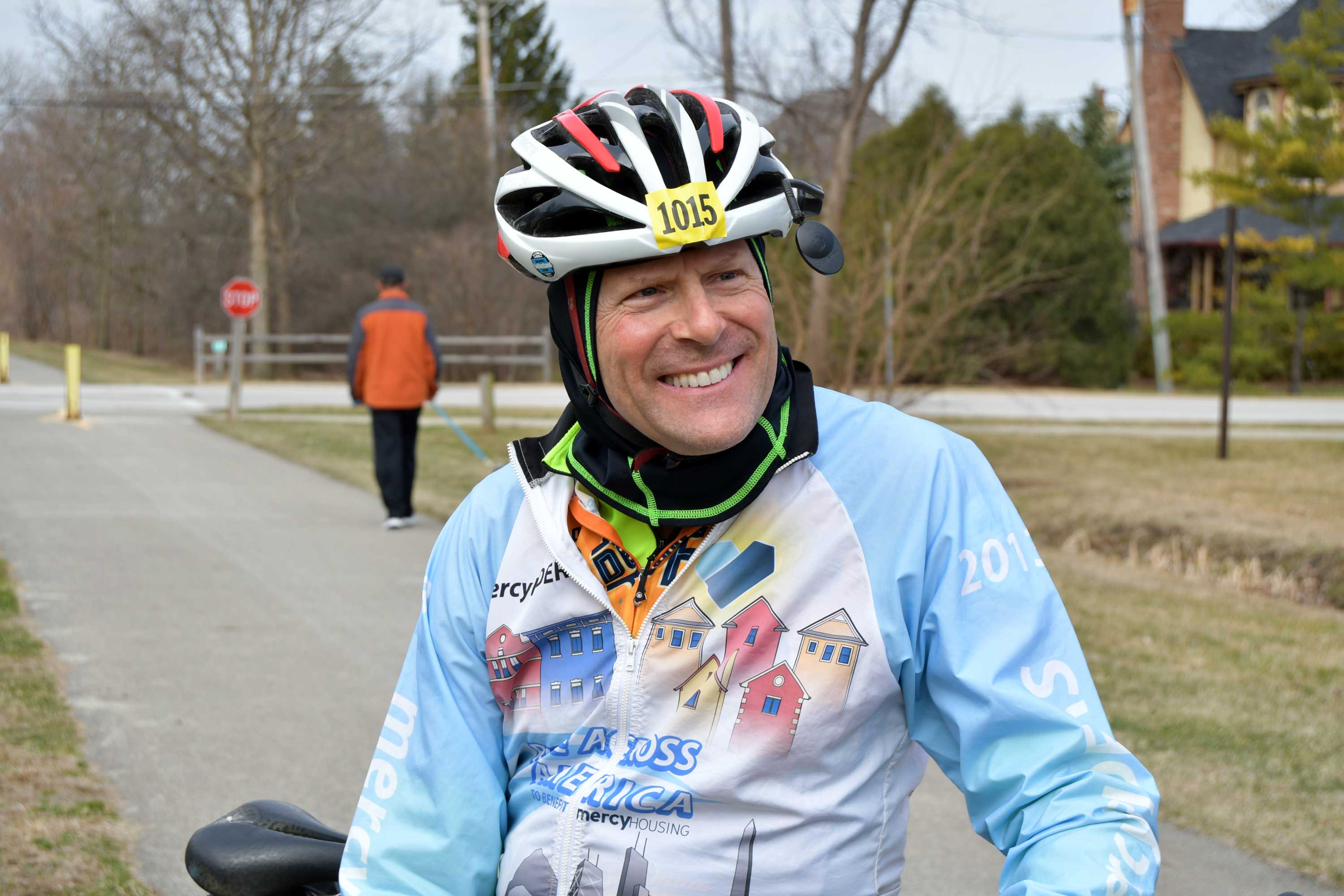 Greg Duffner never planned on being the dentist who bikes to work.
But it happened anyway.
"I fell into it," the Frankfort resident said of his unusual commute, which he's been enjoying for 30 years.
Now his daily rides on the Old Plank Road Trail have become a "Happy Place" for Duffner, who credits his pedal power with giving him a higher level of fitness and a closer connection to nature. Duffner said he has befriended a lot of people – and even pets – along the trail, and he's soaked in views of many wildlife species, including herons, egrets, hawks, owls and bald eagles.
"It's good for the soul," he said of his almost daily rides.
Duffner bikes to work as often as possible. While he used to shy away from rain and chilly temperatures, now only ice, snow and freezing temperatures keep him off the path.
"After you get soaked a couple of times, it doesn't really matter," he said of the occasional sprinkle.
Lifesaving trail
Duffner grew up in Thornton and would bike to work in downtown Homewood after he graduated from dental school. There was a shower in the dental office's basement, so he would bike, shower and see patients. When he married and moved to Frankfort, he decided to keep commuting on a bicycle.
But the ride wasn't always easy, especially before a 12-mile section of the Old Plank Road Trail opened in 1997. Duffner said the few blocks he rode on Route 30, which was a two-lane highway without a shoulder at the time, were scary.
"So this trail has literally saved my life," he said.
Duffner rides the trail for 8 miles through Will County into Matteson where he hops on a 5.5-mile road route to Flossmoor and into Homewood.
"It's quite safe, it's a lot of fun, keeps me sane," he said. "I don't go to the gym, I just ride my bike and play. … And my staff says that I'm happier when I get to work if I've ridden my bike."
Several years ago, Duffner convinced Emil McCauley, an architect friend and fellow Frankfort resident, to join him on the commute to Homewood.
"Then I have somebody to ride with me, to push me," Duffner said. "The two of us push each other."
READ MORE STORIES IN THE 'HAPPY PLACE' SERIES
Duffner always rides with a helmet and a rearview mirror attached to the helmet. He's had a few close calls, but no serious incidents other than when he clipped a pedal on the ground 20 years ago and crashed as he was rounding a curve.
"If I hadn't had my helmet on, I'd be dead," he said.
As a result, he tries to educate kids and adults along the trail on how to wear their bike helmets so they are as safe as possible while riding. "It's supposed to be adjusted down to your eyebrows," he advised.
Duffner said he also announces his presence to oncoming traffic as well as those he is passing, and he wears glasses, even if it isn't sunny, to protect his eyes from bugs and debris.
He's racked up more than 19,000 miles on his bike in the last four years alone, much of it on the 27-mile roundtrip ride.
Charity rides
Duffner first fell in love with biking when he graduated from dental school and he and his sister decided to bike from Florida to Chicago. Duffner said he loaded 30 pounds of gear on his bike and he and his sister camped along the route.
"It was a wonderful three-week bike packing tour," he said.
He has been riding to work ever since. He also rides in many charity events. And in 2013, Duffner was in a group called the Mercy Riders that biked across the country. The group raised $60,000 for Mercy Housing, a nonprofit organization that provides housing for those in need.
He biked 1,800 miles with his wife, Dr. Rosemary McGrath, on a tandem bike last summer, and the couple recently completed a Miami ride for a multiple sclerosis charity. Because Duffner is turning 60 this year, he plans to complete 60 rides benefiting the MS charity.
No matter how much money he raises through fitness rides, Duffner said biking has brought more to him than he can ever pay back, including happy times spent commuting to work on the OPRT.
"It's meant a lot to me," he said. "It's given me many, many, many gifts. I've met a lot of people."
If you've found your own "Happy Place" in the Forest Preserve District of Will County, contact public information officer Cindy Cain at [email protected] so you can be featured in this "Happy Place" series of stories and videos.