Earin Land's 'Happy Place': Melting Away the Pounds and the Past on the Wauponsee
12/10/2019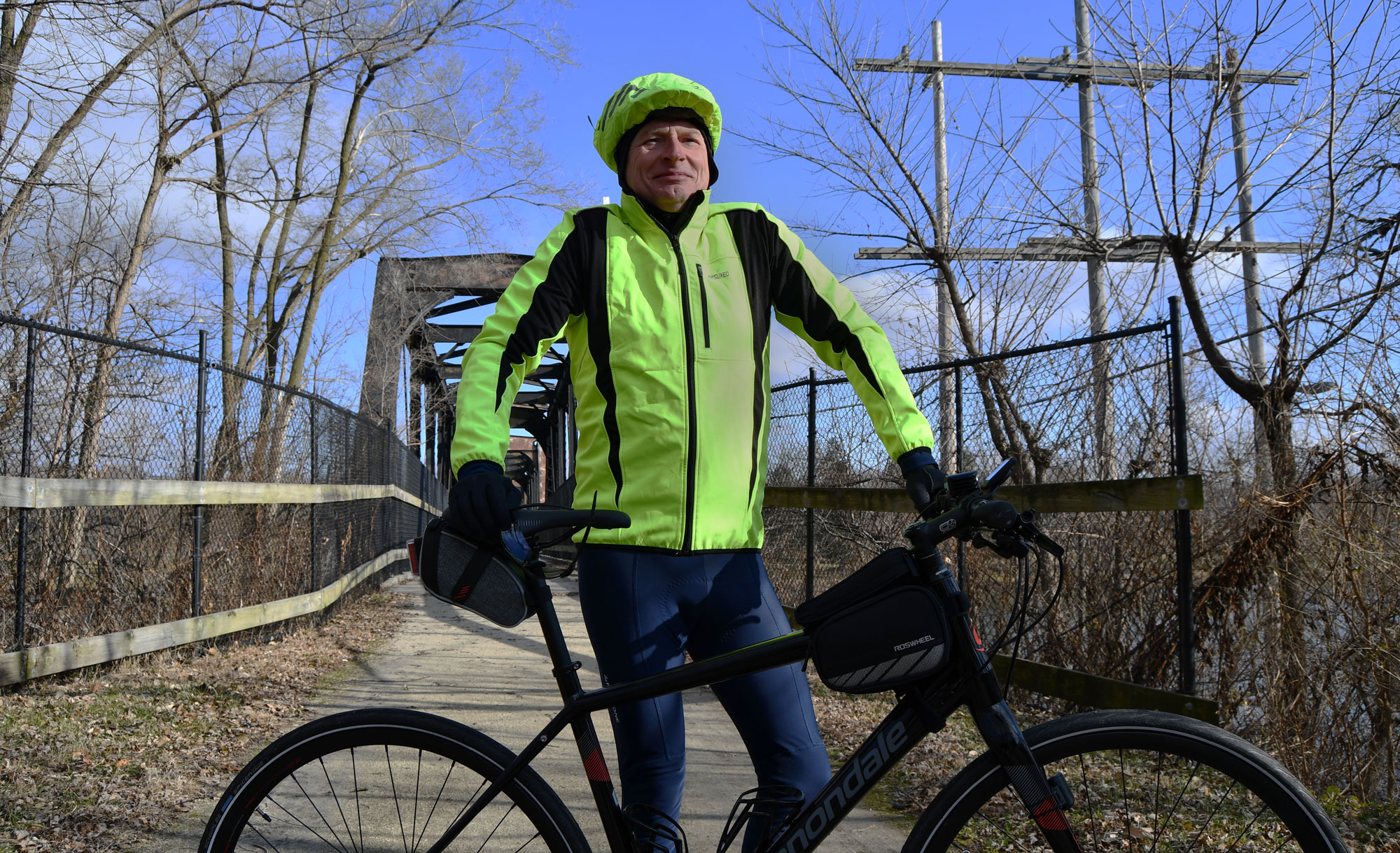 As Earin Land approached retirement, he knew he had to have a plan to stay fit both physically and mentally.
For Land, a retired Will County Sheriff's Police sergeant, the Wauponsee Glacial Trail was a key part of that plan and it quickly became his "Happy Place."
"This is my home turf here," he said while standing at the terminus of the trail on a cold but sunny December morning. "I love this trail."
Retirement plan
Though he was aware of the Forest Preserve trails because of his job as a police officer, he said he truly didn't appreciate the paths until he started biking in 2017 in preparation for retirement in August 2019.
"Looking ahead to retirement, I wanted some activities to keep me busy and to stay in shape," he said. "One of the worst things you can do when you retire, is if you don't have a plan (to) stay healthy you just pick up a lot of weight. It affects the health poorly."
His favorite trail quickly became the 22.42-mile Wauponsee Glacial Trail because of its proximity to his home in Elwood. The trail was carved out of two abandoned railroad lines and it travels from Joliet south through Manhattan, Symerton and Florence and Wesley townships to an old railroad bridge at Route 113 in Custer Park.
"It is 5 miles from my house, and I ride from my house to the trail down to Custer Park and back, which is a 36-mile loop, which is a great ride," he said. "I'll do that a couple of times a week. One week alone I rode 183 miles."
His choice of hobby was a good one. He quickly shed 30 pounds once he started rolling on the trails. In fact, he lost so much weight, he had to review his eating habits to put back on some pounds.
READ MORE STORIES IN THE 'HAPPY PLACE' SERIES
Trail therapy
After witnessing many difficult scenes as a police officer in his 31-year career, Land said his long-distance rides on the trail are a godsend and a place to clear his mind and process the past.
"When you do the job, you compartmentalize," he said. "You put everything in little 'baskets' and you set them aside. And you try to ignore them."
Out on the trails, Land said he would take time to unpack some painful policing memories.
"When you are on a trail and you've got the wildlife and the trees, the surroundings are so much better to deal with something like that than sitting at home in a room or staring at a wall and thinking about it. This really is a therapy in itself. It just helps you melt it away."
He wound up biking 2,300 miles his first year riding in 2017. He pedaled fewer miles in 2018 and 2019 because of foggy, rainy mornings and job schedule changes. But now that he's retired and he has a brand new Cannondale hybrid bike, he's ready to ramp up his mileage using the Wauponsee Glacial Trail as his starting point.
Land said that in 2020 he plans to bike his first "century" or 100-mile ride. The route will include the Forest Preserve's Wauponsee, I&M Canal Trail in Joliet, and the Veterans Memorial/Centennial Trail in Romeoville. From there, he will bike east into Cook County and then south to the Old Plank Road Trail, which will bring him back to the Wauponsee via a short street route.
Perfect path
Land enjoys summer biking the most, but he also rides in winter in temperatures as low as 28 degrees. He'll even ride in light snow on another bike he owns with fatter tires. He wears special gear, including clothing that will shield the wind from his helmet and shoes, multiple layers of shirts and socks and even a head sock for his face and goggles on windy days.
"If you can contain the body heat and keep moving, you stay pretty warm," he said. "It's just the wind. If the wind is bad, it cools you off too fast."
Observing wildlife during his rides has become another plus to his biking hobby. He said he was surprised to see pheasants on the trail this year. He has also observed birds, deer and snakes. And he has had two interesting collisions with creatures, a bat grazed his left shoulder and a monarch butterfly flew into his forehead. Both creatures survived their encounters.
He loves how long the trail is and how few road crossings there are. It gives him the time he needs to keep both his body and his mind in tip-top shape.
"You start to focus on what's important in life," he said. "It really humbles you. It lets you sort through things. … And you come back off the bicycle ride not only physically in a better state, but mentally in a better state. It's just a wonderful, wonderful ride."
__________
If you've found your own "Happy Place" in the Forest Preserve District of Will County, contact public information officer Cindy Cain at [email protected] so you can be featured in this "Happy Place" series of stories and videos.