A primer for bringing your pooch to a preserve
5/18/2018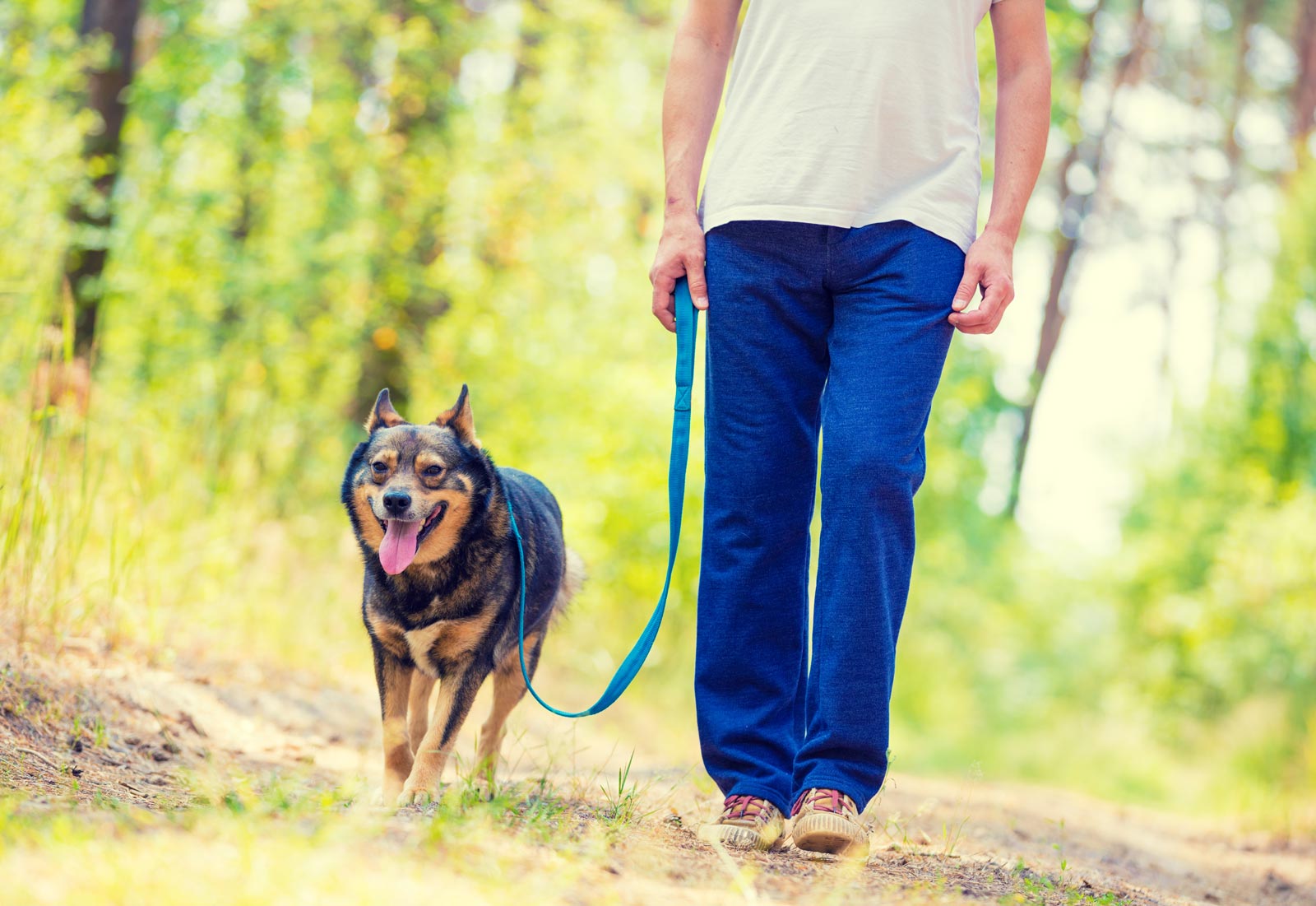 If you have an energetic puppy or an adult dog that needs to stay fit, the Will County forest preserves are a great place to take a walk.
But there are some things you should know before you clip a collar onto your canine and head for a preserve: the length of leash you use is important, dogs aren't allowed on every trail and there are rules about picking up after your pup and bringing your dog to a dog park.
Here are some guidelines that will help you as you start hitting the trails with your four-legged friend in tow:
Use a leash
First and foremost, all dogs must be leashed on Forest Preserve trails. Leashes must be no longer than 10 feet. And the human end of the leash must be in your hand so your dog isn't dragging the loose leash behind him. Keeping dogs leashed protects them from tangling with bicyclists, pedestrians, others canines and even motor vehicles if just exiting your car in a preserve parking lot.
Dogs aren't allowed in nature preserves
Dogs are not allowed in areas that are designated by the State of Illinois as "nature preserves." Nature preserves are of higher quality and there are stricter rules about what can happen at these sites due to their rare or unique ecological value. Dogs and dog waste could interfere with delicate ecosystems that exist in the nature preserves.
In most cases, a nature preserve designation encompasses the entire preserve. These sites include:
Braidwood Dunes and Savanna Nature Preserve
Messenger Woods Nature Preserve
Lockport Prairie Nature Preserve
Raccoon Grove Nature Preserve
Thorn Creek Woods Nature Preserve
All of these locations are completely off limits for dogs. However, three of the District's preserves have mixed land designations. Goodenow Grove, Hickory Creek and Lake Renwick preserves all have some portions of trail that allow dogs, and some portions that don't allow dogs. Watch the trailhead signs to see where it's OK to walk Fido. For instance, the trail at Lake Renwick Heron Rookery is off limits, but the Turtle and Budde lakes side of the preserve does allow dogs.
Pick up your pooch's poop – please!
Dog feces must be removed and disposed of properly, according to the District's General Use Regulation Ordinance No. 124. Tickets will be issued to those who don't comply, and the maximum fine is $500.
No one wants to look at your dog's poop on a path. But more importantly, there are health and environmental reasons people are required to pick up after their pets. According to the U.S. Centers for Disease Control, dog feces should always be removed from yards and public places by using a bag and disposing of it because, "Dog and cat poop can contain parasites and germs that can be harmful to people."
The feces also can be harmful to the environment, according to the U.S. Department of Agriculture's website, www.usda.gov:
"Dog waste that isn't cleaned up isn't just a hazard for the bottom of your shoes – it is also a cause of pollution in creeks, rivers and lakes across the country," the website states. "Dog waste contains nitrogen and phosphorus, which can deplete oxygen that fish and other water-based life need to survive, as well as encourage the growth of harmful algae. It is also considered a significant source of pathogens like fecal coliform, a disease-causing bacteria."
And while the Forest Preserve installs dog waste bag stations at all of its dog parks and on some heavily trafficked trails, it's always a good idea to bring your own bags in case a waste bag station is temporarily empty.
Dog park permits and rules
Finally, if you are interested in having your dog romp off leash, you can check out the District's six dog parks, which are located in Homer Glen, Joliet, Naperville, Shorewood, Wilmington and Crete Township.
You need a permit to bring a dog to one of the dog parks. Permits can be purchased online or at one of four visitor centers. Basic dog park rules include:
Dogs must be at least six months of age.
Permit holders may have no more than three dogs in the dog park at one time.
Dogs must display their rabies tags while inside the dog park.
Dogs must be leashed when entering and exiting the dog park.
Owners must remain with their dogs and keep their dogs under control at all times.
If you have any questions about these rules, call the District's headquarters at 815-727-8700.