Five ways to make the holidays more eco-friendly
12/2/2022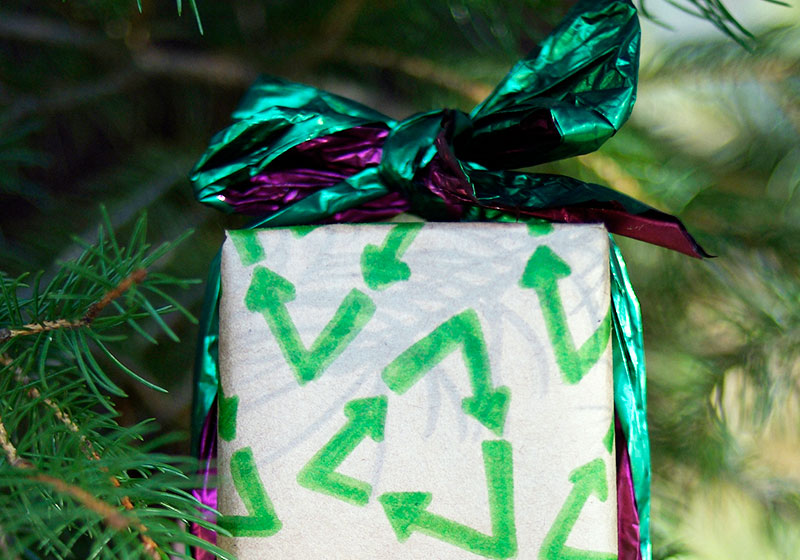 The holidays are a festive time, a season to eat, drink and be merry. But all that merriment can create a lot of excess waste.
In the period between Thanksgiving and New Year's, Americans generate 25% more waste than at any other time of the year, according to Stanford University. That's a lot of wrapping paper, ribbon, packaging materials and holiday leftovers piling up in our landfills. With hundreds of millions of us contributing to all this holiday excess, it may seem like our individual efforts to cut back won't make much difference, but every effort helps.
So instead of the "Blue Christmas" Elvis Presley crooned about, you can make a conscious choice to celebrate a more green holiday this year. Here are five ways you can be more eco-friendly during the holidays this year.
Plan your menu wisely
No matter the holiday, food is often the centerpiece of our celebrations, and many of our most treasured holidays traditions and memories involve food. But these holiday feasts can also have a large environmental impact. You can lessen the impact by planning your feast wisely. For starters, try to find locally sourced foods, including produce and meats, when possible, the World Wildlife Fund advises. And although meaty entrees may be the centerpiece of your holiday meal, consider that the livestock industry accounts for about 14.5% of all man-made greenhouse gas emissions, so a more plant-based meal is much more environmentally friendly.
Wasted and leftover food also have a huge environmental impact, with between 30% and 40% of the American food supply eventually becoming waste, according to the U.S. Department of Agriculture. You can help avoid adding to our excess food waste by properly calculating how much food you need. A good rule of thumb is 1 pound of food total for adult guests and about a half pound of food for kids, according to the Food Network.
Of course, no one wants to run out of food at a holiday party or celebration, so plan a menu that will leave you with leftovers and extras you can easily use. If you have leftover turkey or ham from a holiday feast, plan to use it in soups and casseroles in the following days. And if the leftovers are more than you can use, pack some up to send home with friends and relatives. Just be sure to use environmentally friendly reusable containers whenever possible, the World Wildlife Federation advises.
Deck the halls with the environment in mind
Festive decor can help put people in the holiday spirit, but what we deck the halls and trim our trees with has an environmental impact. One easy way to be more eco-friendly when decorating is switching to LED lights. These lights are much more energy efficient than incandescent bulbs, requiring about 75% less electricity, according to the U.S. Department of Energy. They also last 25 times longer than incandescent lights, and you can safely string together up to 25 strands of LED lights end to end without overloading your outlet.
RELATED: REAL OR FAKE CHRISTMAS TREE? WHICH ONE IS BETTER FOR THE ENVIRONMENT
If you can't afford to replace all your holiday lights at once, do it in smaller batches. Maybe start by replacing your Christmas tree lights this year, then moving on to outdoor lights next year. Or, if you use strands of lights of several different colors, replace one color at a time.
Wrap accordingly
A well-wrapped gift certainly looks pretty under the tree or in the hands of the intended recipient, but what happens to all that pretty, festive paper after it's ripped open by the enthusiastic recipient? Plenty of it ends up in the garbage can, ready to make its way to the landfill.
According to an estimate from Earth911, about 4.6 million pounds of wrapping paper is produced in the United States each year, and 2.3 million pounds of wrapping paper ends up in landfills. While some wrapping paper is recyclable, much of it isn't because it is laminated, textured or glittered. Ribbons and bows aren't recyclable either, although they can often be reused.
Instead of wrapping a gift in traditional gift wrap, consider more eco-friendly options. You can use brown craft paper that you decorate yourself, or as an alternative to paper, wrap a gift in something useful, maybe a throw, blanket or even pretty kitchen towels. It's like giving a gift wrapped in a gift. Gift bags can be a good choice, too, because they can be used over and over again. And holiday-themed reusable shopping bags are another good environmentally friendly gift-giving choice.
And don't forget that cardboard gift boxes can be recycled — or even better, reused year after year — as can tissue paper, as long as it isn't metallic, glittery or plastic based, according to the American Forest & Paper Association. And all those boxes that have been piling up on your doorstep as the delivery trucks make their rounds can be recycled as well. You don't even need to remove the shipping labels of tape.
Give experiences
Many Americans have a lot of stuff; many of us even profess to have too much stuff. And we all know that one person who is impossible to shop for at the holidays because they already have everything. So instead of giving a gift that may collect dust or end up in the regifting pile, give the gift of an experience, because even those of us who have everything still like to get out and do things.
Just like tangible gifts, experiences can be tailored to fit the recipient's interests. People who love the arts might enjoy tickets to the theater or a museum. Music lovers would love concert tickets and foodies might enjoy a gift certificate to a new local eatery or gourmet grocer.
And if you're on a tight budget, experience gifts need not be costly. The gift of time can be a cherished gift and a way to create lasting memories with loved ones. Instead of a coffee-themed gift or gift card, give a relative or friend the gift of monthly coffee dates. Do your grandkids have more toys that you can count? Give the gift of regular playdates or trips to favorite parks and playgrounds. And many people with young kids would love the gift of babysitting services.
Other non-tangible gifts that many recipients love to receive are subscriptions and memberships. Pay the yearly subscription fee for a streaming service, purchase a subscription for a loved magazine or newspaper or buy a yearly membership for a zoo or museum, for example. These gifts keep giving all year long and don't take up space at home.
Be a smart traveler
For many of us, the holidays involve travel, whether it's over the river and through the woods to grandmother's house we go or we're in for a long plane ride to visit faraway friends and family. If you holiday plans have you leaving home, travel with the environment in mind. For starters, consider that car and train trips have smaller carbon footprints than plane trips, according to the World Wildlife Fund. If air travel is necessary, try to choose airlines that operate efficient aircraft and have high occupancy rates. And if you're traveling for pleasure rather than to visit loved ones, remember that shorter trips — be it by plane, train or automobile — have less of an environmental impact.
When at your destination, be an eco-conscious guest by being aware of and following local guidelines and restrictions on water and energy consumption. Choose environmentally friendly transportation options like trains, bikes or even walking, and make sure to recycle whenever possible, the World Wildlife Fund suggests.