Don't put your bike away for winter; hit the trails instead
1/27/2023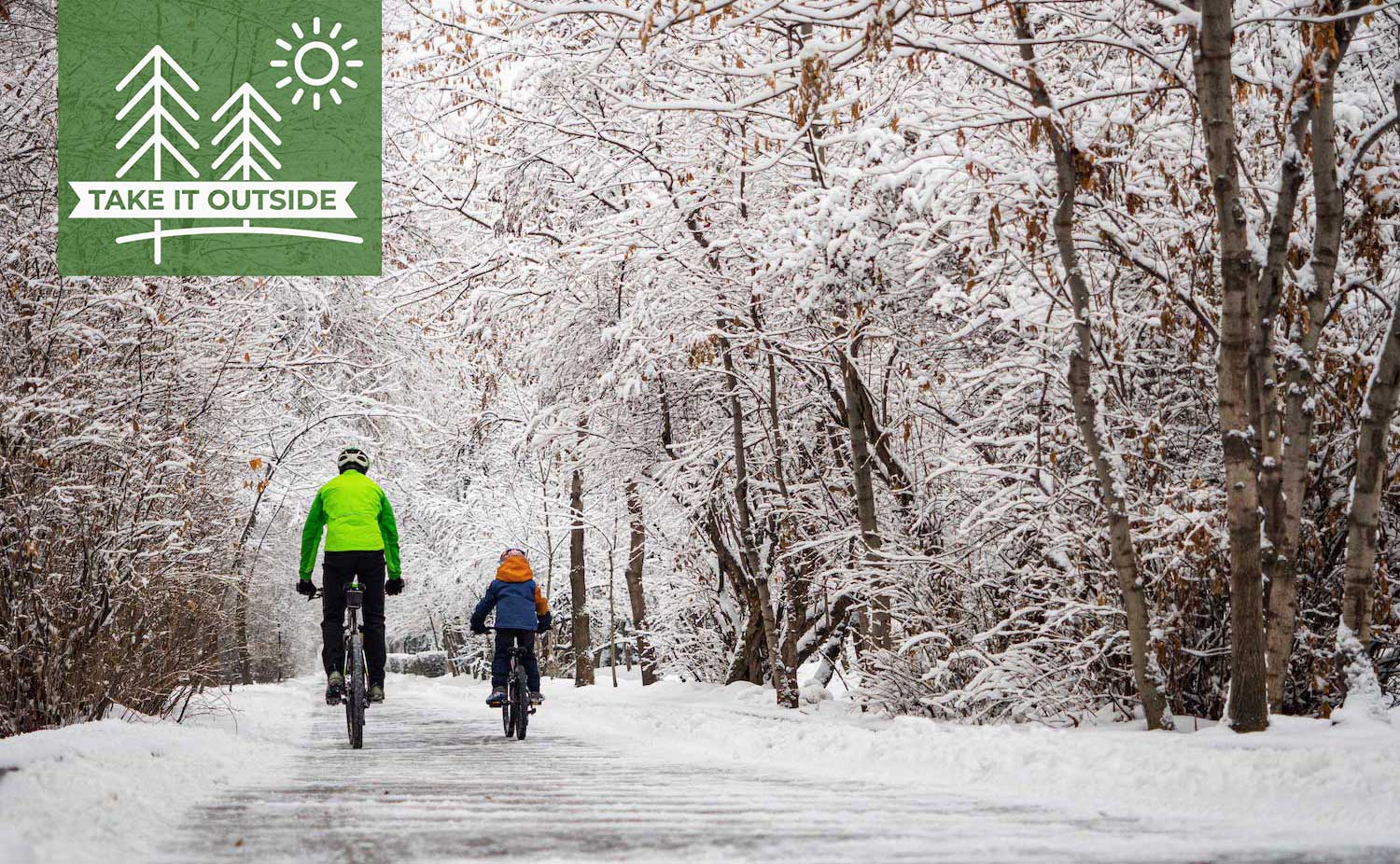 If hitting the trails on your bike is your warm-weather workout of choice, there's no reason you have to give it up for winter. Winter biking may pose a few challenges and require some additional planning, but you don't need to hang up your bike until spring.
If you're planning to ride through the winter, your first priority should be making sure your bike is in good working order. To start, check the tire pressure on your bike, Rails-to-Trails Conservancy advises. For winter rides you may want to adjust the standard tire pressure listed on the tires' sidewalls to be a few pounds less than full. This will allow your tires to have more contact with the ground, which is helpful in winter weather.
You don't need a specially equipped bike to ride in winter, but if you plan on riding frequently in snowy conditions, you might consider a fat-tire bike because the thicker tires have more surface area to grip the ground, according to The Washington Post. Another option is swapping out your bike's tires for studded tires. You might also want to look for fenders that you can add over your tires to help prevent slush, snow and water from splashing up at you as you ride.
Once your bike is outfitted for winter, the key to a good winter ride is planning, and the first thing to consider is the weather, Rails-to-Trails Conservancy states. Not every winter day is conducive to a bike ride, so make sure you check the weather forecast for the time of your ride to ensure it will be warm enough and no dangerous winter precipitation will be falling. Also take into account the earlier sunsets in winter. If you're planning an afternoon ride, make sure you leave yourself enough time to make it home before dark if you and your bike aren't equipped with the safety gear necessary for a ride at dusk or in the dark.
RELATED: WE WANT YOU TO TAKE IT OUTSIDE
If you will be riding after the sun sets, then the appropriate safety gear is a must. Make sure you have a front light tightly mounted to your handlebars, a red light for the rear of your bike, a light for your helmet and reflective light-colored clothing. You might also consider adding lights to your bike wheels and reflective strips to your bike frame to increase how visible you are.
You'll also need to make sure to dress for the weather. It's important to dress in layers so you can take them off or put them on as conditions warrant. For your outer layer, choose a coat or jacket that is wind- and water-resistant. For your bottom layer, choose a moisture-wicking fabric to help keep sweat off your skin, Rails-to-Trails suggests. You'll need to keep your head warm too, so look for a thin hat that you can safely wear under your helmet or opt for an ear warmer. You might also consider a neck gaiter to keep your neck and lower face warm.
And don't forget your sunglasses, which can protect your eyes from wind and glare if there's snow on the ground. You'll also want something to keep your hands warm, so look for gloves or mittens that allow you to keep a good grip on your handlebars.
Once you hit the trail, be mindful of conditions as you go, Rails-to-Trails advises. You may need to ride slower than you do at other times of year because trails may be wet, icy or snowy. Keep in mind that forest preserve bikeways and trails are not plowed after snowfall, and surface conditions can vary considerably along different segments of trail because of factors like weather, sunlight and trail usage.
Because trail conditions are not always consistent and can change rapidly in the winter, it's a good idea to have a backup plan if your return trip isn't feasible, Rails-to-Trails recommends.
And although you may not be working up a sweat like in the summer, don't forget to bring water on your ride. You may not feel as thirsty as you would on a warm-weather ride, but that doesn't mean you don't need to stay hydrated so try to remember to drink water throughout your time riding, Rails-to-Trails suggests. If you're planning a long ride, pack a few snacks as well.