Asian carp for dinner? With new name, look for copi on a menu near you
6/22/2022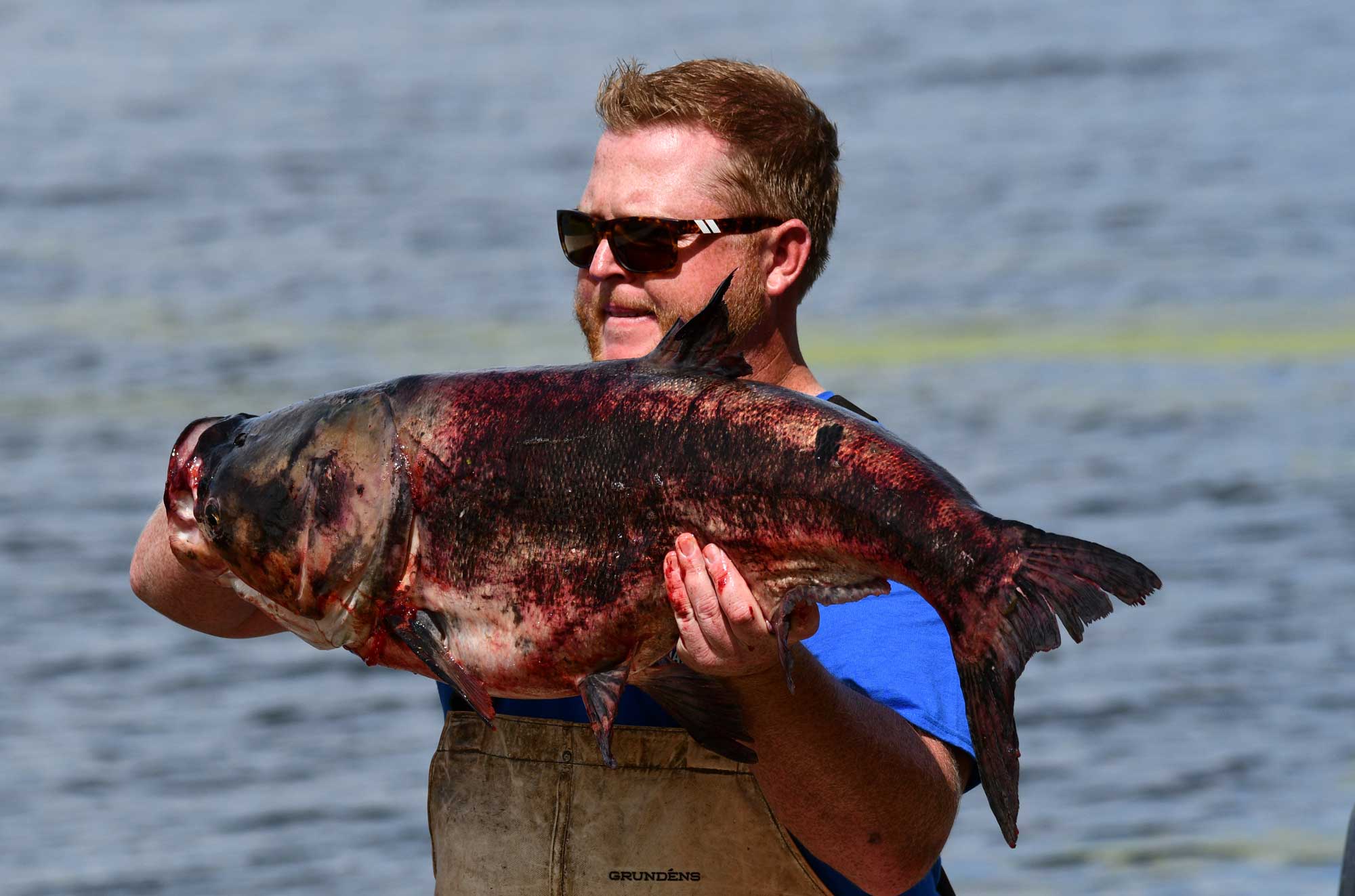 Asian carp might be showing up on the dinner menu at a restaurant near you, but with a new name designed to make the fish a little easier to swallow for local diners.
On June 22, the Illinois Department of Natural Resources unveiled a new name for Asian carp: copi. The renaming initiative is part of a marketing effort designed to encourage more people to eat the fish, which is widely consumed outside the United States, according to the agency.
Invasive Asian carp have caused extensive damage to waterways in Illinois and beyond, and many efforts today focus on keeping the fish out of the Great Lakes, where they could devastate the $7 billion a year commercial fishing industry and $16 billion a year tourism industry, according to an IDNR press release.
The new copi name refers to four species of Asian carp: bighead carp, black carp, grass carp and silver carp, according to IDNR. These carp species are of particular concern because of their invasive qualities. Their high reproductive rates, lack of natural predators and big appetites can and have caused significant damage to waterways in Illinois and many other states.
These carp species needed a new name because people have negative connotations of carp as bottom-feeding fish because they associate Asian carp with common carp. However, the Asian carp in Illinois waterways are top-feeding fish, according to IDNR. Some species, like bighead and silver carp, eat plankton, while black carp eat snails and mussels and grass carp eat aquatic vegetation.
It's these eating habits that were the reason Asian carp were originally introduced in the United States in the 1960s to help keep ponds on fishing farms clean, according to IDNR. In the 1970s, however, flooding and accidental release enabled the fish to escape these contained waterways and begin to migrate up the Mississippi River waterway system, where they have caused extensive damage.
These carp species are high in Omega-3 fatty acids, low in mercury and heavy metals and have a clean taste, according to the newly unveiled Choose Copi marketing campaign. Several celebrated Chicago-area chefs, including "Chopped" champion Brian Jupiter, who is the chef and owner of Ina Mae Tavern in Chicago, and James Beard-award-winning chef and restaurateur Beverly Kim, participated in the name unveiling, calling copi a good-tasting and healthy fish and also an environmentally responsible choice.
It's not the first time a fish has been rebranded to make it more palatable to the masses. Have you ever eaten Chilean sea bass? You might be surprised to learn that before it hit the menu at your local restaurant this so-called sea bass was known as the Patagonia toothfish, and it looks like what you might expect for a fish with such a name. And the orange roughy you had for dinner last week? In the ocean it's known as slimehead, not the most appetizing name for an entrée.
Copi was selected as the new name as a play on the word "copious," an apt description of what the fish are, according to the IDNR release. Between 20 million and 50 million pounds of copi could be harvested from the Illinois River each year, and hundreds of millions pounds more could be harvested from waterways elsewhere in the United States.
The four-year marketing campaign, which began in 2020, is being funded with $600,000 from the U.S. Environmental Protection Agency's Great Lakes Restoration Initiative. Illinois took the lead on the marketing effort with hopes that copi will catch on nationwide. As part of the launch of the new name, 14 fish processors, manufacturers and distributors are making copi products available, and 21 chefs and retailers have committed to including the fish in their stores or on their menus, according to the IDNR news release. You can see where copi is available near you at ChooseCopi.com.
While you may see copi popping up on restaurant menus as a result of the rebranding effort and marketing initiative, in stores the fish will still be labeled as carp until a name change is approved by the U.S. Food and Drug Administration. State officials hope to seek approval for the official name change by the end of 2022. One of the requirements for the name change is that the new name be in widespread use, and the official unveiling of the new name is part of that effort.