Walk, roll or run to fall fitness and fun
9/22/2022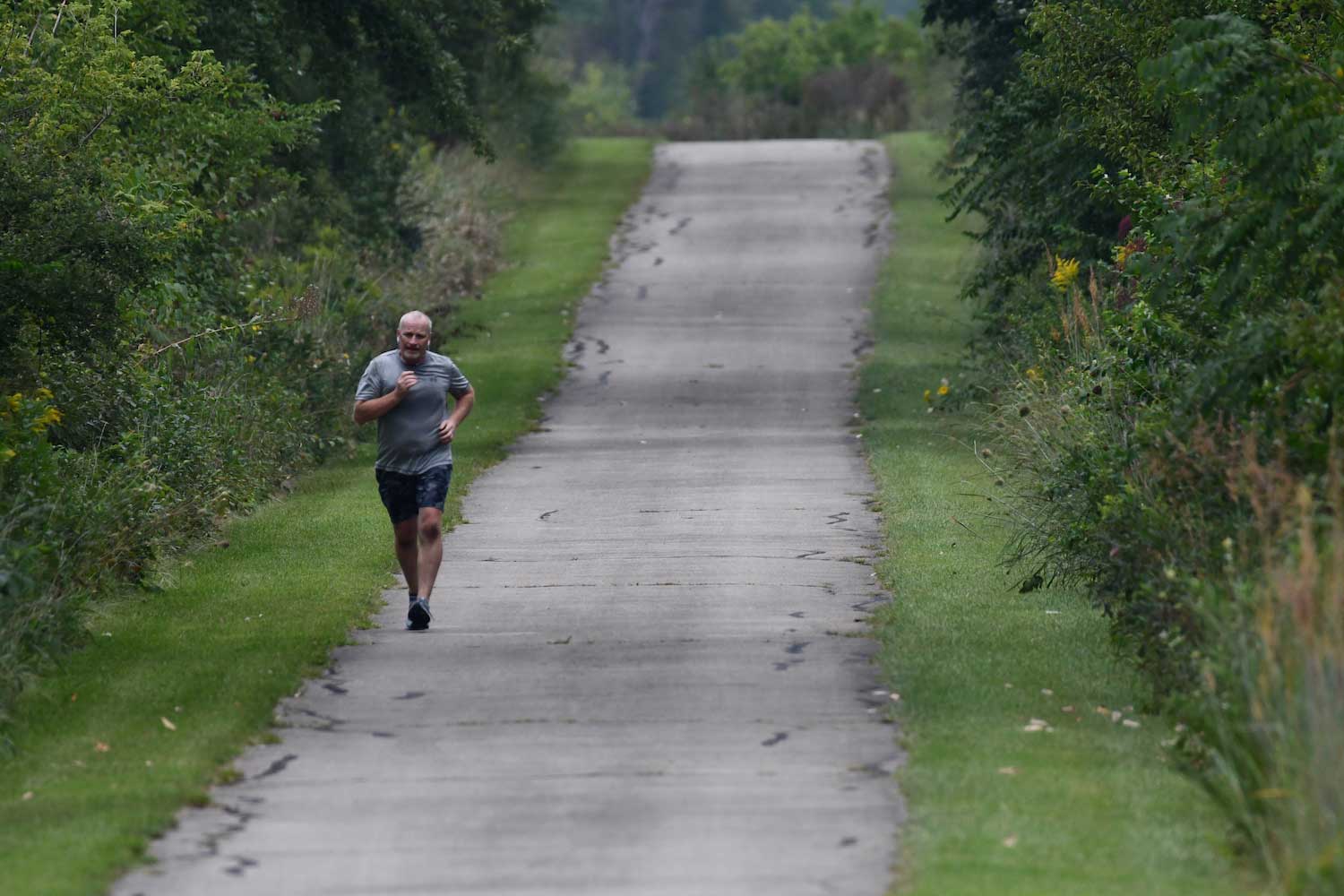 You shouldn't be eyeing your couch and searching for the TV remote now that fall has arrived.
Instead, consider getting more active in autumn, when cooler conditions can put a spring in your step. To help keep you moving in October, the Forest Preserve District has scheduled programs where you can walk, roll or run to fitness and fun.
Harvest Hustle: First up on Oct. 1 is the launch of the Harvest Hustle, a virtual 5K program that lets you run 3.1 miles on one of 11 designated Forest Preserve District of Will County trails. The first 100 who upload proof of their run from a running app will receive a Harvest Hustle long-sleeved shirt. You have until Oct. 31 to record a run. And remember, it has to be on one of the designated trails to count. A run upload submission form will go live on our website when the virtual 5K begins Oct. 1.
Pumpkin Fun Run: If you like running with other people, a 2.5-mile, in-person Pumpkin Fun Run is set for 11 a.m. to 1 p.m. Saturday, Oct. 15, at Hadley Valley Preserve – Gougar Road Access. Register by Oct. 11 for this free, all-ages run. Each participant gets a mini-pumpkin and a complimentary orange wrist sweatband.
"The run is new this year," said Jen Guest, the Forest Preserve's recreation coordinator. "Even though we call it a fun run you can walk, run, and even bring your little ones in strollers to participant. Offering a fun environment while promoting wellness is what this event is all about. There will be extra fun in the form of Auntie Anne's food truck, lawn games, a face painter, free giveaways, and a fall-themed photobooth."
Here are some other October options to keep your feet busy this fall season:
Morning Bird Hike: 8-10 a.m. Sunday, Oct. 2, Messenger Woods Nature Preserve, Homer Glen. Fall migration is a great time to spot birds moving south for the winter. Hike 1.5 miles to 2 miles to find out what birds use this preserve. Free; ages 16 or older. Register by Oct. 1.
Woods Wander: 10-11:30 a.m. Sunday, Oct. 9, Plum Creek Nature Center, Crete Township. This slow, meandering hike will provide plenty of opportunities to stop and take it all in. Be prepared for a hike of 1.5 miles to 2 miles. Free; ages 10 or older. Register by Oct. 8.
Rec Bike Club: Two rides are planned for October. A 7.1-mile ride on the Spring Creek Greenway Trail from 5:30-7 p.m. Thursday, Oct. 13, Hadley Valley – Route 6 Access. Also, an 8.5-mile ride is set for 10-11:30 a.m. Saturday, Oct. 29, on the Wauponsee Glacial Trail – Sugar Creek Preserve Access. Free; ages 16 or older. Register by Oct. 11 for the Spring Creek ride and Oct. 27 for the Wauponsee ride.
Moonlight Masquerade: 7-9 p.m. Friday, Oct. 21, Plum Creek Nature Center. Wear a costume and bring a beverage of your choice for this 1-mile hike for ages 21 and older. The cost is $5 per person. Register by Oct. 19.
Tree ID Hike: Noon-1 p.m. Sunday, Oct. 23, Isle a la Cache Museum, Romeoville. Enjoy a little leaf peeping while learning how to identify different species of trees on the island. Free; ages 10 or older. Register by Oct. 21.
And don't forget, you can participate in the annual Woods Walk program during the entire months of October and November. Walk seven of 10 designated trails to earn the 2022 commemorative medallion. Woods Walk concludes Wednesday, Nov. 30, and participants have until Saturday, Dec. 31, to submit their travel log.