Volunteer valentines: cherishing time outdoors together
2/9/2023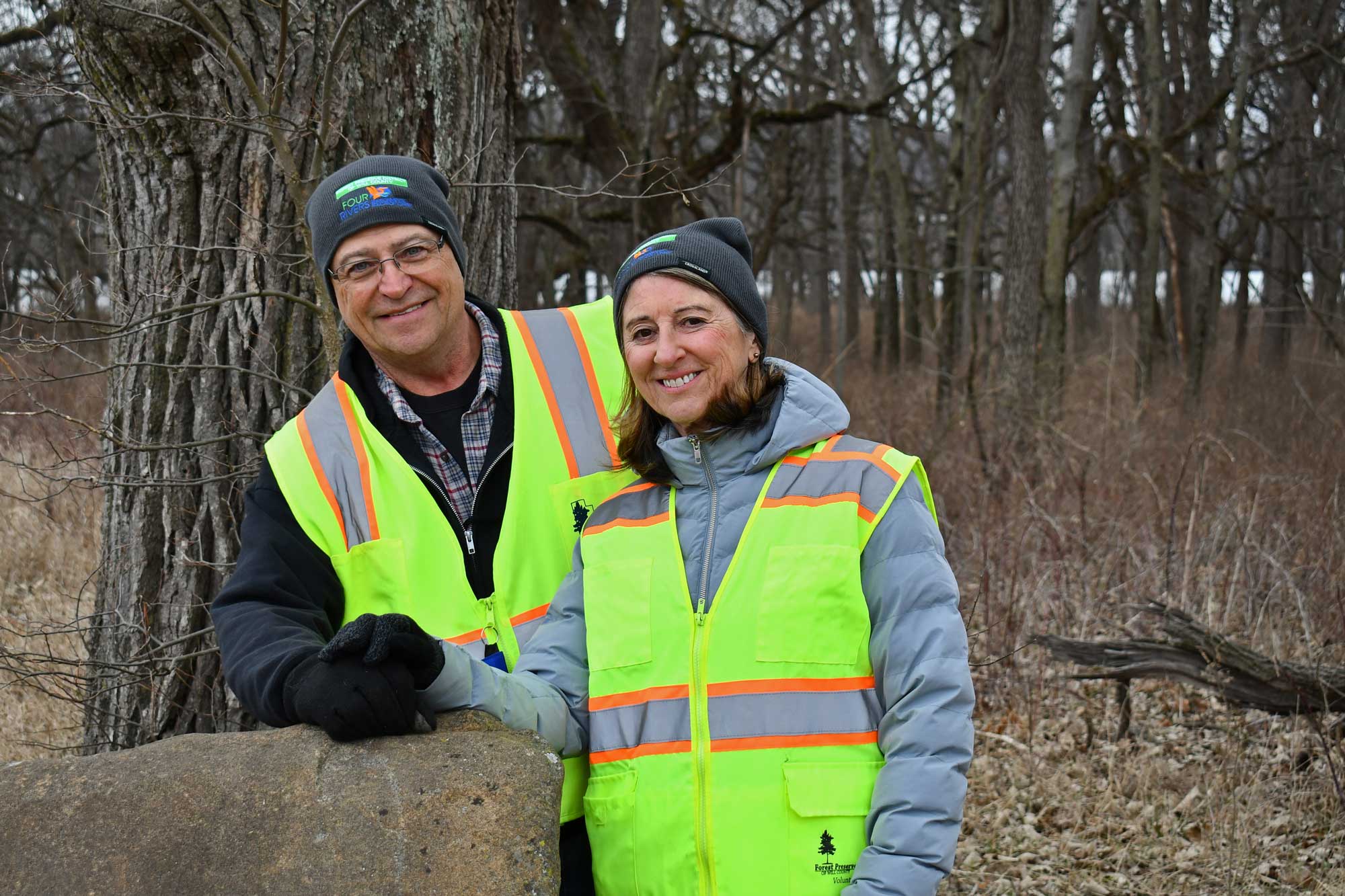 James Evans will never forget the first dance he had with a young woman in a Joliet bar around 50 years ago.
He forgot to get her name that night and, for weeks after, he went to the bar hoping his dance partner would return. But she never showed up.
He was about to give up hope when the woman happened to walk by the front window of the print shop where he was working. He ran out of the business and followed her down the street.
"I caught her right in the middle of the Cass Street bridge," he said. "From that very moment, I never let her go."
Now retired and married for 45 years, James and Marilyn Evans still stick together even when they are volunteering for the Forest Preserve District. They are among several couples who volunteer for the Forest Preserve as teams.
In honor of Valentine's Day, we thought it would be fun to ask volunteer couples how being together out in nature makes their partnership better.
'Just listen to the quiet'
"Volunteering enhances our relationship by setting quality time together without the outside world getting in the way," James said. "Sometimes we sit in the woods and just listen to the quiet. We find ourselves chatting about things and dreams of days to come. We are best friends."
The retired couple have been volunteering for four years as trail sentinels, mostly at McKinley Woods in Channahon where they live.
"The Four Rivers area is our backyard, and we walk and ride the trails whenever weather permits," James said. "We cherish our time on the trails together as a few hours of 'our time.'"
The Evans' are not alone in enjoying volunteer activities together, said Emily Kenny, supervisor for the Forest Preserve District's Volunteer Services Department.
"Many of our volunteer opportunities are great for couples," Kenny said. "Whether it is helping during a habitat management morning, walking or biking in the preserves while monitoring the trails, collecting data on wildlife, or assisting at a special event, couples can enjoy each other's company and nature while donating time to the Forest Preserve."
More fun together
Sometimes, an individual will join the Forest Preserve's volunteer ranks and then recruit a loved one later, Kenny said.
"I'm really excited when I find out that a person joins the volunteer program after their partner has been a volunteer with the Forest Preserve for some time," Kenny explained. "It shows that they have had a positive experience, shared that with a loved one, and inspired them to also volunteer."
That's what happened with Lee and Connie Witkowski of Lemont who have been married 47 years "and counting," according to Lee.
He has volunteered with the Forest Preserve for 20 years and she joined 18 years ago. While Lee volunteers for several District activities, including bird monitoring and prescribed burns, they volunteer together at Lake Renwick Heron Rookery Nature Preserve.
"It is more fun volunteering together," he said. "We do a lot of things separately so working together is a lot of fun. It keeps us from drifting apart. Quality time is important."
Every day can be Valentine's Day
The couple that has been volunteering for the Forest Preserve the longest is Don and Espie Nelson of Plainfield. They have been married 52 years and started volunteering with the Forest Preserve 24 years ago.
"We both had an interest in the outdoors long before we were married," Espie said. "Our interest in prairie restoration began after Don's retirement."
They started volunteering at Midewin Tallgrass Prairie in the 1990s and volunteered at their first Forest Preserve program in 1999. In the early 2000s they became stewards at Vermont Cemetery Nature Preserve and Don also was a co-steward at Lockport Prairie for a number of years. Through the years they have helped with prescribed burns, endangered species monitoring and invasive species removal.
"Now, we both cut brush and herbicide stumps, do hand weeding, and help at plant sales," she said.
And while Valentine's Day is a special day meant for presents and treats for some couples, Espie has a different philosophy on the holiday.
"Sorry, Feb. 14 is just another day on the calendar," she said. "It isn't about a card, flowers and a box of chocolates. Valentine's Day can be 365 days a year if you want it to be. Just show your respect and appreciation to your spouse, lover or anyone you come in contact with every day of the year. Life always gets easier and goes smoother that way."
If you are interested in volunteering with the Forest Preserve, call Emily Kenny at 815-722-7364 or email her at [email protected].