Bald eagle update: We have two confirmed eaglets in a nest
4/18/2022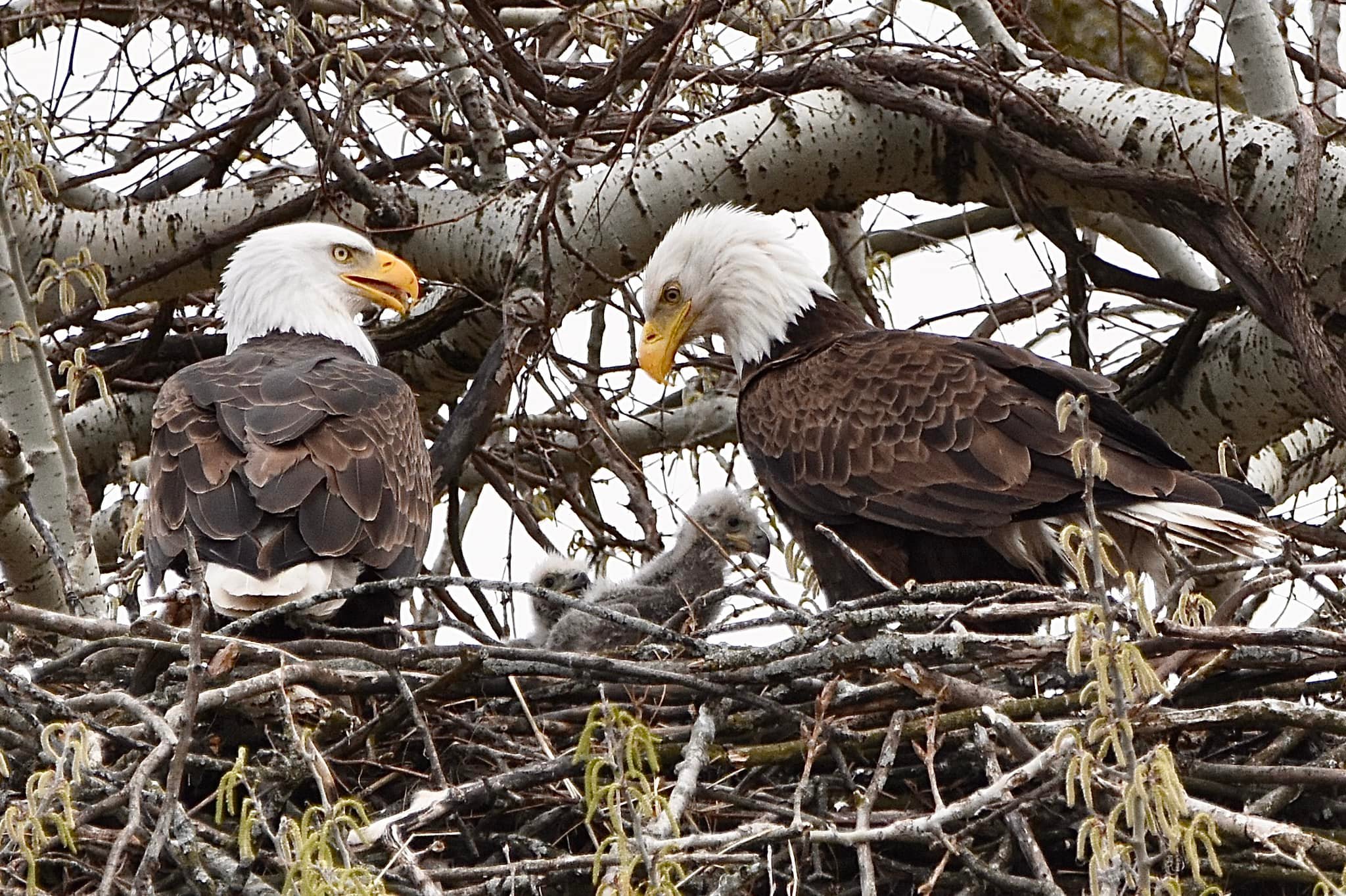 Once again this year we've been monitoring two active bald eagle nests in the preserves and over the weekend we got confirmation that one of the nests has produced two offspring.
The confirmation came via photos taken by Bertrand Leclercq, a regular poster to our Will County Wildlife Facebook Group. This was the first visual confirmation we've had after District staff struck out on multiple attempts, because when it comes to wildlife, timing is everything. Sometimes we get lucky but in the case of these nests, luck has not been on our side.
The nest with the confirmed sighting of the eaglets is in its second year of use — that we know of — and last year, also produced two offspring.
We're still waiting to get confirmation on eaglets in the other nest we're monitoring.
It can be hard to spot the eaglets at the beginning considering how big a bald eagle nest is. The nests generally measure 4-5 feet wide and are 2-4 feet deep. Our best bet for seeing the eaglets in the first few weeks after hatching is if we're around during feeding time when they lift their heads high, jockeying for position for whatever their parents have caught.
Nests are used year after year and require some maintenance and additions prior to nesting season. Eagles will usually keep building on the nest until it gets too big and it collapses or the weight of it breaks the tree. But then they'll just find a new location and build another one.
Longtime volunteer Joel Craig has been monitoring the other nest since it was first built late in 2018 and has noticed how it's changed over time.
"It gets taller each year and that is just because they are constantly covering what's there and building on top of it," he said. "Whether it's feces, animal remains, or other material. It's not like they clean the nest out, they just cover it up and add on to it."
FOLLOW OUR TODAY'S BALD EAGLE TWITTER ACCOUNT
Looking ahead, these eaglets should start branching — when they start exploring outside of the nest — about 10 weeks after hatching. At around 12 weeks, they'll start testing their wings. They'll remain in the area with their parents' supervision for the rest of the summer and into the fall.
This year's new arrivals will further increase the local population because they won't stray too far from home. Craig said that an increasing number of immature bald eagles in the winter indicates the ones we're seeing now are residents and not migrants. It's also evidence that we have good, clean water and a healthy fish population to support them year-round.
"To see eagles rebound like they have in this area in the past 10 years has been pretty exciting," Craig said. "To be threatened and endangered when I was a kid to what we're seeing now, it's really a population explosion in our area over the past few years.
"They're just such majestic birds, it's hard not to be in awe of them," he said. "To continue to watch the nests over the years has been fascinating."
It's important to note that eagles and their nests are federally protected and human interference could cause them to abandon the nest and their eggs. The National Audubon Society recommends being at least 330 feet away from a nest. In order to protect these birds, we never publicly disclose nesting locations.
If you should come across a nest, please be sure to keep your distance.