Tune in to 'The Buzz' to learn about snakes, turtles and baby animals
5/16/2022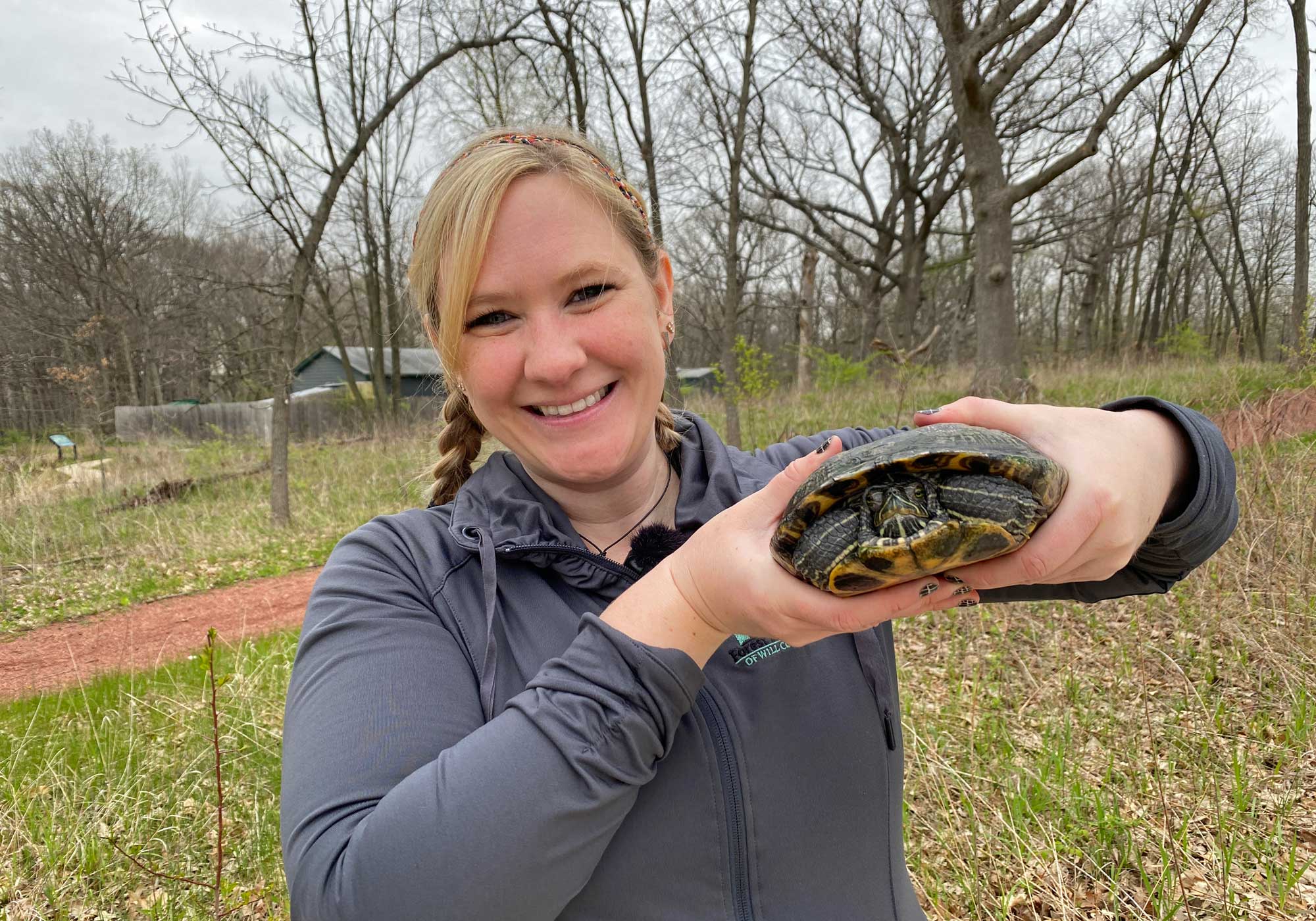 The May episode of "The Buzz," the Forest Preserve District's monthly nature show, features the positive traits of snakes, turtles on a mission and advice about baby animals.
The program debuts at 8:30 p.m. Wednesday, May 25, on the Forest Preserve's Facebook and YouTube pages and at 9 p.m. Friday, May 27, on WJYS TV, courtesy of funding from The Nature Foundation of Will County. Local cable stations also carry the show in Joliet, Naperville, New Lenox, Romeoville and Tinley Park.
Program host Suzy Lyttle said the show's first segment will highlight one of her favorite animals.
"Snakes always need a little more love, so I am happy to feature them this month," said Lyttle, who is a Forest Preserve program coordinator.
Snakes are very active this time of the year "slithering around the preserves," Lyttle said, and they were easy to find for filming at Goodenow Grove Nature Preserve in Crete Township.
"We saw them in the shrubs, on logs, and even crossing the trails in front of us," Lyttle said. "No need to fear them because we have no venomous snakes in our area. I think the first step in building a good relationship with these beneficial animals is learning more about them."
Another reptile on the move is turtles, Lyttle said.
"Their instincts push them to find a place to lay eggs," she explained. "These instincts take them on an adventure, including crossing busy roads. On the 'Buzz Bit' I will walk through easy steps on how to help. Remember, always move a turtle in the direction it was heading. Trust that they have a plan and do not take them to a foreign pond."
Finally, the show will delve into the cuteness of baby animals and what to do if you encounter one.
"From fuzzy foxes to awkward eagles, the next generation is growing up," Lyttle said. "As we look at different animals, we have also sprinkled in what to do if you find a baby animal. For the most part, don't do anything. The parents are nearby and are waiting for the coast to be clear to step in."
For more information on what to do if you encounter wildlife, visit the Forest Preserve's Coexisting With Wildlife page.
View all episodes:
SUBSCRIBE TO OUR YOUTUBE CHANNEL