Track turtles and learn how recycled bikes do good on this month's 'Buzz'
8/26/2022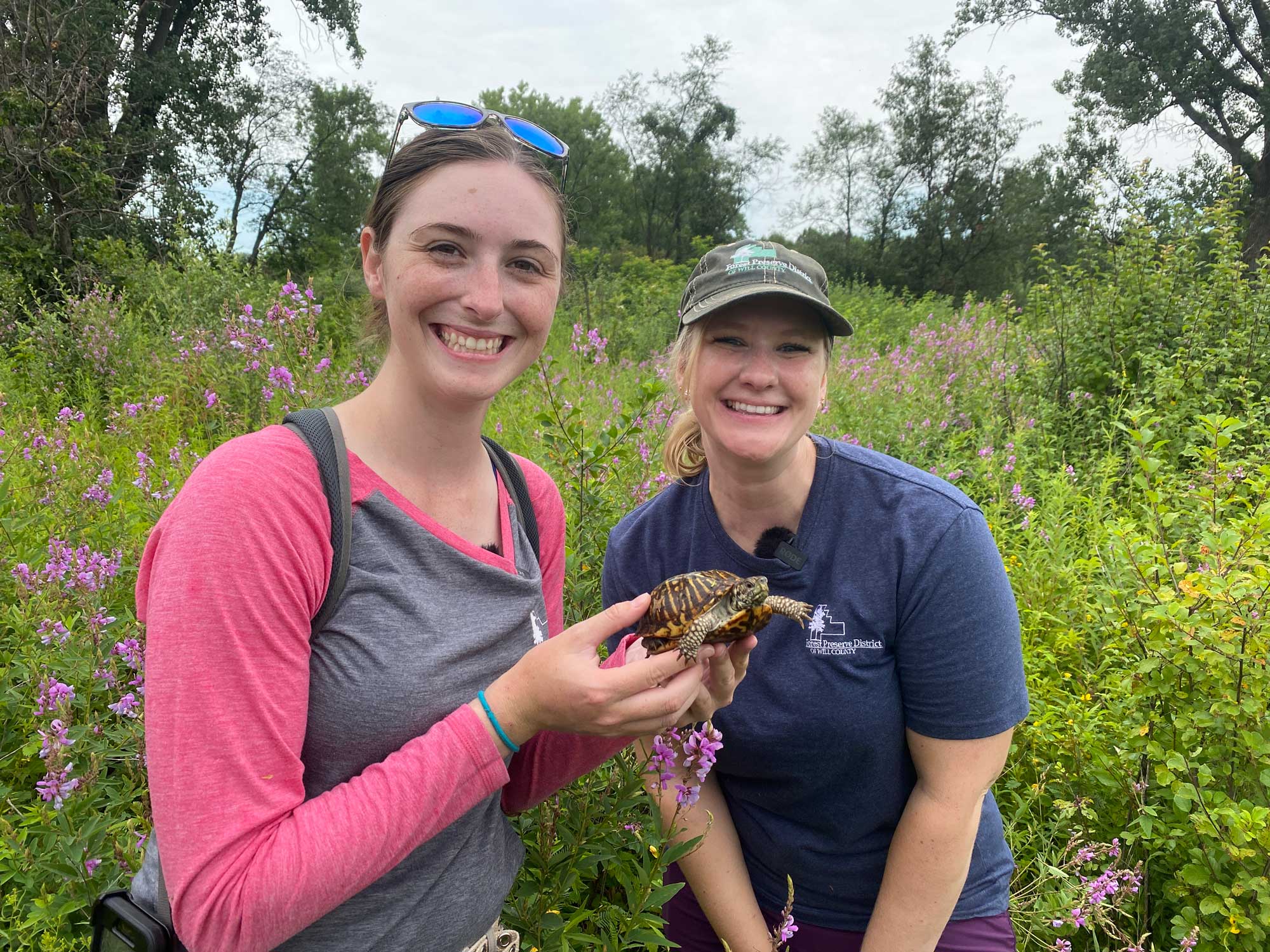 August's episode of "The Buzz," the Forest Preserve District's monthly nature show, takes viewers on a turtle hunt as Forest Preserve staff collect data on a threatened species and also to a bike recycling center to see its inner workings.
The program debuts at 8:30 p.m. Wednesday, Aug. 31, on the Forest Preserve's Facebook and YouTube pages and at 9 p.m. Friday, Sept. 2, on WJYS TV, courtesy of funding from The Nature Foundation of Will County. Local cable stations in Joliet, Naperville, New Lenox, Romeoville and Tinley Park also carry the show.
Turtle time
The turtle segment follows Becky Blankenship, the Forest Preserve's wildlife ecologist, as she tracks state-threatened ornate box turtles to gather data. Following Blankenship as she searched for turtles outfitted with transmitters was an "awesome experience," said "Buzz" program host Suzy Lyttle.
"We followed the chase as the equipment beeped louder and louder signaling a turtle was nearby," said Lyttle, who is a Forest Preserve program coordinator. "Even when you thought the turtle should be right in front of you, the hunt continued as we moved the tall prairie plants out the way looking for the sunburst-patterned shell. These turtles are about the size of your hand, so finding them was more challenging than you would think!"
The turtles are also hard to detect because they are normally buried in the ground, Lyttle added.
"So for some, we only saw a bit of their shells," she said. "Others were on the move and running way. You would think they are slow creatures, but man can they dart through the tall grass like it is nothing!"
In the segment, Blankenship talks about her study and why it is so important to learn more about this threatened species.
"The prairie was full of thorns and poison ivy, but the work is worth it because it provides the scientific community with valuable data to help ornate box turtle populations," Lyttle said.
Where do the bikes go?
If you have donated bikes to the Forest Preserve's Recycle Your Bicycle program through the years, you might have wondered what happened to them.
All the donated bikes are taken to Working Bikes, which Lyttle visited recently to see the inner workings of the agency.
"Seeing the Working Bikes facility and meeting the hard-working staff and huge force of volunteers is sure to give you inspiration," Lyttle said of her trip. "Bikes collected by the Forest Preserve could be donated to local communities in Chicago or shipped to their partners in Africa or Central America. Their goal is to provide everyone with reliable and sustainable forms of transportation."
Working Bikes also empowers people by training them how to fix bikes, she added. And some of those refurbished bikes are sold in the shop to provide funding for the charitable mission.
"I left with a huge smile on my face seeing everyone's passion and hard work at the shop," Lyttle said.
After being held only at Monee Reservoir for more than a decade, the fall Recycle Your Bicycle collection event will be held at two locations this year from Saturday, Sept. 17, to Sunday, Oct. 2:
View all episodes: