Tour Goodenow Grove and watch an owl pellet dissection during November's 'Buzz' episode
11/23/2022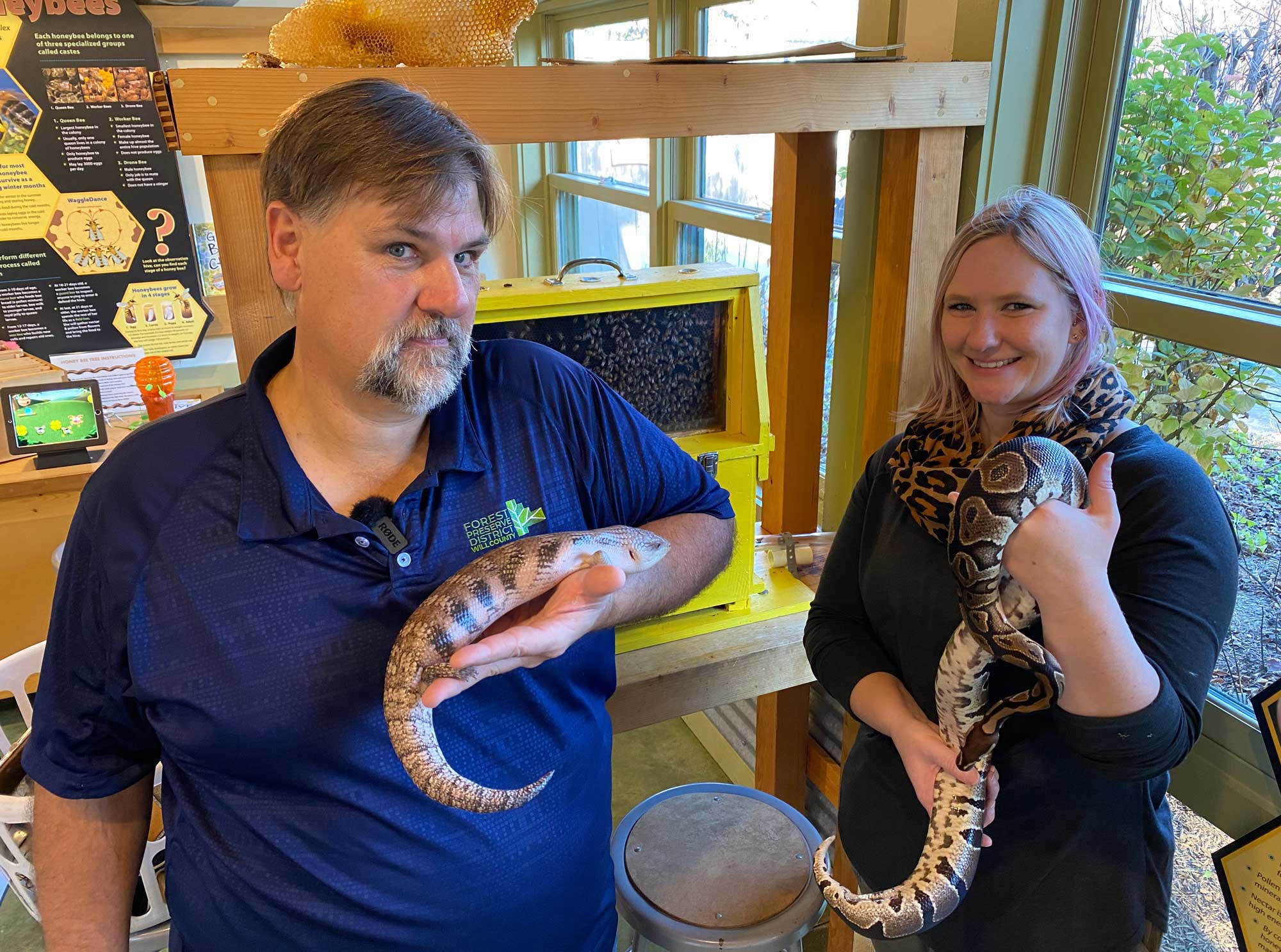 What could be better after hectic Thanksgiving holiday preparations and Black Friday shopping than a nice relaxing serving of nature news.
The Forest Preserve District's November episode of "The Buzz" will help refresh you with a trip into the history and the terrain at the popular Goodenow Grove Nature Preserve in Crete Township. And the show's second segment digs into the fascinating topic of owl pellets.
The November "Buzz" will debut at 8:30 p.m. Wednesday, Nov. 30, on the District's Facebook and YouTube pages. The show also can be viewed at 9 p.m. Friday, Dec. 2, on WJYS TV, courtesy of funding from The Nature Foundation of Will County. Additionally, local cable stations carry the show in Joliet, Naperville, New Lenox, Romeoville and Tinley Park.
For the Goodenow Grove segment, program host Suzy Lyttle will be joined by fellow program coordinator Bob Bryerton.
"We discuss the history, the trails, and winter recreation at Goodenow Grove and we also visit Plum Creek Nature Center," Lyttle said. "We will share information about the live bees and reptiles that call the nature center home," she explained. "Penny the python has been featured on "The Buzz" before but this time you will also get to meet our blue-tongued skink and the Eastern box turtle."
Lyttle said the preserve and nature center are both "near and dear" to her and to Bryerton because she started her full-time career with the Forest Preserve at the site and Bryerton has worked at Plum Creek for 20 years.
"It was a joy to reminisce about my favorite spots and share stories with Bob," she said. "When you are a naturalist at the preserve you really learn the place inside and out."
Lyttle also will dig into some owl pellets during the episode to showcase one of the in-school offerings available through the Forest Preserve's education program.
"This is my favorite in-school program we offer at the District," Lyttle said. "There is nothing better than seeing students feeling totally grossed out in the beginning and by the end not wanting to stop dissecting! We talk about what exactly is a pellet and see what kind of bones we find. This is an amazing activity because you get to see the food web right before your very eyes."
View all episodes: