The Preserves are For You: Rugged Ramblers share a love of nature – and walking
10/3/2022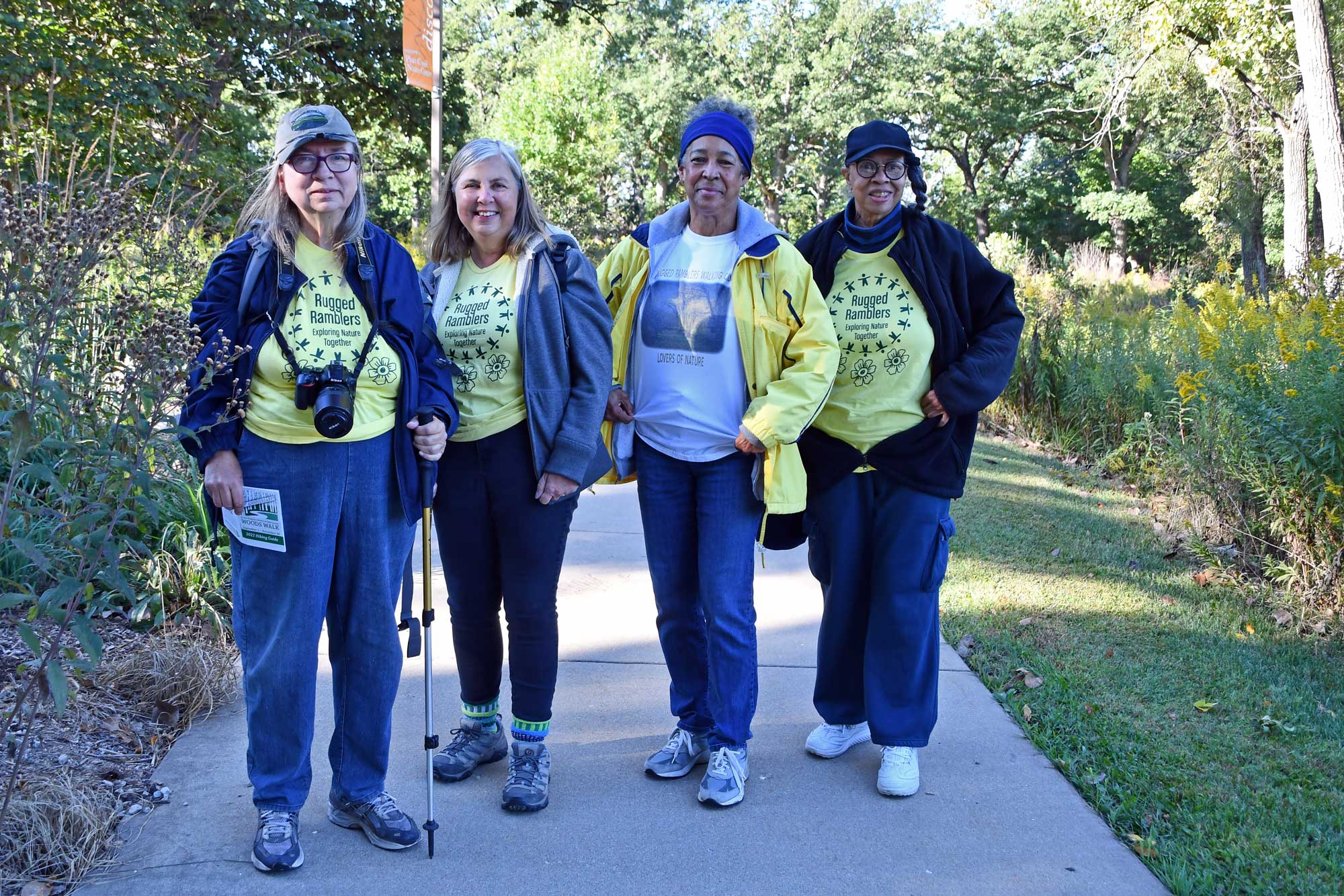 The Forest Preserve District launched a campaign this year called "The Preserves Are for You." As part of the campaign, we are featuring the stories of people of varied cultures, ages and abilities who spend time in the preserves. You will learn how they came to love nature and how the preserves enhance their lives. Here is the story of the Rugged Ramblers, a hiking group whose members range in age from 59 to 80.
Background
The Rugged Ramblers group began around 2010 as an offshoot of the Thorn Creek Woods Nature Preserve Wednesday Morning Walkers program. Cousandra Armstrong of Matteson said she decided to branch out and schedule Tuesday and Thursday walks and the Rugged Ramblers group was born. Through the years, members have come and gone, and new members are added mostly by word of mouth, but the core of the group remains strong and committed to exploring nature together.
Armstrong, Tomacenna Lyle of Homewood and Cosi Dean, who has moved to Colorado, were the founding members. The group now consists of almost 30 people, mostly women and a few men.
"We average eight to 12 people per walk," said Rhonda Campbell of Beecher, who joined around six years ago and has taken over the role of hike coordinator. "We come from several southern suburbs and Indiana. Ten of us are from Park Forest."
Hikes range from 2 to 4 miles.
"We tend to do Old Plank Road Trail a lot, which we access from various locations," Campbell said. "Other favorites include Goodenow Grove and Sauk Trail. As we walk at different speeds, all of us have at least one person to walk with."
Rugged Ramblers members have three big things in common, Campbell said.
"We all love walking, and we all love nature, and we all love walking together!"
Upbringing
Lyle, Armstrong, Campbell and Georganne Higgins of Bourbonnais, who joined the group in 2011 after her daughter graduated from high school, chatted recently at Plum Creek Nature Center prior to a walk on the Plum Creek Greenway Trail.
Like many who love nature, the Rugged Ramblers women were exposed to the great outdoors as children either through a parent, Girl Scout experiences or an inner drive to be outside.
Lyle said her mother was a teacher and she brought her children to woods and parks at a very young age.
"She included my brother, who wore a brace on his leg from polio," she said. "He was able to use the paved paths. As an adult, he didn't walk with me, he used his bike."
Higgins said her father grew up in Brooklyn and was "totally a city person." But something inside her was drawn to nature growing up in Cleveland, Ohio. "We had an apple tree and a cherry tree in our yard, and I spent as much time as I could climbing the trees."
As an adult, she served as a volunteer for the Columbus, Ohio, park district system for 19 years, working in a nature center and leading hikes.
"And then we came to Illinois, and I started going to the forest preserves," she said.
SUBSCRIBE TO OUR YOUTUBE CHANNEL
Preserve Love
The group's hikes have led members to explore nature photography and birdwatching.
"I love the outdoors and I love learning about all the plants," Lyle said. "The preserves are wonderful. What I really like too is how everything is allowed to fall in its natural habitat. If it falls down, let it fall and decay naturally. It shows you the evolution of everything."
Armstrong said she sought out the Wednesday walking group at a low point in her life in 2005.
"I needed something to fulfill me," she said. "I had just lost my job and I came there (to the Wednesday group). It was a thrilling thing to do. It was relaxing. It was beautiful and the people were very nice and friendly and warm. And it took me away from what I was dwelling on – losing a job – and took me into a whole different world."
Armstrong said she was so amazed by the beauty around her she started taking nature photos and has had shows at different galleries.
"The birds were singing, and deer were looking at you with big, beautiful eyes and other little animals were darting through," she said of the hikes. "We learned about nature and how nature really looked."
The group also hikes in Cook County and Indiana and has visited many museums, zoos and natural areas through the years. Because of the group, Higgins said she has walked many places that she would not have ventured out to explore alone.
Supporting each other
Rugged Ramblers members do more than walk together. They support each other.
"All of us have had personal things that have happened in our lives, but the group has always been supportive," Lyle said. "We've had deaths, members battling cancer and family members and children who have been sick, and everyone in the group reaches out to them."
The friendliness of the group is a big part of why Armstrong has kept with it for so long.
"The companionship, the warmth, the friendship, the sharing, the stories, the lifetime of being with different people doing different things," she said. "We share all that."
And even though she's moved to Colorado, fellow founding member Cosi Dean sent an email describing her love for the group.
"Our walks in the forest preserves over the years have given us beauty, camaraderie and fun," she said in an email. "But most of all, nature's soothing ways have helped us through job losses, depression, illnesses and for some, widowhood … all while we were supposedly exercising."