The Preserves Are for You: Finding solace in the forest
7/11/2022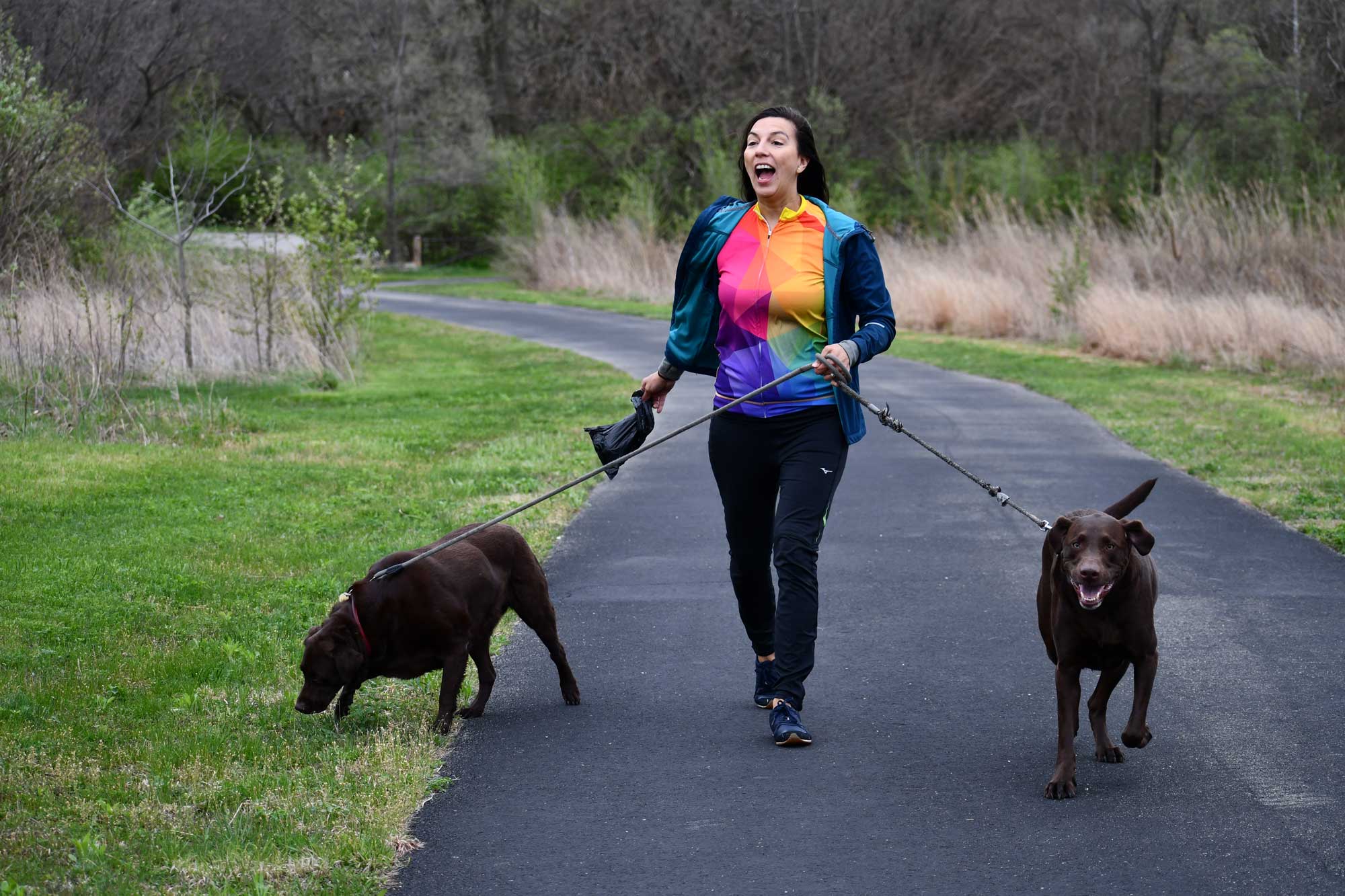 The Forest Preserve District launched a campaign this year called "The Preserves Are for You." As part of the campaign, we are profiling people of varied cultures and abilities who spend time in the preserves. You will learn how they came to love nature and how the preserves enhance their lives. Here is the story of Joliet resident Lorraine Guerrero Neumayer.
Background
Neumayer grew up in Joliet. She is now a senior trauma therapist at the Will County Children's Advocacy Center, and she is on the Joliet Township High School Board. She walks, runs, bikes and kayaks in the preserves and has passed along her love of being outside to her daughters.
Upbringing
The bicycles Neumayer and her siblings rode as children were usually picked out of the garbage. And she often didn't have shoes that fit her feet, so she would walk barefoot when she went outside — a vast difference from the sporty bike and athletic shoes she owns today. But in one regard, she was very lucky as a child. Her parents, a German mom and a Mexican dad, both loved nature and exposed their children to the great outdoors.
Her parents took her to local and state parks — including Kankakee River State Park and Starved Rock State Park — and they would ride along the I&M Canal Trail. And on one of Lorraine's first trips to Mexico with her father, he took her to hot water springs at the base of a mountain.
RELATED: SIGN UP FOR OUR BILINGUAL HIKE AND CLEANUP DAY
Preserve love
Having that early exposure and familiarity with nature has helped her survive a tough job.
"As social workers, we talk about self-care every single day of our lives," Neumayer said. "Most of our cases are sexual abuse, or they're extreme physical abuse. Sometimes you carry that with you. And because of confidentiality, it's not like we can go tell anybody or talk about it. So it's good to come here (to a preserve) after work and release it."
She said she visits the preserves several times a week with her dogs, Kal-El and Lois Lane.
"A lot of times, after work, I grab my dogs and we go for a walk or run, and we play, and I do it for a couple of hours," she said. "Sometimes I cry walking through the preserves. I don't listen to music, I listen to nature, and I love being able to hear frogs and birds. This gives me solace.
"I go to Joliet Iron Works, Lake Chaminwood, Rock Run. When I ride, I try to do around 30 miles. And in the summer, I live on my bike when I'm not at work. As a trauma therapist and a child who grew up and survived several traumas, nature is an amazing coping mechanism that more need to be aware of."
Spreading the word
Before her interview, Neumayer reached out to her friends, many of whom are biracial like her, to talk about their experiences with nature. By listening to her friends' stories, Neumayer said she realized a person's ability to enjoy nature and recreate in it sometimes depends on where they are in life.
"Almost all my friends are first generation, all their parents came from Mexico, just like my dad," Neumayer said. "There was no extra energy to leave the house to go into nature. They either worked one job with overtime all the time or two jobs or more."
And when you work a lot, you don't want to spend the energy to go outside; you'd rather stay at home or in the backyard, she said.
But with rising diabetes rates in this country, it's important to reach out to everyone to let them know about the benefits of nature, she added. We have to take care of ourselves and we have to respect and care for nature, she stressed.
"We only have one planet," she said. "And it's free. This is free therapy and free entertainment. We have all these amazing opportunities right here.
"I feel we're really lucky in Will County because it's in our backyard, and my kids are learning from me and I learned from my parents. They were of two different cultures and they both loved nature and felt its importance."