From vintage to high end, bike donations roll in to bike recycling program
10/6/2022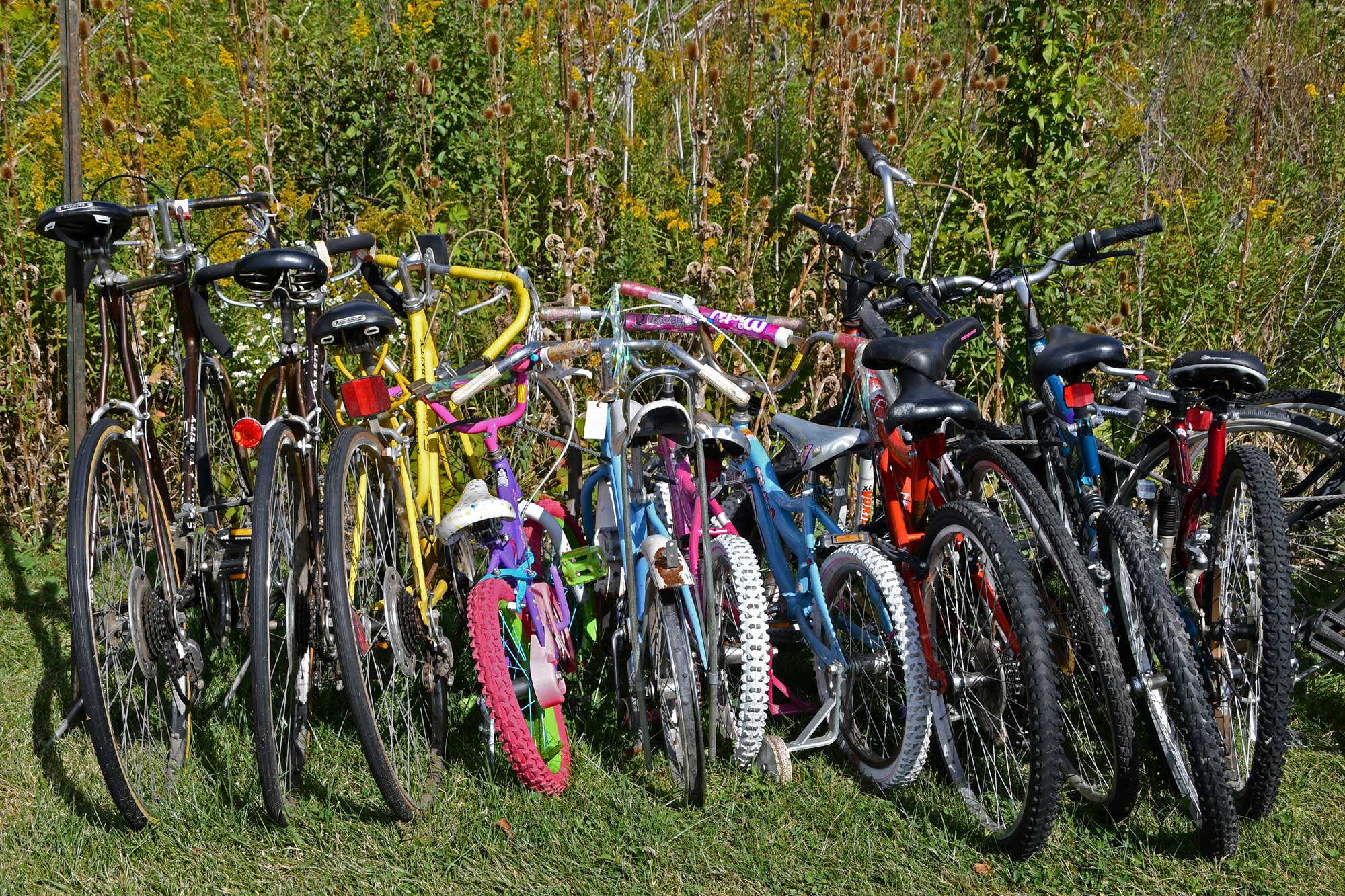 The newly expanded 2022 fall Recycle Your Bicycle program was a success.
For the first time since the semiannual program began in 2011, bikes were collected at a second site – Hidden Oaks Nature Center in Bolingbrook – in addition to the original site of Monee Reservoir in Monee Township.
Monee's collection event generated 72 bikes and another 117 were collected at Hidden Oaks for a total of 189. That brings the total number of bikes collected by the Forest Preserve District to almost 1,400.
The bikes are picked up by Chicago-based Working Bikes and redistributed locally and abroad for use by those in need. Some are sold in the Chicago shop to fund the non-profit group.
Jason Stevenson, concessions manager at Monee Reservoir, said a number of vintage bikes were turned in this year.
"We even got a 1950s Columbia twosome tandem bike," he said.
Stevenson said new signage this year helped point people to the correct drop-off site and also better explained that the bikes were going to be reused and redistributed to people who need them.
"We had many more people come in to ask for more information and check out the small display we created," he said.
Also popular was a Working Bikes-created activity inside the visitor center that allowed visitors to pedal a bike to power a record player.
"It was a huge hit," Stevenson said.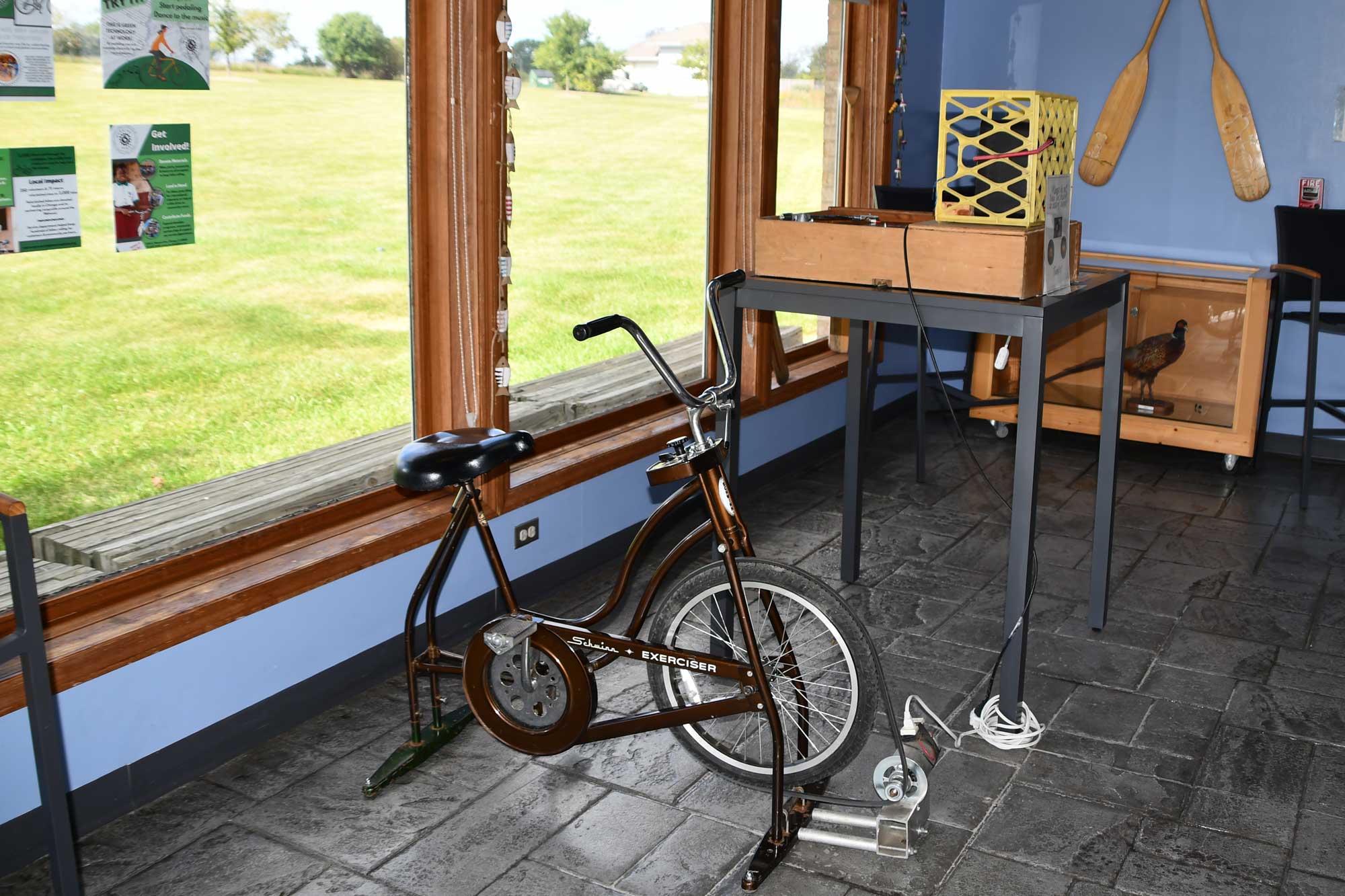 (Photo by Glenn P. Knoblock)
Going to a good home
Angie Trobaugh, facility supervisor at Hidden Lakes, said a nice variety of bikes were turned in to the Bolingbrook site as well.
"We received classics brands like Schwinn and Carlton as well as high end Treks and more," she said. "And someone dropped off a tandem bike."
Hidden Oaks also received two or three containers full of random spare bike parts, Trobaugh added.
"And some of the local police departments took advantage of the bike drop off to give confiscated or unclaimed bikes new life."
Trobaugh said she always gets a good feeling when bikes are donated because they are going to a good cause.
"This program produces so many wins on so many levels," she explained.
People grow out of bikes physically or mentally, so it's nice that there is a place where these bicycles can be recycled to those who need them, Trobaugh added.
"For many, Recycle Your Bicycle is an opportunity to clear out room in the garage. For others it is a perfect opportunity to see their very special sentimental bike that they no longer use go to a good home."
Working Bikes has distributed more than 100,000 bikes since 1999. Around 6,500 bikes are shipped annually to bike projects in Latin American and Africa. And 800 to 1,000 bikes are donated in the Chicagoland area to community agencies including veteran hospitals, health and human service agencies, transitional housing facilities, youth organizations, community centers and schools.
Learn more about Working Bikes, which was featured on "The Buzz":