Join the crowd: Hundreds already racking up points in our Take It Outside Challenge
2/3/2023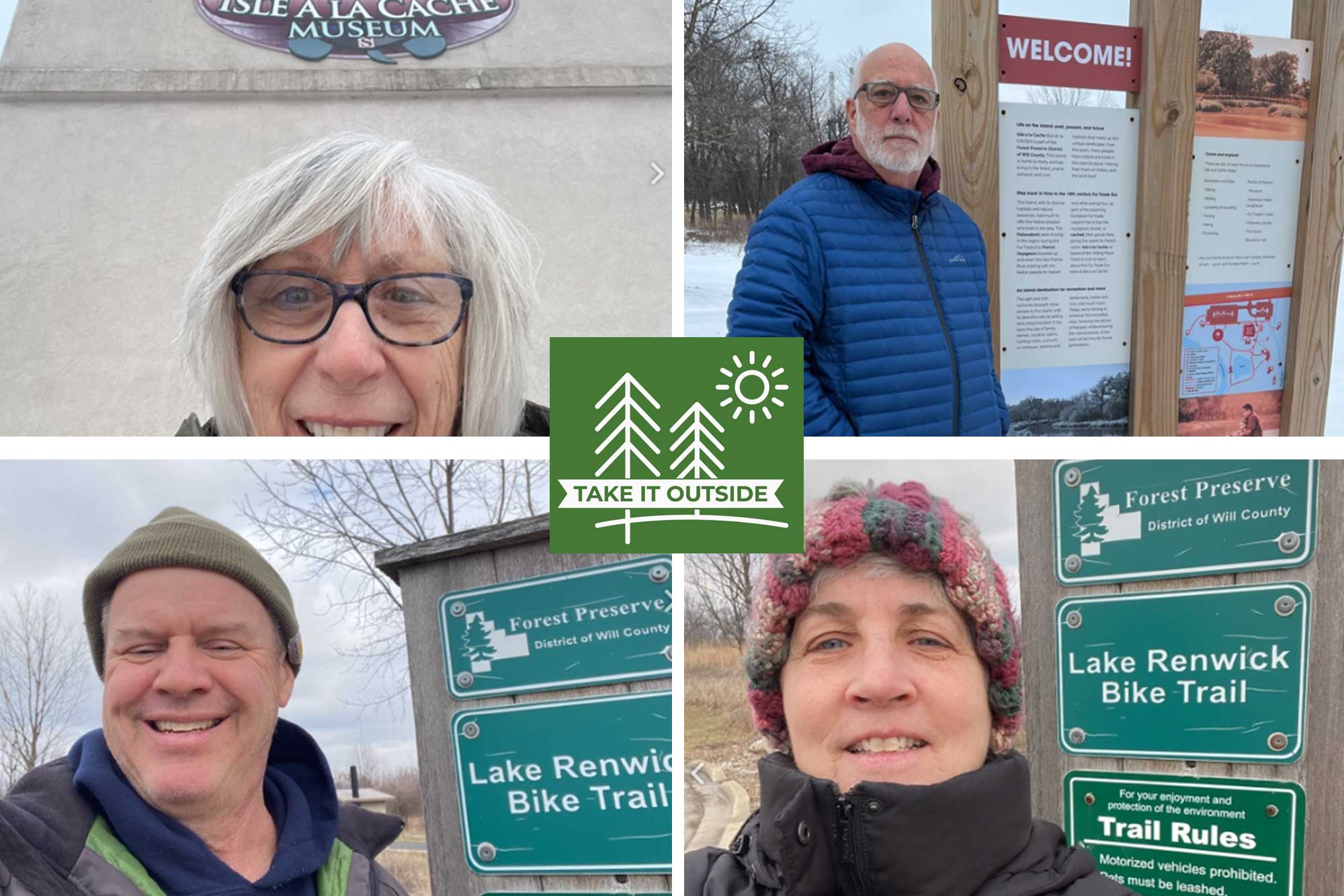 The "Take It Outside Challenge" is off to a fast start with hundreds of people signing up to complete missions throughout Will County and its preserves. Of the missions currently active, the Forest Preserve has received more than 3,000 submissions thus far.
This yearlong challenge is part of a larger "Take It Outside Campaign" that is designed to help people enjoy the mental and physical benefits of being outside. So far, the challenge has been a hit.
"My husband and I really enjoy the challenges, especially the ones where we have to get out and hike or walk a little," said Sharon Frink of Plainfield. "We enjoy seeing what our community has to offer. We will definitely keep it going all year. Today we enjoyed hiking and seeing some fellow participants and friends. Although a few paths are a little ice covered right now, we are still enjoying our time outside and together. The trivia questions are fun too."
Sharon has been tackling missions with her husband, Jon, since the Forest Preserve District launched the challenge in January. The lifelong Plainfield residents who have been married for 35 years are racking up points on the free Goosechase app, which they downloaded to their smartphones.
"We're enjoying it very much," Jon said of the missions. "We ran into our neighbors today on the trail in New Lenox. They are also doing the challenge. How cool is that?"
Jon said he likes the challenge because he is getting to see a lot of preserves that he has never been to before. Both Sharon and Jon agree on their favorite mission so far. "We talked about this and decided that our favorite was (taking a photo of the boardwalk at) Thorn Creek (Woods Nature Preserve)," Jon said. "Very nice winter hike and we saw deer!"
Jan King of Plainfield also has been enjoying the challenge so far.
"'The Take It Outside Challenge' has really been both fun and educational," she said. "I have been hiking with family and friends and we are all enjoying the missions that have led us to both familiar preserves and to preserves that we did not know existed. It has given us a chance to explore these new areas and we will definitely be going back to enjoy many of these preserves during different seasons."
King said she also has been enjoying the articles that have been linked to the missions because she has been learning many new and interesting facts.
"It's a really fun way to get out, get exercise and learn about local areas around us," King said.
Her husband, Jack, said he and his wife complete missions and then check to see where they are in the standings.
"It has become a running joke, and friendly competition to try and complete the missions before our neighbors," he said. "The 'Take It Outside Challenge' has taken us to many of the forest preserves that we had not heard of and to parts of the county, especially the eastern parts, that we did not know existed. There is now a group of us who carpool to the mission sites. I especially like the diversity of the missions. Learned a lot about groundhogs yesterday and got to hike Thorn Creek Woods Preserve which is one of the places we did not know existed."
How to join
To take part in the "Take It Outside Challenge," participants should read the rules and then download the free Goosechase app on their smartphones. After downloading the app, search for 6DW83B or "The Take It Outside Challenge," and create a profile.
Challenge participants will receive points for completing missions and those missions will update weekly. Some of the missions so far have had participants check in on the Goodenow Grove Nature Preserve sled hill, answer trivia questions about animals, take selfies at various preserve locations or snap photos of nature.
Each month, the Forest Preserve will randomly select individuals who completed any of the missions to receive prizes, which will be mailed. At the completion of the online challenge on Dec. 31, the top three point earners will get prizes in the form of MasterCard gift cards: $500 for first place, $250 for second place and $150 for third place.
Funding for this campaign is provided by The Nature Foundation of Will County.