Take It Outside Challenge hits halfway point with plenty of time left to join the fun!
7/3/2023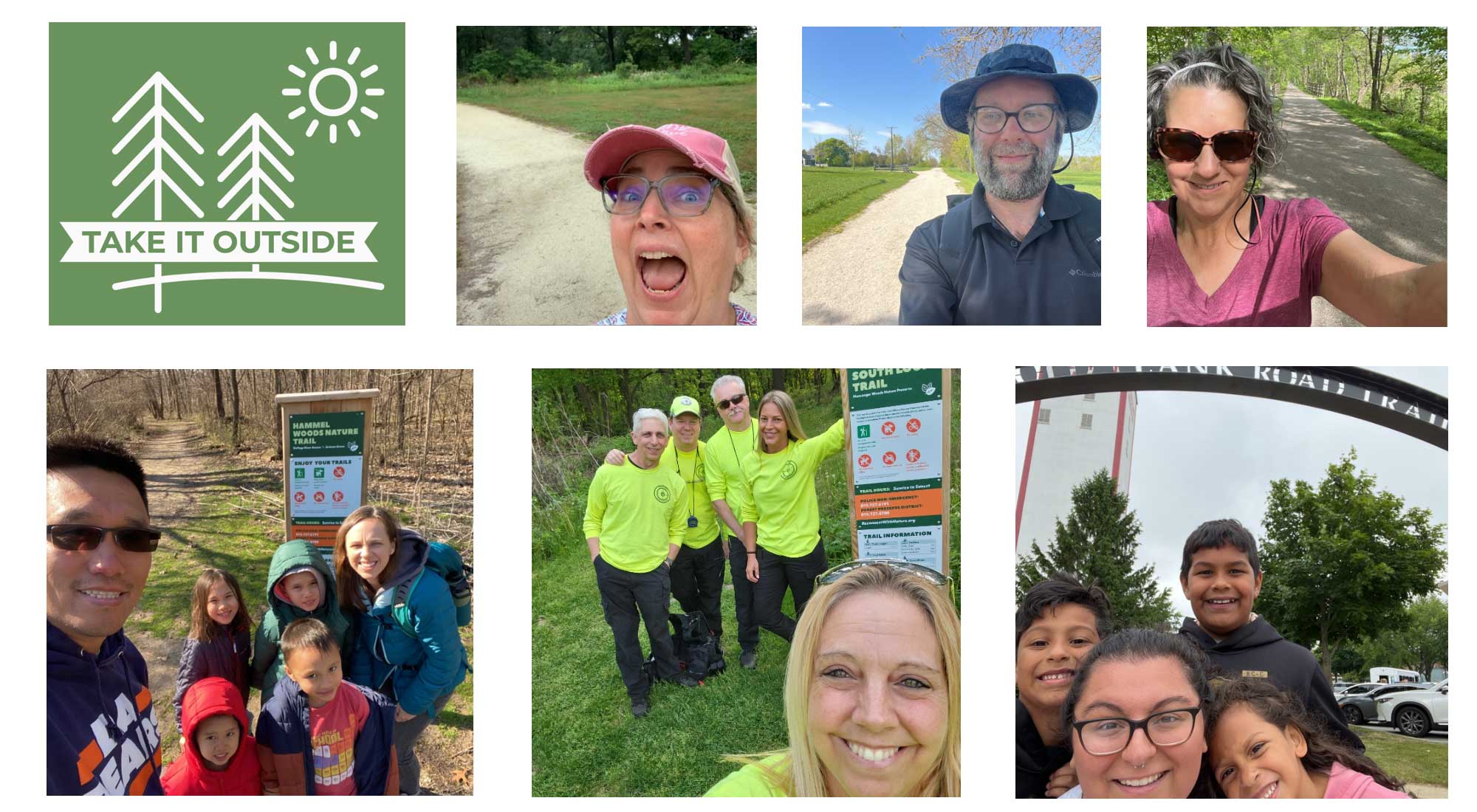 The yearlong Take It Outside Challenge has hit the halfway point, but there is plenty of time to get involved, complete some nature-themed missions and be in the running for prizes.
So far, more than 1,000 people have joined the challenge and they've completed around 57,000 missions. Once the challenge concludes on Dec. 31, the top three point earners will get prizes in the form of MasterCard gift cards: $500 for first place, $250 for second place and $150 for third place. Each month, winners will be randomly select to receive a prize.
In addition to earning points and competing for prizes, participants are finding this challenge to be a wonderful motivator to get outside and to get moving. The challenge also is educational with many nature facts woven into the missions, which include checking in at various preserve locations, answering nature trivia questions and taking photos of seeds, sunsets, spider webs and more. All you have to do is download the free Goosechase app to your smartphone and search for the Take It Outside Challenge to get started.
The Forest Preserve has profiled some of the challenge participants to educate and inspire others about the benefits of being in nature and all the opportunities to get outside that the Forest Preserve District provides.
Here are some of the top quotes from participants so far:
Jennifer Black, Frankfort: "We decided to partake in the Take It Outside Challenge for more opportunities to enjoy Mother Nature closer to home. We love exploring new places and seeing a variety of wildlife. We hope to pass our respect and admiration for the environment on to our children. This challenge has given us a fun way to explore many of the different places in Will County."
Samantha Eberhardt, Oak Forest: "My kids and I are crazy about the Take It Outside Challenge! It combines nature, hiking, cleverness and strategic planning. We love exploring new places and I can't wait to see how the preserves change with the seasons."
Rob Gowens, Tinley Park: "I was sitting in my recliner and realized I've got to get out and do something."
Eileen Ryan, Joliet: "Since joining the Forest Preserve's Goosechase challenges, I'm hitting my 10,000 plus steps per day! I feel much stronger now."
Kristin Zuponeck, Plainfield: "The Take It Outside Challenge gives us the chance to get out of the house, get some exercise, and enjoy the fresh air and forest animals that we see. I've lived in Plainfield for 25 years and did not know about a lot of the preserves right near me."
Wendy English, Joliet: "I kind of feel like I've gotten into a habit now of at least wanting to take a walk out somewhere to one of the new places that we've gone. The walks we are taking give us an opportunity to chat special needs moms stuff, a chance to vent about the day-to-day challenges of raising an adult with challenges and an opportunity to talk to another adult."
The challenge is part of the Forest Preserve's Take It Outside Campaign, which encourages everyone to get in touch with nature and to explore the preserves. Funding for the campaign is provided by The Nature Foundation of Will County.
How do you get started? It's easy.
Log in. New to Goosechase? Sign up for an account. It's free to use.
Search for the experience using the code 6DW83B or by name, the Take It Outside Challenge.
Create a profile.
Lastly, set yourself apart with a name and, if you choose, a photo. Please keep in mind that inappropriate usernames or profile photos are not allowed and could result in participants being removed from the challenge.