'Take It Outside' campaign launched to spark your trek into nature
1/10/2023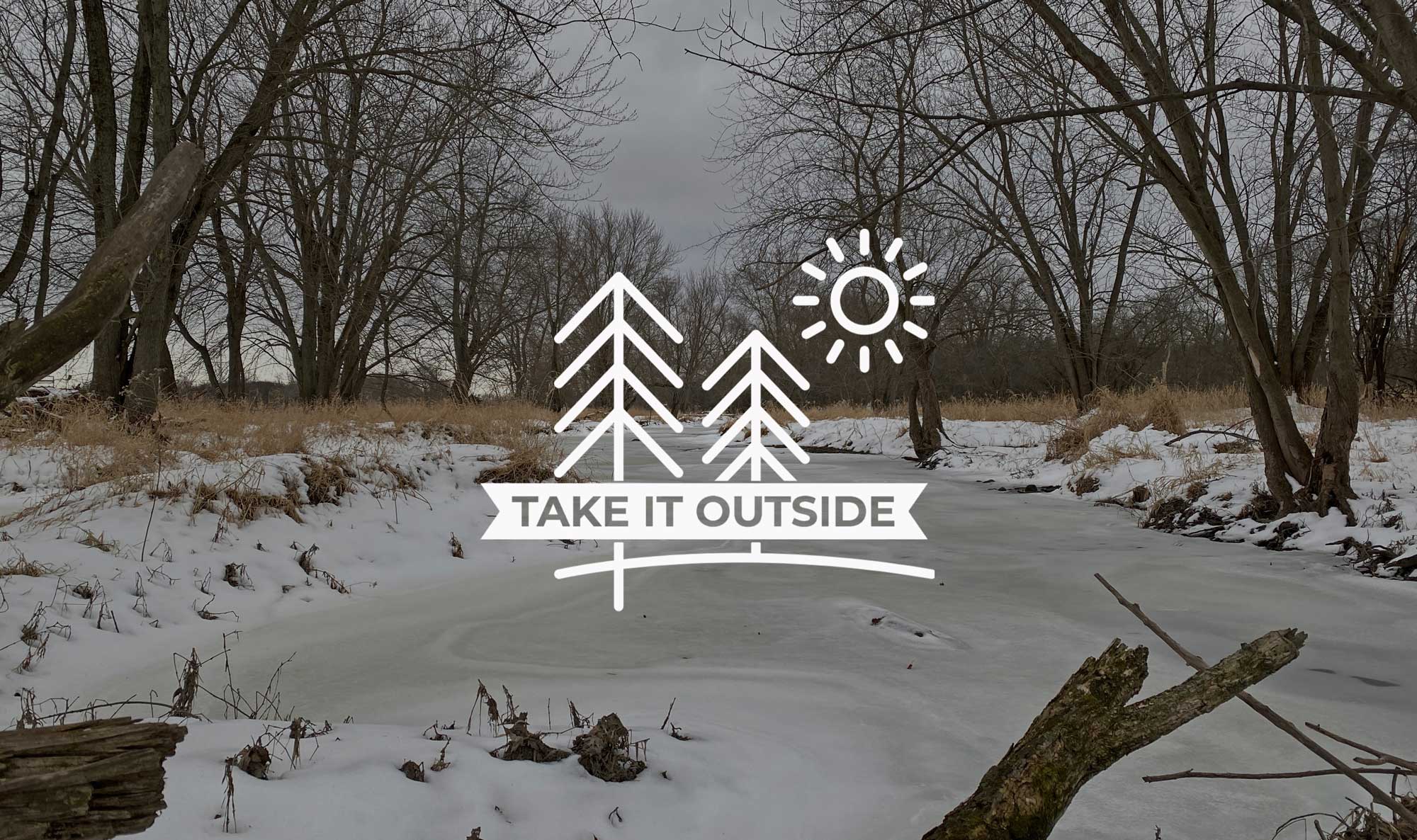 The Forest Preserve District wants you to "Take It Outside" in 2023.
This yearlong campaign is designed to entice you to get back to nature or discover it for the first time.
Whether it's a leisurely stroll on a trail near your home, a multi-mile bike ride that takes you to places unknown or a program that kicks you into a new gear or winds you down, the Forest Preserve District hopes to spark your trek into nature.
"As part of this campaign, we want you to get to the heart of why people enjoy taking it outside and also educate about the many health benefits – mental and physical – of spending time outdoors," explained Chad Merda, Forest Preserve digital communications manager. "You don't need to take an extravagant vacation to the mountains or the beach to experience nature at its best. It's right here in your own backyard."
The overall campaign goal is to encourage people to create healthy outdoor habits and embrace nature in new ways. In the process, the Forest Preserve is also looking to raise awareness about everything the District has to offer.
Components of the campaign include using social media to showcase the various preserves and the recreation activities available throughout the seasons; highlighting the many different ways people of all abilities can experience the preserves; creating a TikTok video series embarking on trail adventures; and telling the stories of people who embrace an outdoor lifestyle and use the preserves in a variety of ways.
County-wide challenge
This challenge features an app that you can download to your smart phone. Participants will receive points for completing missions and those missions will update weekly. There will be approximately 10 different challenges added per week and there will be a lot of GPS-based activities. For instance, participants will be asked to:
Take a photo at a specific spot in a preserve and upload it.
Use the app to check in at a predetermined location. For example, at a specific trailhead.
Hike to a pre-selected spot in a preserve.
Correctly answer trivia questions to earn points.
LEARN MORE ABOUT OUR APP CHALLENGE
Each month, we'll randomly select individuals who completed any of the missions to receive a prize, which will be mailed.
At the completion of the online challenge, the top three point earners will get prizes in the form of MasterCard gift cards: $500 for first place, $250 for second place and $150 for third place.
"The app will be a fun, interactive component of this campaign that hopefully will encourage everyone to 'take it outside' and explore preserves or parts of preserves they may never have set foot in before," said Merda. "With hundreds of missions throughout the year, there will be plenty of opportunities across the county for people to participate wherever they live."
SUBSCRIBE TO OUR YOUTUBE CHANNEL
Visitor Centers
The campaign also will highlight the District's visitor centers and all they have offer. Can you name all of the Forest Preserve's visitor centers and their locations? We're hoping that you will be able to by the end of the year.
These are the hubs for the radiating paths and preserves that flow throughout Will County. And they're located in all directions: Four Rivers Environmental Education Center is in Channahon, Hidden Oaks Nature Center is in Bolingbrook, Isle a la Cache Museum is in Romeoville, Monee Reservoir Visitor Center in Monee Township and Plum Creek Nature Center is in Crete Township near Beecher. The sixth visitor center, Sugar Creek Administration Center in Joliet, serves as the Forest Preserve's headquarters.
Find out what is unique about each site and which trails you can hop on nearby and the preserves you can explore.
Look for more stories, programs and highlights as the year unfolds, and remember to "Take It Outside."
Funding for this campaign is provided by The Nature Foundation of Will County.