Sunning snake wins October's photo contest
11/4/2022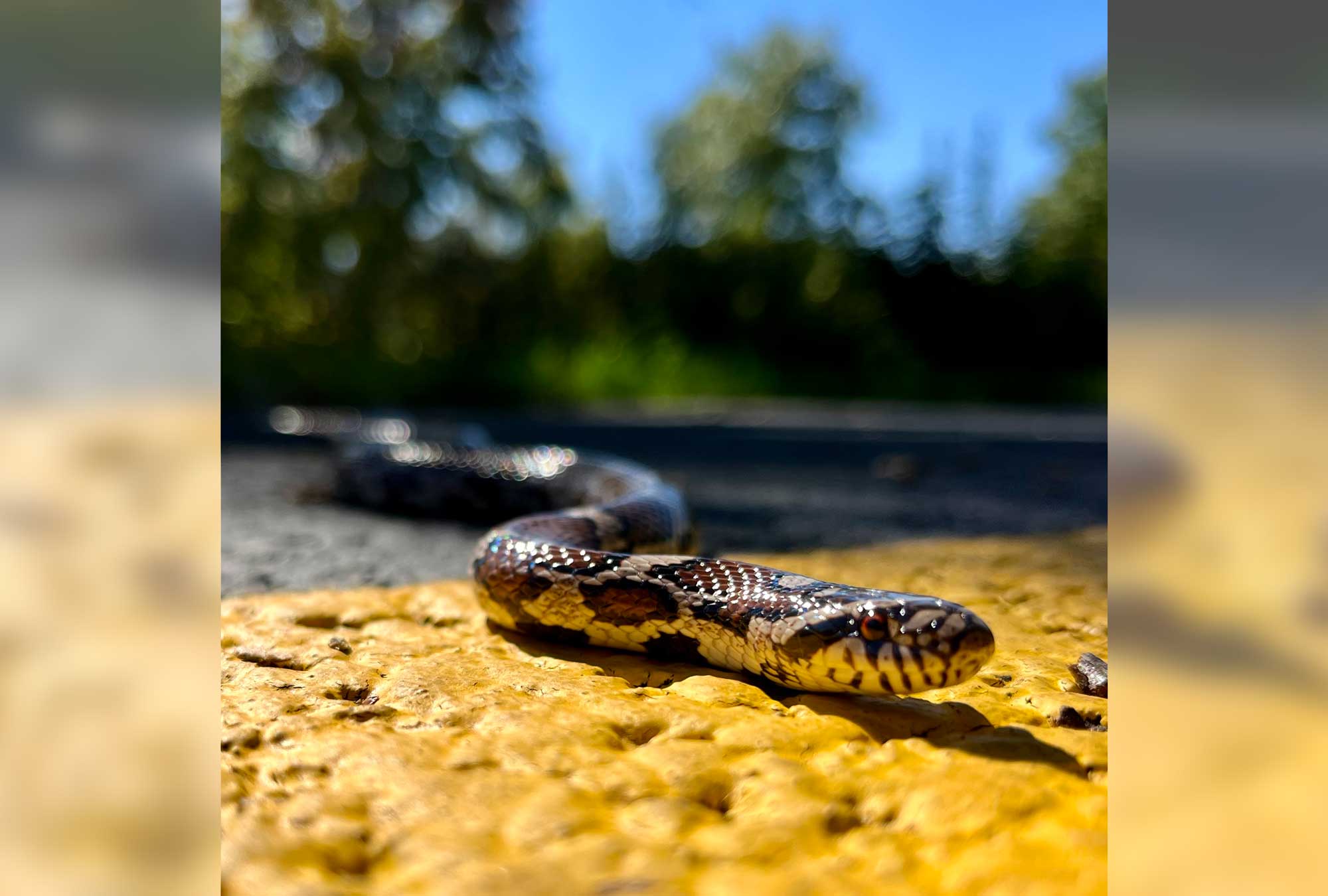 A snake basking in the warm autumn sun took top honors in the October portion of the Preserve the Moment photo contest.
Winning photographer Meagan Crandall of New Lenox snapped the photo at Hickory Creek Barrens Nature Preserve, a place she frequents when she's out taking pictures.
"Hickory Creek is definitely my favorite of the Will County preserves," she said. "Its tranquil prairie area and pond provide the perfect stress relief."
She came across the photogenic eastern milksnake while walking along the trail at Hickory Creek Barrens.
"I just happened to stumble upon the snake sunning itself on the warm blacktop," she said. "I laid down to get the photo at eye level of the snake."
Crandall has been a regular entrant in the Preserve the Moment photo contest since she found out about it a couple of years ago. She first started getting into nature photography during the initial shutdowns of the COVID pandemic.
"I mostly started the hobby ... because it was something without any COVID risks that also allowed me to enjoy the outdoors and see something new every time," she said.
She said she has found nature photography to be a lot of fun, and loves that she is always learning something new about wildlife living in the area. In addition to Hickory Creek, she said she has had good luck photographing at Hadley Valley and Rock Run Preserve.
The four other finalists in this month's contest were:
Carlos Molano of Chicago for a photo of a colorful fall sunset at Hidden Oaks Preserve.
Greg Winkelmann of Romeoville for a picture of a ruby-throated hummingbird in flight at Hidden Oaks Preserve and also for a photo of turtles sunning themselves on a log at Rock Run Rookery Preserve.
Byron Morgan of Crete for a photo of the colorful fall scenery at Hickory Creek Preserve.
Two more monthly winners will be chosen before the contest concludes Dec. 31. All eight winning photos chosen since the contest began in May will then vie for overall contest honors via Facebook voting in January.
Monthly winners receive $75 MasterCard gift cards. The top photos for 2022 will receive MasterCard gift cards of $500 for first place, $250 for second place and $150 for third place. In addition, three contest participants chosen at random will receive $75 gift cards. All prizes are funded by The Nature Foundation of Will County.
Participants must be 18 years of age or older and amateur photographers, and the photos must have been taken in the Forest Preserve District's preserves after the contest began on May 1.
To enter the contest, upload up to five of your best photos for consideration before the conclusion of each month. Please read all contest rules and photo upload instructions before entering the contest.
To view all photo contest entries, visit the District's Flickr account.