Stunning eagle shot signals 'V' for victory in photo contest
12/2/2022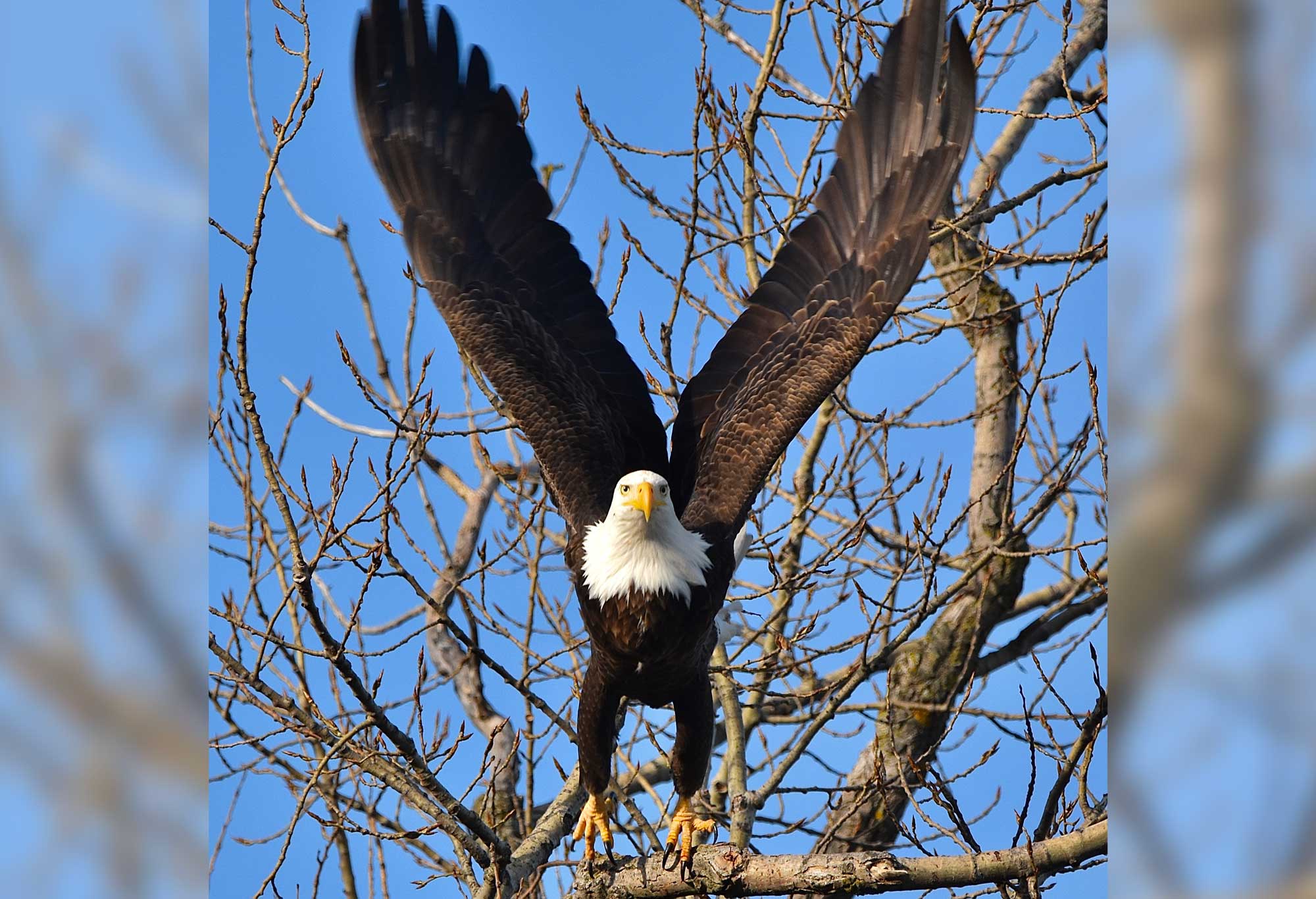 An eagle with outstretched wings in the shape of a "V" signaled a victory for photo contest participant Bertrand Leclercq of Naperville.
Leclercq won November's portion of the Preserve the Moment Photo Contest, which began in May. One more monthly winner will be chosen for December before the Forest Preserve District's 2022 contest concludes on Dec. 31.
Leclercq's stunning photo of an eagle lifting off from a branch at McKinley Woods preserve in Channahon was one of five photos selected by judges from all entries.
The five photos were voted on by members of the public on the District's Facebook page. Those who cast their votes for the eagle said it was a "gorgeous" photo. Others said, "Most excellent work in catching the moment of flight," and, "Great job capturing the movement and grand shape of the eagle."
Leclercq said he enjoys going into Will County forest preserve to take photos.
"I take long walks alone with my camera and it's very relaxing after a busy work week (I work as a chef)," he said in an email after being notified of his win. "I feel truly connected with nature in these beautiful preserves, in particular McKinley Woods – Frederick's Grove where I took this photo. The wildlife in this preserve is truly amazing and rich, and perfect for great photo opportunities: bald eagles, pileated woodpeckers, red-headed woodpeckers, and so many more rare bird species."
He also said he loves posting photos on the Forest Preserve's Will County Wildlife Facebook page.
"And I enter the contest because I love to share the beauty of nature in Will County, right out of our front door," he said. "I always want to post positive, colorful and heartwarming photos. I want people to have a smile on their face when they see my photos. If it can brighten their day even for a couple minutes then I've reached my goal. It is all about spreading happiness and positivity."
The other finalists for November were:
Carlos Molano of Chicago for a photo of a pelican hovering above the water at Rock Run Rookery Preserve in Joliet.
Greg Winkelmann of Romeoville for a colorful photo of an American goldfinch perched on a flower at Hidden Oaks Preserve in Bolingbrook, a merlin clutching a bird in its talons at Lake Renwick Preserve in Plainfield and fall leaves floating in the water at Hammel Woods in Shorewood.
Monthly winners each receive a $75 Visa gift card and all entrants receive a participation gift. Overall contest winners will be chosen in January from among the eight monthly winners, with $500, $250 and $150 Visa gift cards to be awarded for first, second and third place, respectively.
Three random drawings also will be held for all contest participants and those three winners will each receive a $75 Visa gift card.
All prizes are funded by The Nature Foundation of Will County.
Contest participants must be 18 years of age or older and amateur photographers, and the photos must have been taken in the Forest Preserve District's preserves after the contest began on May 1. To enter the contest, upload five of your best photos for consideration on or prior to December 31. Please read all contest rules and photo upload instructions before entering the contest.
To view all photo contest entries, visit the District's Flickr account.