'Pick a path and head out' for our annual Woods Walk challenge
8/26/2023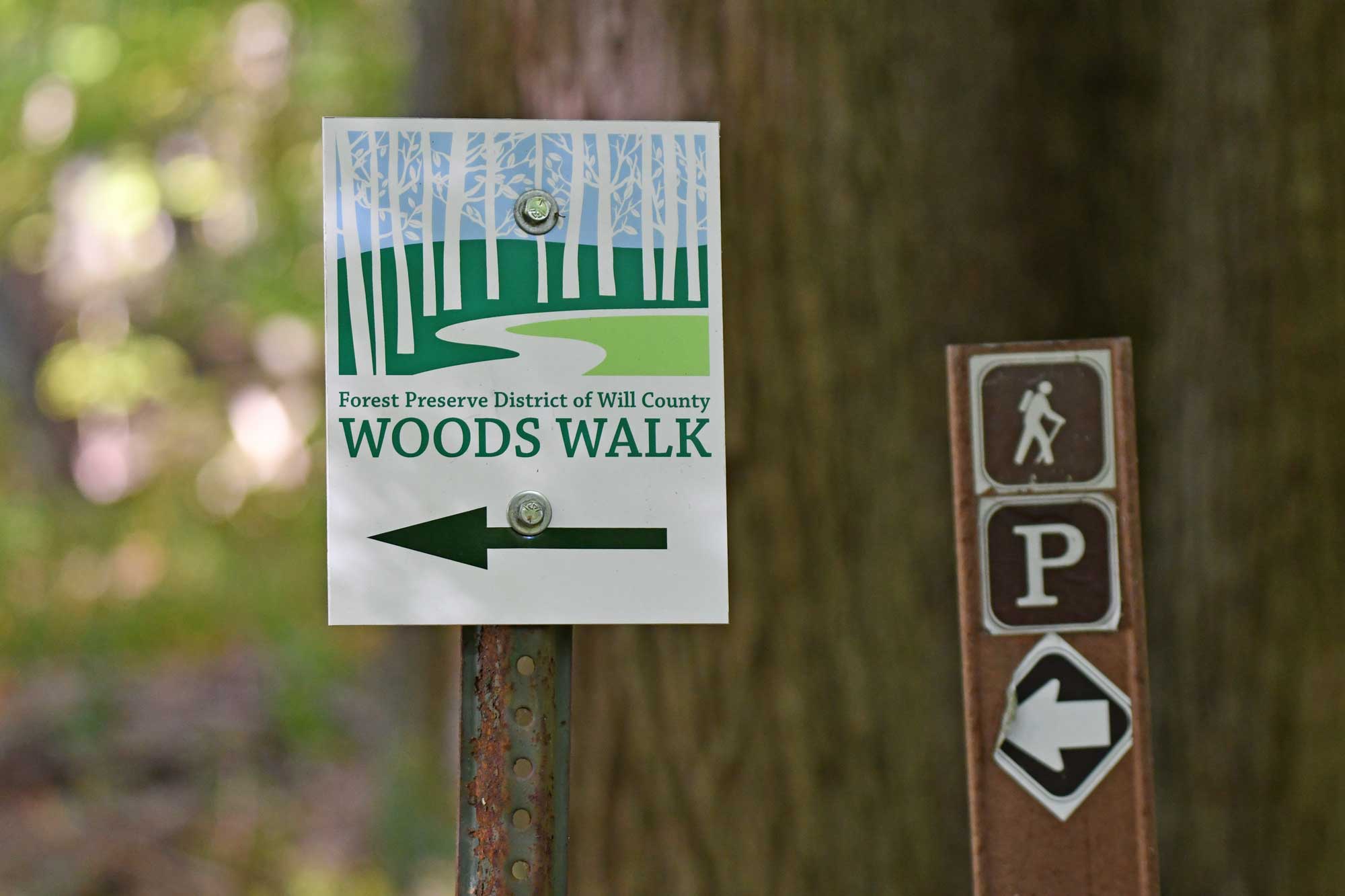 Discover new paths or rediscover old favorites as you explore nature by foot this fall with the Forest Preserve District's Woods Walk challenge.
The 2023 challenge runs through Nov. 30 and it features 10 hiking trails ranging in length from 1.04 miles to 5.99 miles. The trails can be tackled in any order.
"Hikers can just pick a path and head out," said Jenna Wright, the Forest Preserve's supervisor of permitting and recreation. "Participants who complete at least 7 of 10 mapped trails receive a commemorative medallion."
This is the 21st Woods Walk challenge and it's just getting better with age, Wright added.
"We have people who have collected all 20 previous medallions and are excited to get their 21st," she said. "This year's medallion features an adorable bumble bee."
The trails are evenly distributed throughout the county and offer a variety of scenery, Wright explained.
"One of most unique trails is a rustic natural terrain path that travels by the newly acquired Hidden Oaks Nature Center," she said. "The trail continues on past the Tackle Box bait shop at Hidden Lakes Trout Farm and merges with the DuPage River Trail at the ever-so-popular Whalon Lake preserve."
Woods Walk has stood the test of time because it is loved by so many Will County residents, Wright said.
"I think people are attracted to this program because it allows them to explore trails and parts of nature that they perhaps wouldn't on their own," she explained. "There are also those who enjoy making it a social opportunity by completing the challenge with friends or family. And of course, those who just can't wait to add the next medallion to their collection."
New this year is the opportunity for participants to log their walks on the free Goosechase app. Simply download the free app to your smartphone and search for the Will County Woods Walk challenge. The trails won't appear in the app until the challenge begins on Sept. 1.
Those who prefer the traditional printed booklet can pick one up on or after Sept. 1 at one of the Forest Preserve's five visitor centers: Four Rivers Environmental Education Center in Channahon, Hidden Oaks Nature Center in Bolingbrook, Isle a la Cache Museum in Romeoville, Plum Creek Nature Center in Crete Township and Sugar Creek Administration Center in Joliet. It also can be downloaded online. The deadline to submit a completed travel log to receive a medallion is Sunday, Dec. 31.
This year's trails are as follows:
Centennial Trail, Romeoville: 5.99 miles
DuPage River Trail at Hammel Woods

–

Route 59 Access, Shorewood: 3.41 miles
Hickory Creek Bikeway at Hickory Creek Preserve

–

Hickory Creek Junction, Frankfort Township: 2.39 miles
Hidden Oaks Nature Trail/DuPage River Trail at Hidden Oaks Preserve, Bolingbrook: 2.77 miles
Monee Reservoir Nature Trail at Monee Reservoir, Monee Township: 2.23 miles
Scout Trail/Oak Ridge Trail at Goodenow Grove Nature Preserve, Crete Township: 1.04 miles
Spring Creek Greenway Trail at Hadley Valley

–

Gougar Road Access, Joliet: 2.55 miles
Spring Creek Greenway Trail at Messenger Marsh, Homer Glen: 1.9 miles
Trail of the Old Oaks at McKinley Woods

–

Frederick's Grove, Channahon: 1.05 miles
Wauponsee Glacial Trail at Forked Creek Preserve

–

Ballou Road Access, Wilmington: 4.5 miles
As you hike the trails, remember to bring your binoculars, field guides and a camera. Don't forget to log your walks as you go.
Funding for Woods Walk is generously provided by The Nature Foundation of Will County.