Squirrel with 'full belly' lands December photo contest win
1/6/2023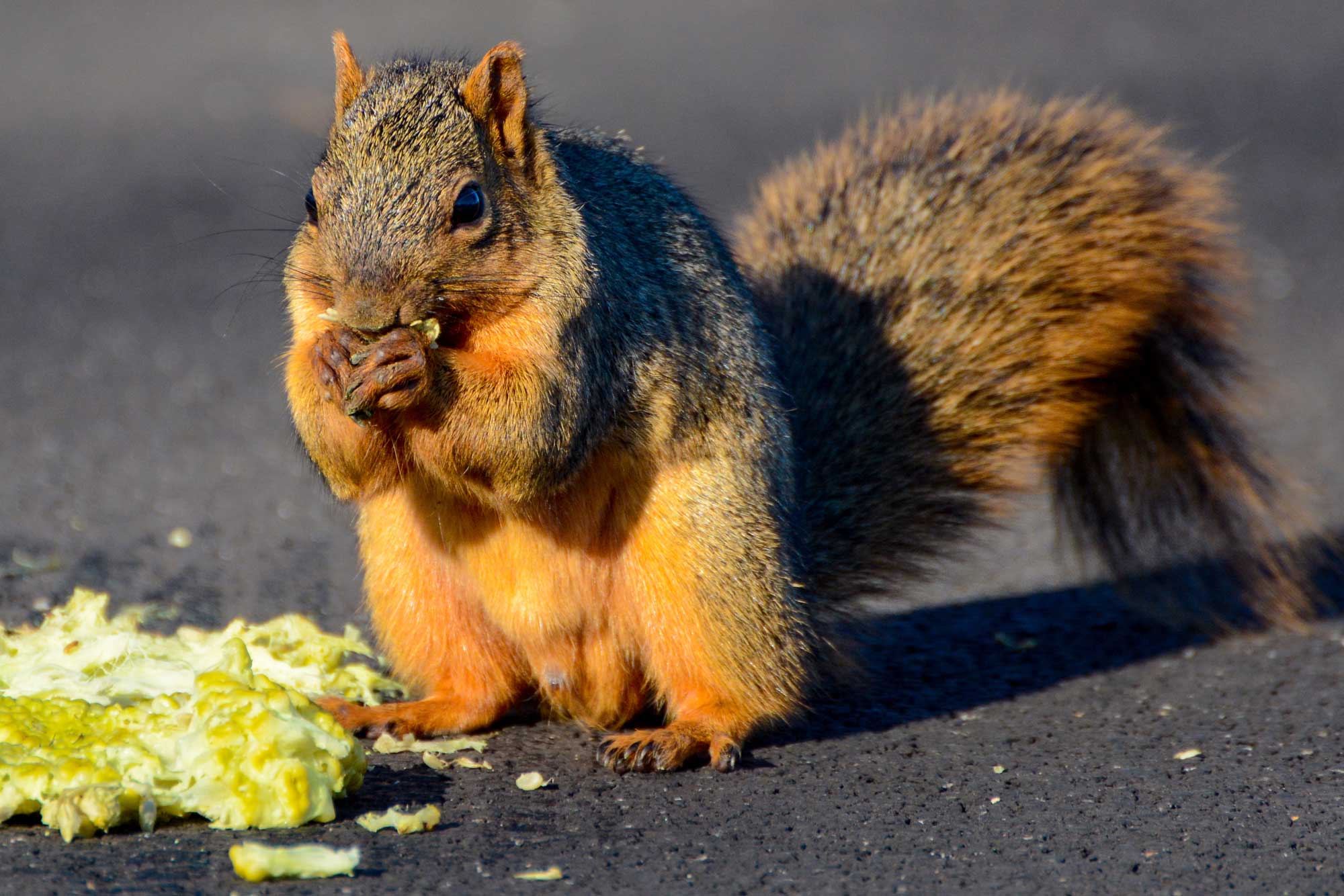 Chad Morsch of Romeoville came across a fox squirrel in the parking lot just as he was about to stop hunting for a nature photo at McKinley Woods in November.
Morsch was walking back to his car when he saw the squirrel enjoying a meal of smashed hedge apple from an Osage-orange tree.
The photo he snapped won December's portion of the Preserve the Moment Photo Contest after judges selected the top five photos from submissions. Members of the public chose it as the best shot of the month via Facebook voting.
'Icing on the cake'
"The squirrel was so preoccupied with its meal that it allowed me to get relatively close," Morsch said in an email after being notified of his win. "It was quite amusing watching it try to dissect the hedge apple into small enough pieces it could hold on to. I spent several minutes watching it eat and took several shots. When it was finished it simply ran back to the grass and we both went our way. The squirrel had a full belly, and I had some nice photos."
Morsch, an avid outdoor and wildlife enthusiast, said he started taking photos in early 2022 to document his forest preserve outings. He said he learned "tips and tricks" from friends and people he met out in the preserves. Getting just the right shot isn't always easy and there were days of frustration and disappointment, he said. But they led to his skills improving and his decision to enter the photo contest.
"The contest helped to push me to become a better photographer," he said. "My goal was to someday make it into a monthly final. I wanted to be as good as some of these great local photographers I'd seen entering the contest and posting on Facebook pages."
Winning the December contest was the "icing on the cake," he said.
"I have more than exceeded my goals and expectations and, in doing so, I have also met many wonderful people and have made some really great friends in the process," he said. "Some of them being the ones I kind of 'idolized' from this contest. I really couldn't be happier."
Morsch receives a $75 MasterCard gift card for his win.
The other finalists were:
Jennifer Mathews of Joliet for her shot of a curved wooden boardwalk and water illuminated by the sun at Rock Run Rookery Preserve.
Greg Winkelmann of Romeoville for a yellow warbler with its wings stretched out in flight at McKinley Woods and also for a ring-billed gull snaring a fish in the water at Rock Run Rookery.
Thomas Hahn of Mokena for clouds reflected in the water at Hickory Creek Preserve.
Now that the monthly voting for the 2022 photo contest has concluded, all eight monthly photos chosen since the contest began in May will now vie for overall contest honors via voting by members of the public on the Forest Preserve's Facebook page. Voting will begin at noon Tuesday, Jan. 10, and end at 11:59 a.m. Friday, Jan. 13.
The top photos for 2022 will receive gift cards of $500 for first place, $250 for second place and $150 for third place. Three contest participants chosen at random will receive $75 gift cards. All prizes are funded by The Nature Foundation of Will County.
To see all photo entries for the 2022 contest, visit the Forest Preserve's Flickr account.