Stretch your legs this spring with our long-distance trail challenge
5/6/2022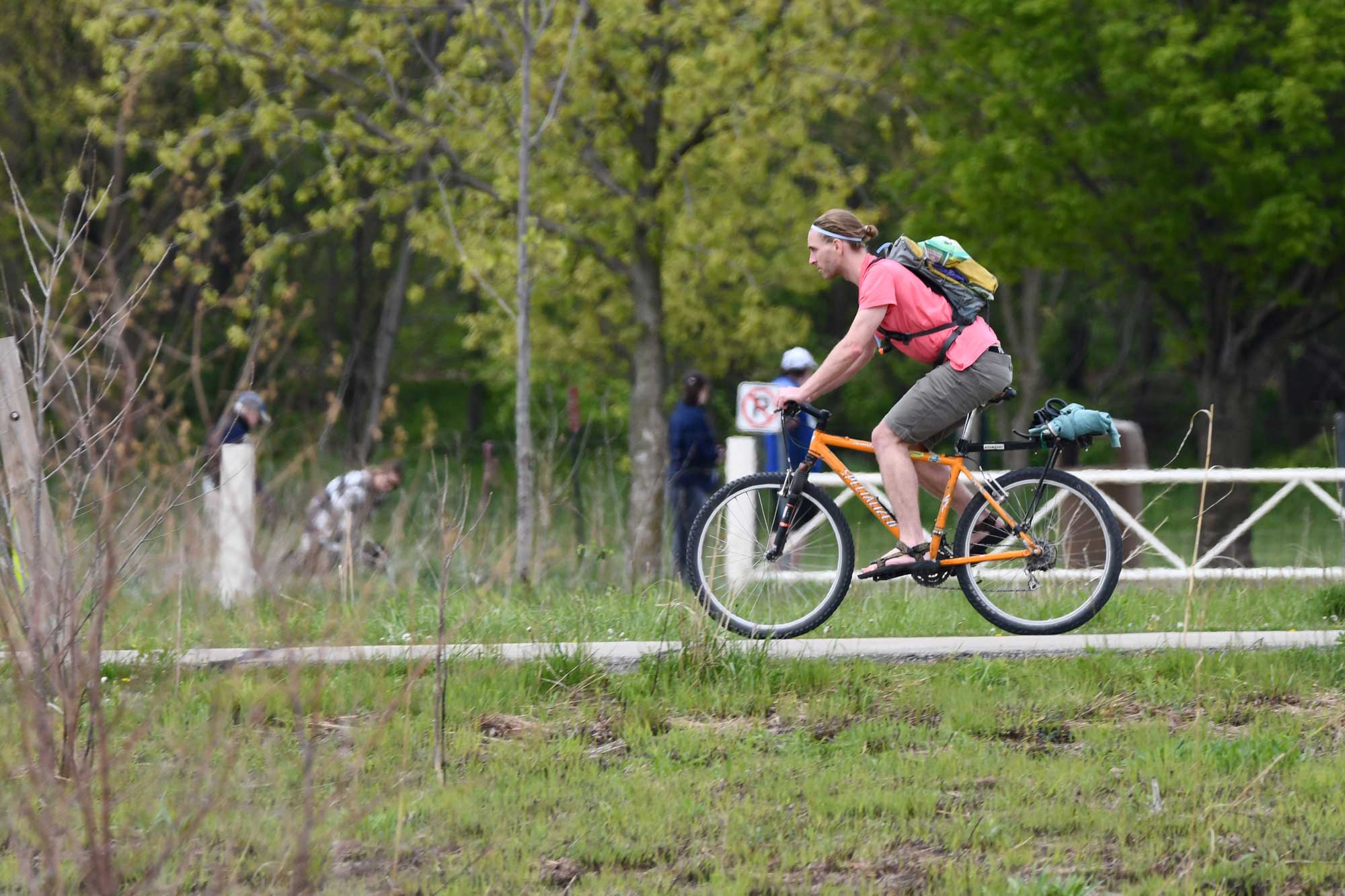 Give yourself the gift of being outdoors this spring as a way of celebrating the Forest Preserve District's 95th anniversary.
Created by referendum in November 1926 and legally established in early 1927, the District has grown from its first acquisition of 144 acres in Messenger Woods to around 23,000 acres and 129 miles of trails today.
As a way of celebrating this amazing milestone, the Forest Preserve has created the "Spring Ninety-fiver Challenge." Participants can walk, run or bike 95 miles from Tuesday, March 1, through Thursday, June 30, to complete the challenge.
"What a better way to commemorate this milestone than encouraging people to get out in the preserves," said Jen Guest, the Forest Preserve District's recreation coordinator. "This challenge is about getting active outdoors in nature in a big way while traveling 95 miles through the Will County preserves. We hope people will be up for the adventure!"
Participants can do any combination of walking, running or biking the 95 miles, but all the miles must be done in a Will County forest preserve, Guest said.
"We hope they will find being active outdoors relaxing and refreshing," she said. "Whether that's doing the same mile 95 times and seeing how nature changes daily or checking out 95 miles of preserves you haven't explored yet. Spending time outdoors is great for your mental health and wellness. This program is designed to go at your own pace and enjoy yourself while taking on the challenge to be active outdoors."
Use an app to record your miles and upload a screenshot off your mobile device of total miles or monthly miles once you have completed the challenge.
"We are recommending Runkeeper as the mobile app of choice since it can track walking, biking, and running," Guest said.
An online form is available for submissions as well as a downloadable paper submission log.
Paper logs can be submitted at the following Forest Preserve visitor centers: Four Rivers Environmental Education Center in Channahon, Isle a la Cache Museum in Romeoville, Plum Creek Nature Center near Beecher and Sugar Creek Administration Center in Joliet.
Guest said she recognizes that people use mobile apps for all their fitness needs. So those who digitally track their miles using a mobile app may have additional miles from outside Will County forest preserves.
"But we ask that you pledge to complete 95 miles in the preserves to finish the challenge," she said. "People are going to have to use the honor system somewhat to make it work in those cases and keep tabs on their preserve miles."
Complete the anniversary quest and you will receive a small wallet with a zippered pouch with the new Forest Preserve District logo.
"The wallet's hook-and-loop fastener can be tied to your gym shoes, backpack, belt, bike frame, stroller and more," Guest said. "This is the perfect accessory for outdoor activities. And it's ideal to carry your house or car key, ID, credit cards, cash and other necessities. It features a zippered pouch that holds change and other small items."
Submissions must be received by Friday, July 15 to be eligible for the giveaway.
So start stretching and limber up. The challenge is on! Make the most of your preserves and the 95 years it has taken to build them to what they are today: open space for everyone to enjoy and use for health, fitness and relaxation.
And for those who want to get a bit creative with their challenge, while still staying safe and abiding by Forest Preserve rules, Guest says to go for it.
"If someone wants to rollerblade, rollerskate, pogo stick or unicycle, they can," she said. "I hope they will send pictures as well."