Spend Museum Store Sunday at a Forest Preserve gift shop
11/16/2023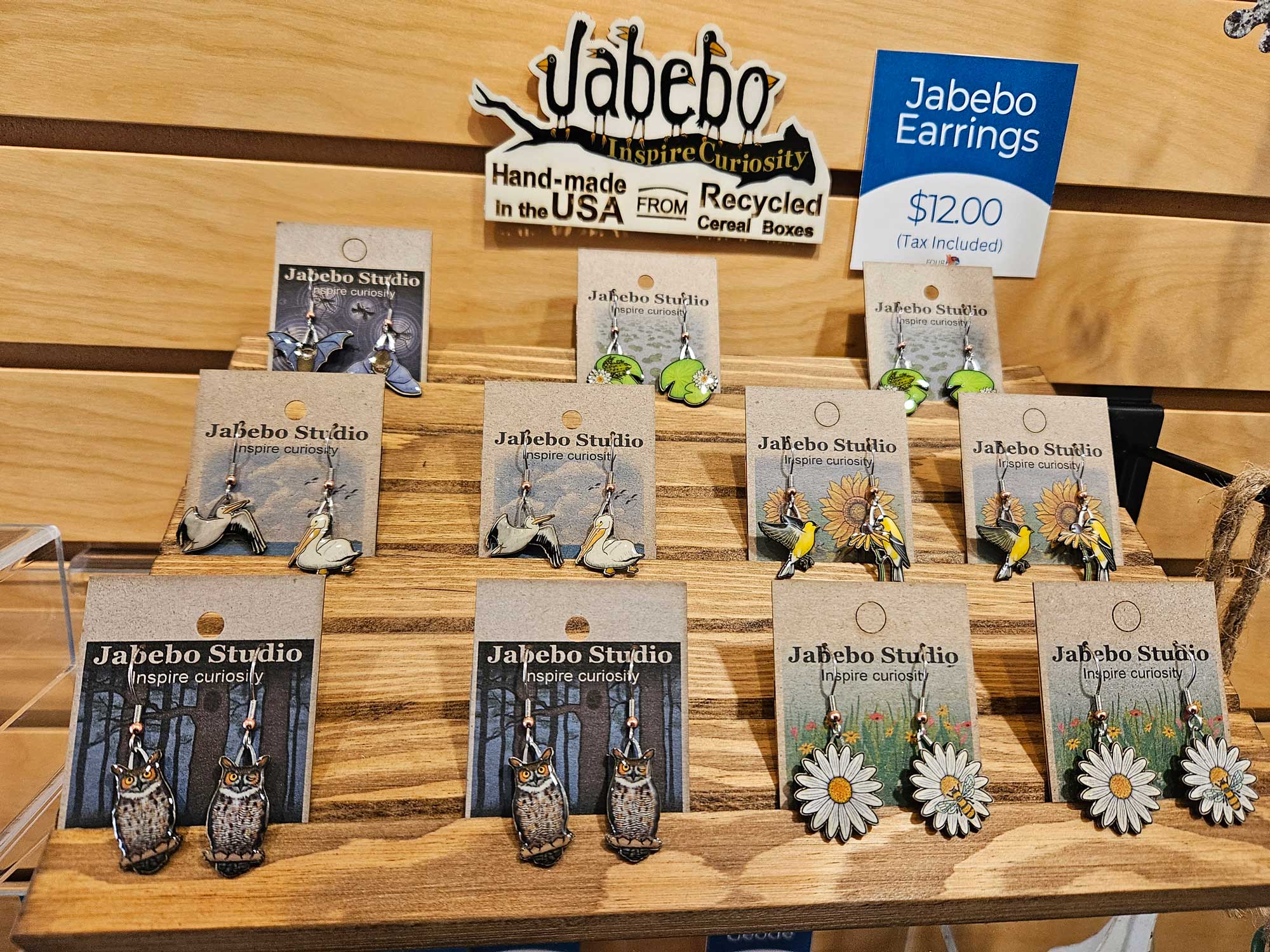 If you are looking for unique gifts this holiday season that reflect a love of nature and the environment, check out the Forest Preserve District's gift shops on Museum Store Sunday, which falls on Nov. 26 this year.
"We are hoping people will come out on the Sunday after Thanksgiving to explore the preserves and also to shop for some eco-friendly gifts for the holidays," said Kylee Beckwith, guest services associate at Four Rivers Environmental Education Center in Channahon.
More than 2,100 museum stores representing all 50 states, 25 countries and five continents are taking part in this year's Museum Store Sunday, which was created in 2017 to encourage people to "Be a Patron" and support their favorite museums by buying "distinctive and unique items."
The Forest Preserve's gift shops are open from noon to 4 p.m. on Sundays and they are located inside Four Rivers Environmental Education Center in Channahon, Hidden Oaks Nature Center in Bolingbrook, Isle a la Cache Museum in Romeoville and Plum Creek Nature Center in Crete Township near Beecher.
The gift shops will be selling items that are made from recycled or reusable materials, produced in fair-trade environments, locally sourced, or produced by women-owned businesses around the world.
"They're products with a purpose," Beckwith said.
Earrings from recycled cereal boxes
For instance, one of the newest items to be stocked in the Forest Preserve gift shops are handmade Jabebo earrings inspired by nature and made from recycled cereal boxes.
"The earrings are being sold at all of the visitor centers," Beckwith said. "And the design is specific. So, it's not just a bird earring, it's a gold finch. And the cardinal earring set features both male and female cardinal designs."
Plum Creek will stock eco-friendly gift wrap that can be reused.
"Around 2.3 million tons of gift wrap wind up in the landfill every year," said Marissa Jones, facility office manager. "So, I found fabric gift bags and gift boxes that can be used instead of traditional wrapping paper that is thrown away."
Jones said she hopes more people head to the visitor centers for their year-round gift shopping.
"When people come to our nature centers and they realize we have gift shops, they're always really excited because they see some really cool things that you can't necessarily find in other places," Jones said. "And then they see the missions behind those things and how they give back to charities or craftspeople and the Forest Preserve District itself."
Mugs, honey, jewelry and more
Gift shop items vary by location, but each Forest Preserve visitor center has a diverse array of affordable items that were curated to reflect the Forest Preserve's mission. Here are a few examples:
Four Rivers Environmental Education Center: Handmade mugs from Fine Field Pottery in Streator; photo prints, greeting cards and postcards by local photographer Eileen Capodice; handmade natural dye kits from a plastic-free company, The Nature Atelier; Deans Beans Bird Friendly Coffee; hand-crafted Anju necklaces made by a women-owned company in India; reusable straws that can be folded down and attached to a key ring.
Hidden Oaks Nature Center: local honey including pumpkin honey, medicinal honey and a honey best suited for those with allergies or diabetes; basil lip balm, lavender body butter; and handmade woodland critter ornaments from Nepal, including owls, butterflies and ladybugs.
Isle a la Cache Museum: unique stocking stuffers including carved wood animal pens, crocheted turtles handcrafted in Ecuador, old-fashioned wooden toys and nature-themed stickers. Also, holiday ornaments made of laser cut wood, metal and felted wool. Starting Nov. 25, evergreen swag, soft winter birds and extra-large rustic metal teardrops with bells will be on sale.
Plum Creek Nature Center: reusable gift wrap from a women-owned company will complement the site's reusable utensil sets, bowl covers, beeswax wraps, tote bags, produce bags, and Ziparoos, which are reusable storage bags. Also, fabric gift wrap and paper gift boxes from a fair-trade company that works with artisans in India will be stocked. The company provides work for 20,000 artisans in 40 different communities.
On Museum Store Sunday, Four Rivers will be offering complimentary coffee and tea, and Plum Creek will have coffee, tea and hot chocolate.