Snowy owls, river otters highlight January 'Buzz' nature show
1/20/2023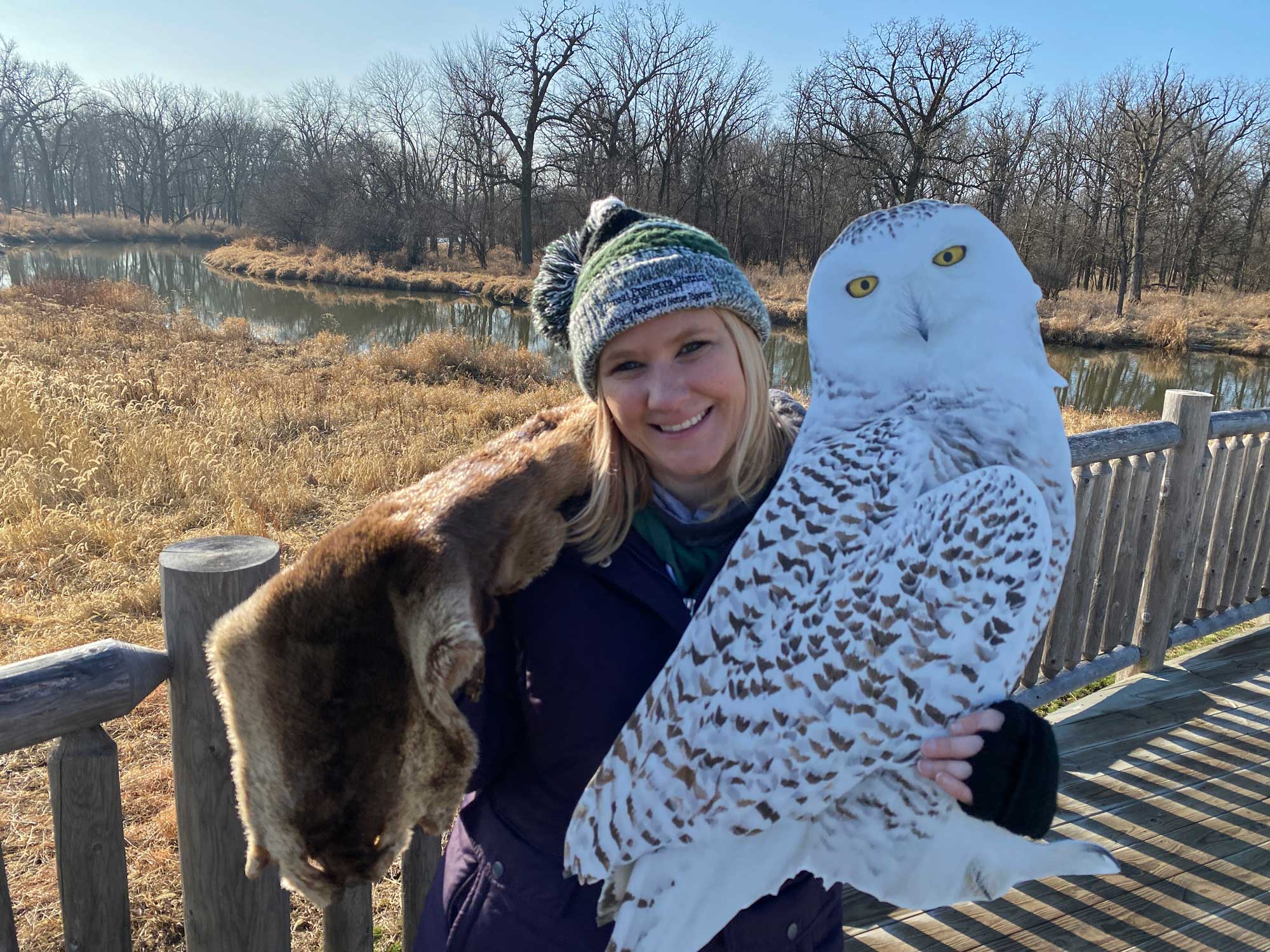 A new season of "The Buzz," the Forest Preserve District's monthly nature show, kicks off in 2023 by highlighting animal survival tactics in winter, migration patterns of snowy owls and the comeback story of river otters.
The show debuts at 8:30 p.m. Wednesday, Jan. 25, on the Forest Preserve's Facebook and YouTube pages. The show also will be televised at 9 p.m. Friday, Jan. 27, and 11 a.m. Saturday, Feb. 4, on WJYS TV, courtesy of funding from The Nature Foundation of Will County. Local cable stations also carry the show in Joliet, Naperville, New Lenox, Romeoville and Tinley Park.
From hibernation to migration
During the show's first segment, program host Suzy Lyttle, a Forest Preserve District program manager, will discuss all the ways animals have adapted to survive in winter.
"When I ask people how animals survive in winter, the number one answer I hear is, 'hibernation,''' Lyttle said. "While hibernation is one strategy, only two of our Illinois mammals go that route. Many others do a lighter version, waking up throughout the winter. Some stay active and others get out of town and migrate."
Lyttle said she also will discuss the winter coping strategies of many types of animal, including insects.
"Insects do a little bit of everything from sleeping to staying active inside a cozy hive to taking flight," she said.
Owl vacation
Lyttle will discuss one of her favorite birds, the snowy owl, during the show's second segment.
"Snowy owls migrate to our area for their winter vacations," she said. "This owl is very special to me as it is the bird that hooked me into the birding hobby. I have only seen two and it took effort to track them down."
Lyttle said she will share information on their migration patterns, appearance and behavior.
"The more you know, the better you can be prepared to go on your own search," she said.
Otter comeback
January's Buzz Bit tells the successful conservation story of the river otter.
"About 30 years ago, they were on the state endangered species list," Lyttle said. "Now, they have made a comeback and are common in every county in Illinois including our Will County waterways and the Chicago River."
River otters are playful in the water, but that play helps them learn the tools they need to survive in their semiaquatic lifestyles, Lyttle added.
"Watch this episode to learn their underwater adaptations and signs that show where an otter had dinner," she said.
View all episodes: