Sleeping raccoon wins May's portion of Preserve the Moment Photo Contest
6/2/2022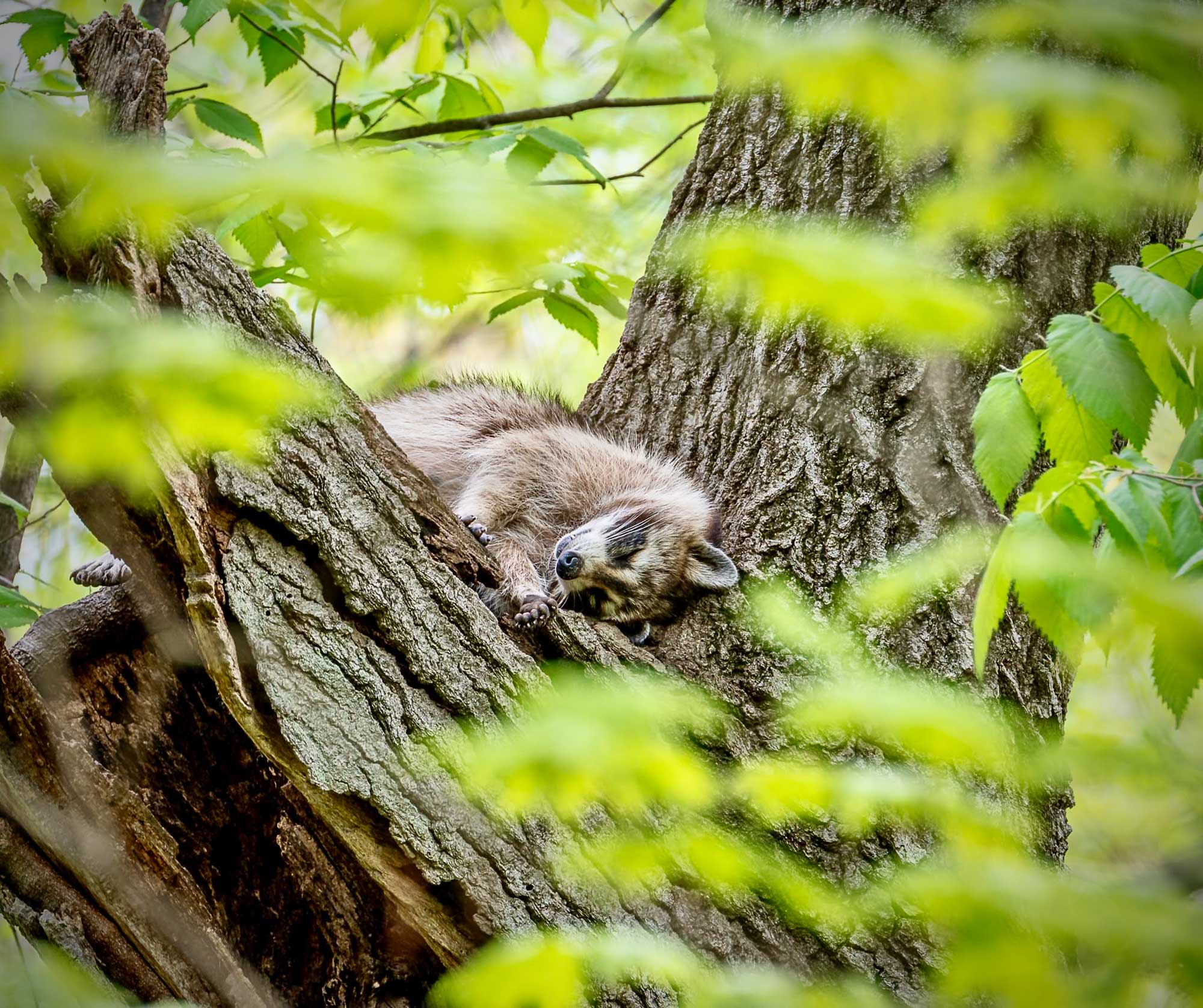 A Shorewood man's photo of a sleeping raccoon nestled in the crook of a tree won May's portion of the Forest Preserve District's Preserve the Moment Photo Contest. The photo was taken by Joe Viola of Shorewood at Hammel Woods preserve.
Forest Preserve judges narrowed the entries down to five and Viola's raccoon photo received the most votes on the District's Facebook page. Those who voted for Viola's photo said it was an amazing shot of a precious creature at rest.
Viola said he is glad that other people enjoyed his photo, and that he first spotted the raccoon, who he affectionately calls "Rocky," last fall.
"... And he was as curious about me as I was of him," he explained. "He was peeking out of a hole and that picture landed me an honorable mention in last year's contest, but over the winter he has been spotted on the road, in the field and ducking in and out of the brush regularly."
Viola said he was at Hammel Woods again this season and decided to take a look at the dead tree the raccoon was in last fall. "... And there he was, laid out above the hole, on one of the first warmer days, just snoozing the morning away. So I could not resist taking this picture."
He said he saw the raccoon again in the days that followed, but this time he was not asleep. "He was looking at me from the same spot, and much to my surprise in the hole below him was Mrs. Rocky and a baby Rocky, looking out at me too. Now I know why he sleeps outside the hole ... a guy needs some alone time every now and then."
Viola said he became interested in wildlife and nature photography during COVID "as something to do while everything was shut down." He said he spends a lot of his time in the Will County forest preserves near his home, and enjoys submitting photos to the Forest Preserve and seeing the shots that his fellow photographers take.
Honorable mentions for the four other finalist photos will go to:
Charlie Parchem of Lockport for a photo of a sandhill crane and its chick at Messenger Woods Nature Preserve in Homer Glen.
Charlie Parchem for a photo of bountiful Virginia bluebells at O'Hara Woods in Romeoville.
Frank Rink of Shorewood for a photo of a barn swallow chasing a tasty morsel in the sky at Rock Run Rookery in Joliet.
Byron Morgan of Crete for a snake slithering on a log at Goodenow Grove Nature Preserve in Crete Township.
One monthly winner will be chosen from May through December. Monthly winning photos will be chosen via Facebook voting after Forest Preserve judges narrow down each month's entries to five finalists. Monthly winners will receive $75 Visa gift cards, and every entrant receives a participation gift.
After the contest concludes on Dec. 31, all eight monthly winners will compete for overall honors and prizes via Facebook voting. Overall contest winners will receive Visa gift cards of $500 for first place, $250 for second place and $150 for third place. All prizes are funded by The Nature Foundation of Will County.
And, as always, participants must be 18 years of age or older and amateur photographers, and the photos must have been taken in the Forest Preserve District's preserves after the contest began on May 1.
To enter the contest, all you have to do is upload up to five of your best photos for consideration at the conclusion of each month. Please read all contest rules and photo upload instructions before entering the contest.
All Preserve the Moment photo entries since the contest began in 2016, including last month's entries, can be viewed on the District's Flickr account.