Sister power fuels 2023 Woods Walk quest
10/25/2023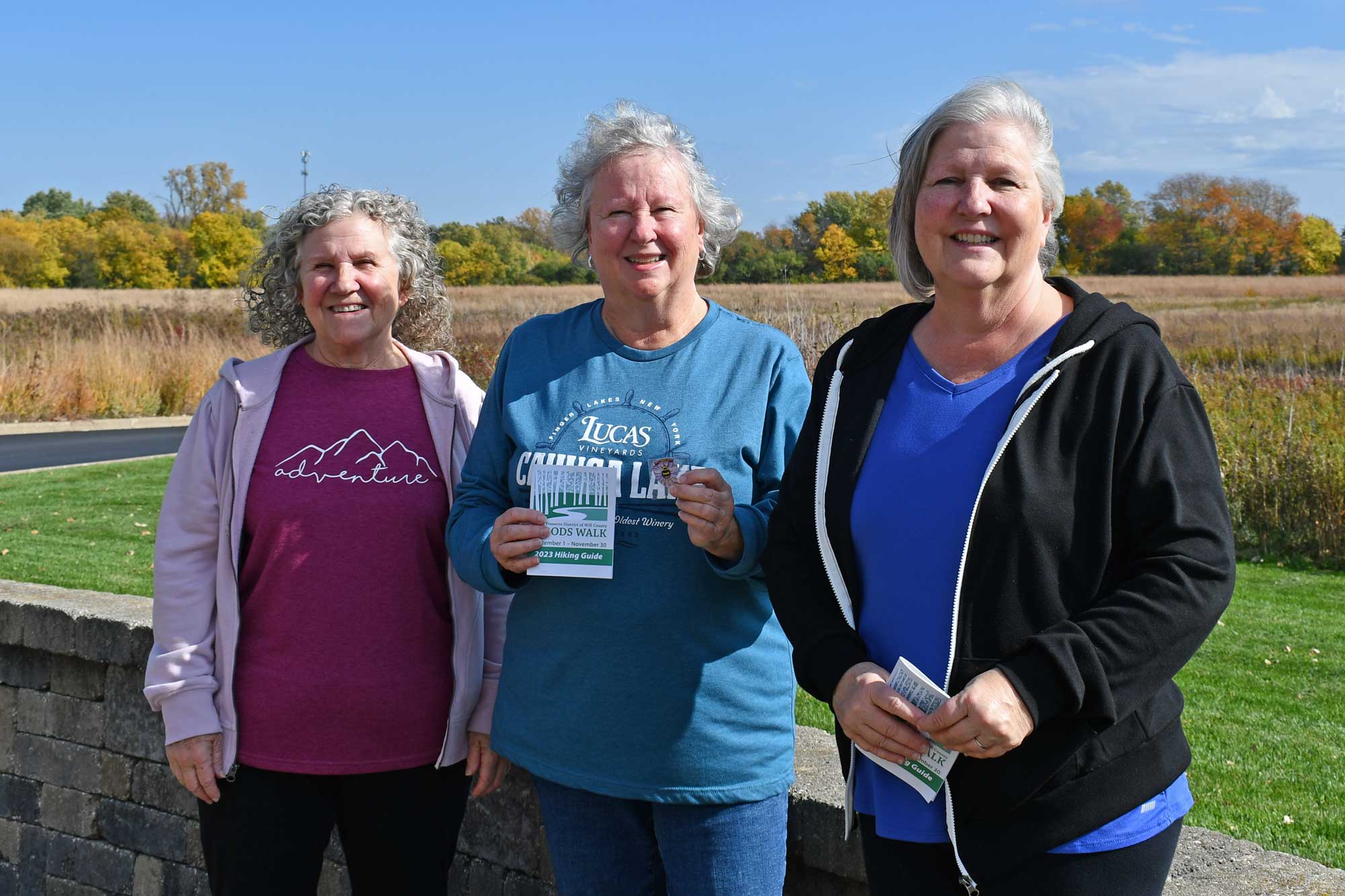 Three sisters have banded together to have triple the fun as they tackle the 2023 Woods Walk hiking challenge.
The trio stopped into Sugar Creek Administration Center on Oct. 24 to take a photo with a large Forest Preserve District wall map as an extra memento of their journey.
Mary Skerrett and Carole Gainer, both of New Lenox, and Nancy Dykstra of Evergreen Park, say their hikes together are so much more enjoyable than walking alone.
"This is our second year together," Skerrett said. "I did (Woods Walk) years ago with one of my granddaughters and she loved it. So, when I saw it come up again in the newspaper, I talked to my sisters and said, 'Let's go do it!'"
The annual Woods Walk, which began Sept. 1, features 10 hiking trails ranging in length from 1.04 miles to 5.99 miles. Participants must complete seven of the 10 trails to earn a 2023 commemorative medallion. Hikes can be logged on the free Goosechase smartphone app or recorded on a travel log in a paper booklet. Woods Walk booklets can be picked up at Forest Preserve visitor centers or downloaded online.
Exploring new trails
Skerrett, 67, said she normally walks on the same trails near her home "over and over," but Woods Walk pushes her to explore new paths.
"The challenge makes you check out new ones," she said. "The trail by Hidden Oaks Nature Center in Bolingbrook, that one was really nice, and I would have never known it existed."
Gainer, 69, said she liked going back to some of the previous trails the sisters walked last year.
"It was fun exploring the new ones and fun exploring the old ones and saying, 'Oh, we've been here before,'" she said. "I liked Centennial Trail. We weren't familiar with it."
The outings are fun, Gainer added, because they involve talking while walking.
"You're with a group and you can say, 'Oh, look over here, look at that tree, look at the grasses over there and the flowers.' It's fun to walk with someone because it's fun to share the experience."
Dykstra, 65, said the women make notes in their Woods Walk travel log booklets about the terrain they encounter. If a trail is in an open prairie, they will jot that down as a good fall hike. Or if a path is in a forest, that one would be good on a hot day.
Dykstra said her favorite path last year was at McKinley Woods and she's looking forward to walking there again during this year's Woods Walk. And she was excited to find the trail near Hidden Oaks, too.
"I have grandchildren there and I'm planning on bringing them, hopefully next weekend, when they come over," she said.
After hiking the trails, the sisters go to lunch or a movie. Their goal is to stick together and keep moving because they see friends who are getting older and having health problems.
"We are slowing down in different areas, and we have to make ourselves get moving," Gainer said. "Movement is life."
Group Hike
If you've joined the 21st installment of the Woods Walk challenge, and you want a little more company hiking the longest trail in the 2023 lineup, there will be a free Woods Walk Group Hike from 10 a.m. to noon Saturday, Nov. 18, on Centennial Trail in Romeoville. The 6-mile, out-and-back hike begins at Schneider's Passage. Register for the program by Nov. 16.
Funding for Woods Walk has been generously provided by The Nature Foundation of Will County.