'We loved them all!': Shorewood couple among the first to hike all 10 Woods Walk trails
9/21/2023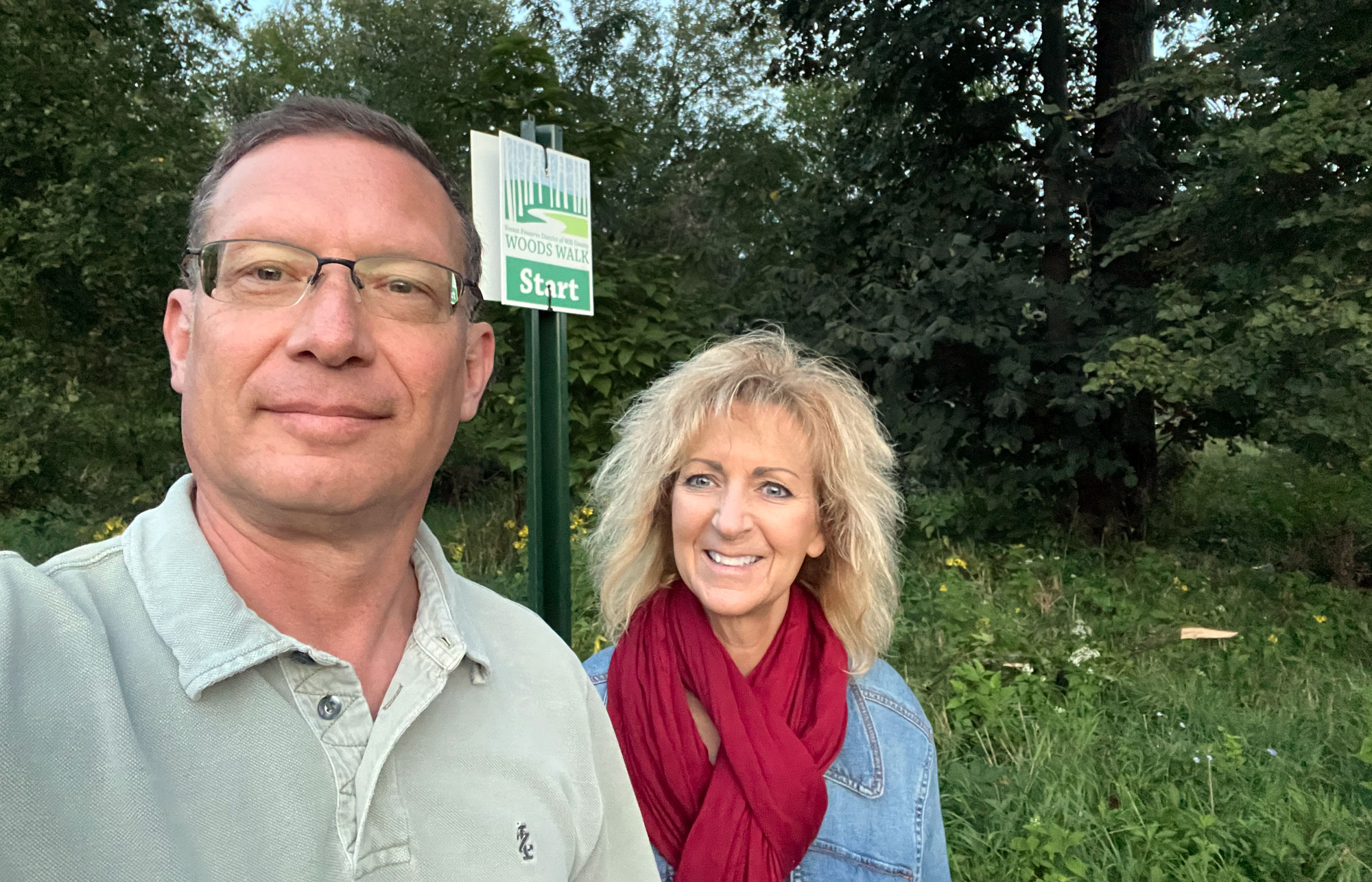 While some of us are still dusting off our gym shoes to prepare for Woods Walk hiking challenge treks, Nick and Stacey Scholtes of Shorewood have already finished all 10 trails.
They were among the first to do so, notching their 10th trail on Sept. 10, just 10 days after the 21st annual Woods Walk challenge began.
This is the first time participating in Woods Walk for the Scholteses, who also are among the leaders in the Forest Preserve's yearlong Take It Outside Challenge. But it probably won't be their last because of how much they enjoyed walking all 10 Woods Walk paths.
"We loved them all!" Nick said in an email. "It was a great time of year to enjoy the trails, the weather was great, the flowers and trees looked great, wildlife was everywhere, it was awesome!"
Woods Walk was the perfect addition to their daily pattern, he added.
"We like to go for a walk every day, and it's great to have a reason to go to different trails and visit different preserves."
Of all the trails chosen for this year's Woods Walk, the path at McKinley Woods – Frederick's Grove was their favorite.
"It has beautiful surroundings, beautiful scenery, up-and-down trails, a river, and we really love walking on dirt trails in the woods," Nick said.
And as with most Forest Preserve challenges that encourage people to visit preserves they haven't explored before, the Scholteses made some fun discoveries and had some new experiences.
"We saw a beautiful moth like we had never seen before," Nick said. "We heard a pair of owls calling to each other, which is something you don't hear very often, especially during the day. We had a picnic and enjoyed the wonderful environment."
Woods Walk began Sept. 1 and runs through Nov. 30. Participants are required to hike seven of the designated 10 trails to earn a commemorative medallion. You can walk the trails in any order and you can hike them quickly or take your time, which is the beauty of Woods Walk. While some participants have already completed this year's challenge, there is plenty of time to finish before the deadline.
Woods Walk group hike on Nov. 18
If you'd like a little company as you walk the longest of the 10 trails chosen for 2023, feel free to sign up for a Woods Walk Group Hike on Saturday, Nov. 18, at Centennial Trail – Schneider's Passage. Participants will team up to walk the 6-mile, out-and-back route. Make sure you register for the hike by Nov. 16.
Don't forget to record your hikes as you go. New this year is the ability to track and log walks easily and conveniently using the Goosechase app. Get the app on your smartphone, then search for the Will County Woods Walk Challenge. If you use the app, remember to check in at the designated spot for each trail to mark it completed in Goosechase. Once you've walked seven of 10 trails, you will receive an email asking for a mailing address so your medallion can be sent to you.
You can also track your progress in the travel log in the Woods Walk booklet and submit it by Sunday, Dec. 31, by turning it in at a visitor center or mailing it to the Sugar Creek Administration Center to receive your medallion. Woods Walk booklets can be picked up at one of five Forest Preserve visitor centers: Four Rivers Environmental Education Center in Channahon, Hidden Oaks Nature Center in Bolingbrook, Isle a la Cache Museum in Romeoville, Plum Creek Nature Center in Crete Township and Sugar Creek Administration Center in Joliet.
For a list of the 2023 Woods Walk trails, visit the Woods Walk page.
Funding for Woods Walk has been generously provided by The Nature Foundation of Will County.