September 'Buzz' spans iconic bridges and farmstead lore
9/23/2022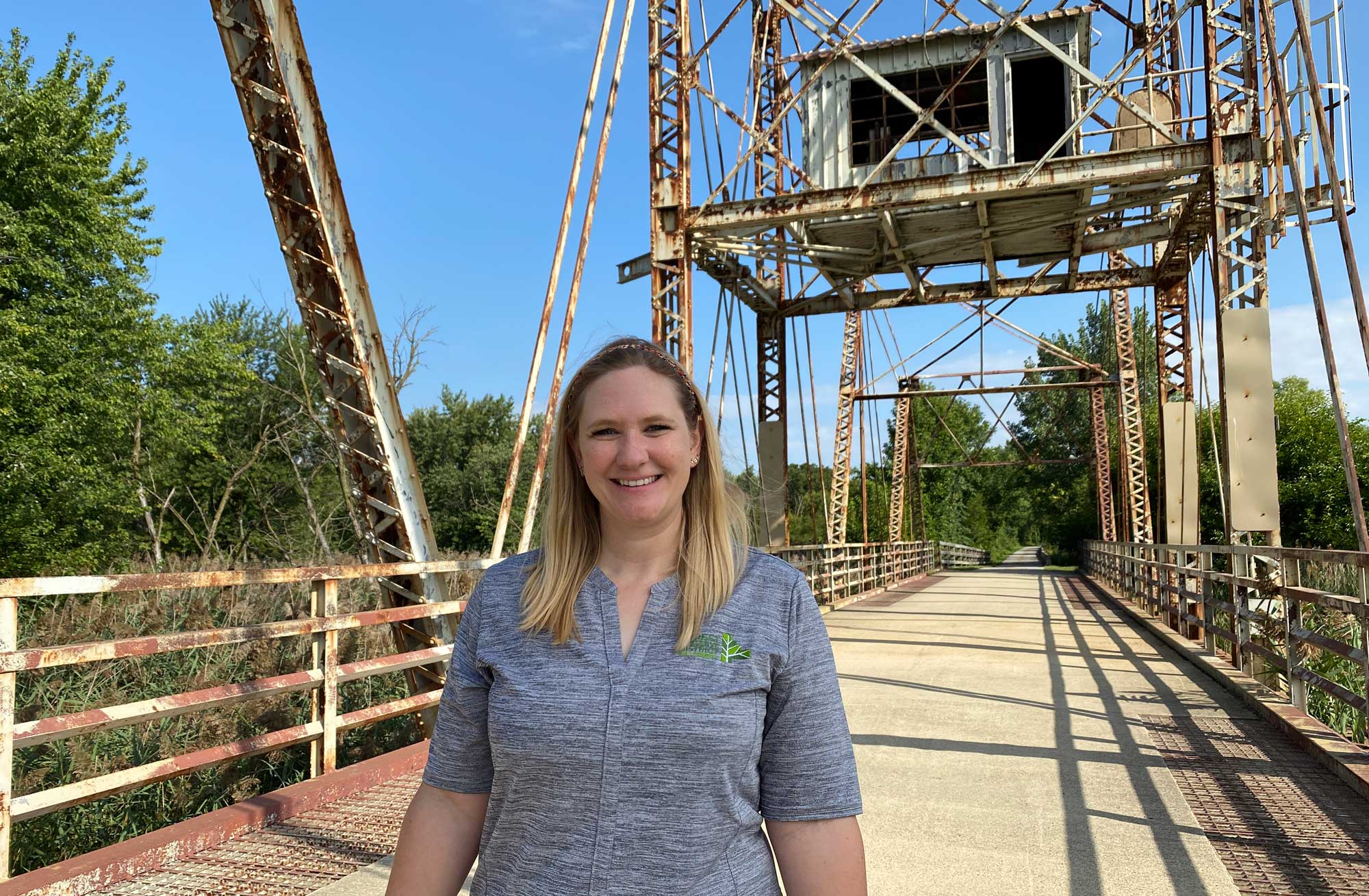 September's episode of "The Buzz," the Forest Preserve's monthly nature show, takes a trip back in time to explore the District's iconic bridges and its only farmstead preserve.
The show will debut at 8:30 p.m. Wednesday, Sept. 28, on the District's Facebook and YouTube pages. The show also can be viewed at 9 p.m. Friday, Sept. 30, on WJYS TV, courtesy of funding from The Nature Foundation of Will County. Additionally, local cable stations carry the show in Joliet, Naperville, New Lenox, Romeoville and Tinley Park.
A trio of bridges
Program host Suzy Lyttle, who also is a Forest Preserve program coordinator, will lead viewers to three of the District's biggest trail bridges: Centennial Trail's swing bridge, the Wauponsee Glacial Trail's bridge over the Kankakee River and the Plum Creek Greenway Trail's big bridge, which spans a 40-foot ravine.
"Centennial Trail Bridge is the last swing bridge of its kind in Illinois. We were lucky to have this piece of engineering history moved to the Centennial Trail at 135th Street to be used by bikers and hikers," Lyttle said.
She said the Wauponsee Glacial Trail is a perfect example of the rails-to-trails conversions in Will County.
"This bridge was built for the railroad," she said. "But now that the rail line has been converted into a path, it's the perfect spot to take in the views of the Kankakee River."
Goodenow Grove's wooden bridge is always a highlight of a hike at Goodenow Grove Nature Preserve.
"We meet up with one of our operations supervisors, who recalls when it was built and shares some personal stories of why this bridge is one to remember," Lyttle said.
Farmstead fun
The show's second segment highlights Riverview Farmstead Preserve in Naperville. Interpretive naturalist Amy Haller will take "Buzz" viewers inside the site's 19th-century buildings. The farmstead was built by the Clows, one of the first families to settle in Wheatland Township.
"Way back in Season 1 we featured the limestone house and focused more on how it was built," Lyttle said. "Now we take it a step farther inside to see the areas that aren't even shown on the tours. I thought it was special to see Amy point out details in each building. Her descriptions take us back in time to show how innovative the Clow family was for their time."
And if you'd like to learn more about Riverview Farmstead Preserve, check out the Farmstead Frolic program scheduled for 11 a.m. to 3 p.m. Saturday, Oct. 1, at the preserve. The event will feature old-fashioned fun, including a petting zoo, live music, tours of the farmstead's limestone house and barns, a farm chore challenge, games, crafts and more.
View all episodes: