November's 'Buzz' episode soars with the sandhills, dives deep into electrofishing
11/17/2021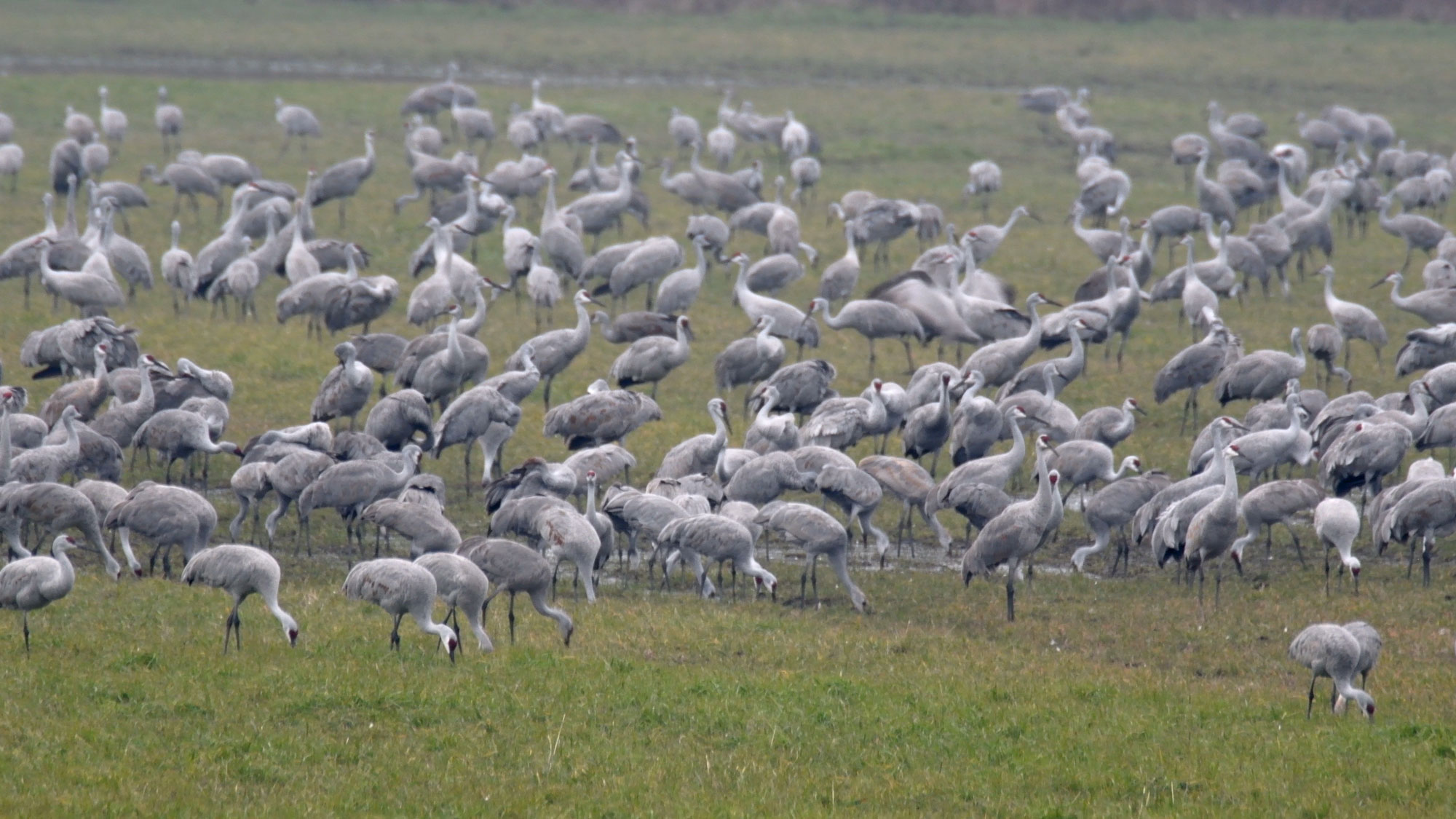 November's episode of "The Buzz," the Forest Preserve's monthly nature show, soars with sandhill cranes, takes a deep dive into electrofishing and offers some wild turkey tidbits.
The show will air at 8:30 p.m. Wednesday, November 24, on the District's Facebook and YouTube pages.
"This month is very exciting," said program host Suzy Lyttle, a Forest Preserve program coordinator. "We are taking a road trip following sandhill cranes as they migrate through our area."
"Buzz" viewers will see all the action at Jasper-Pulaski Fish & Wildlife Area in Medaryville, Indiana, without ever leaving home. Normally, the Forest Preserve offers a bus trip to the site each fall, but that was canceled this year due to pandemic restrictions.
"So, the 'Buzz' team thought what a great time to make this experience virtual," Lyttle said. "It is a little over an hour away from Will County and serves as a resting place for the cranes to stop, refuel and socialize before heading to wintering grounds as far south as Florida."
The "Buzz" crew lucked out, and Lyttle said thousands of cranes were on hand at the Jasper-Pulaski site during filming.
"The experience of hearing them call and seeing them fly in all around you is enough to give you goosebumps," Lyttle said. "There is just something about these ancient birds that will even make a non-birder look twice."
Shock and roll
In the show's second segment, viewers will learn all about the Forest Preserve's partnership with the Illinois Department of Natural Resources to monitor the health and variety of fish species in the District's lakes. The technique used to observe the fish is called electrofishing.
"We were lucky to tag along while IDNR surveyed Monee Reservoir," Lyttle said. "This is a unique look at how biologists figure out what lives below the water."
The fish are stunned briefly by a light electrical current in the water, and then they're scooped out of the lake and assessed before being rolled back into the water.
"This does not harm the fish, but gives us a chance to ID, measure and weigh a sample of the fish," Lyttle said. "It's really great that we can share this fishing lake management tool with the public who may never have been able to witness it before."
Turkey morsels
Finally, "The Buzz" includes a Buzz Bit on November's most popular bird, the turkey.
"Many people are surprised to learn that we have wild turkeys in our preserves," Lyttle said. "The Buzz Bit will give you some quick, fun facts perfect to share at your Thanksgiving dinner!"
If you miss Wednesday's showing of the award-winning "Buzz," you can watch November's episode, and every episode since the show debuted in July 2020, on the District's Facebook and YouTube pages. "The Buzz" also airs on cable stations in Joliet, Naperville, New Lenox, Romeoville and Tinley Park.