Woods Walk challenge is a family adventure to see things 'we haven't experienced before'
11/22/2022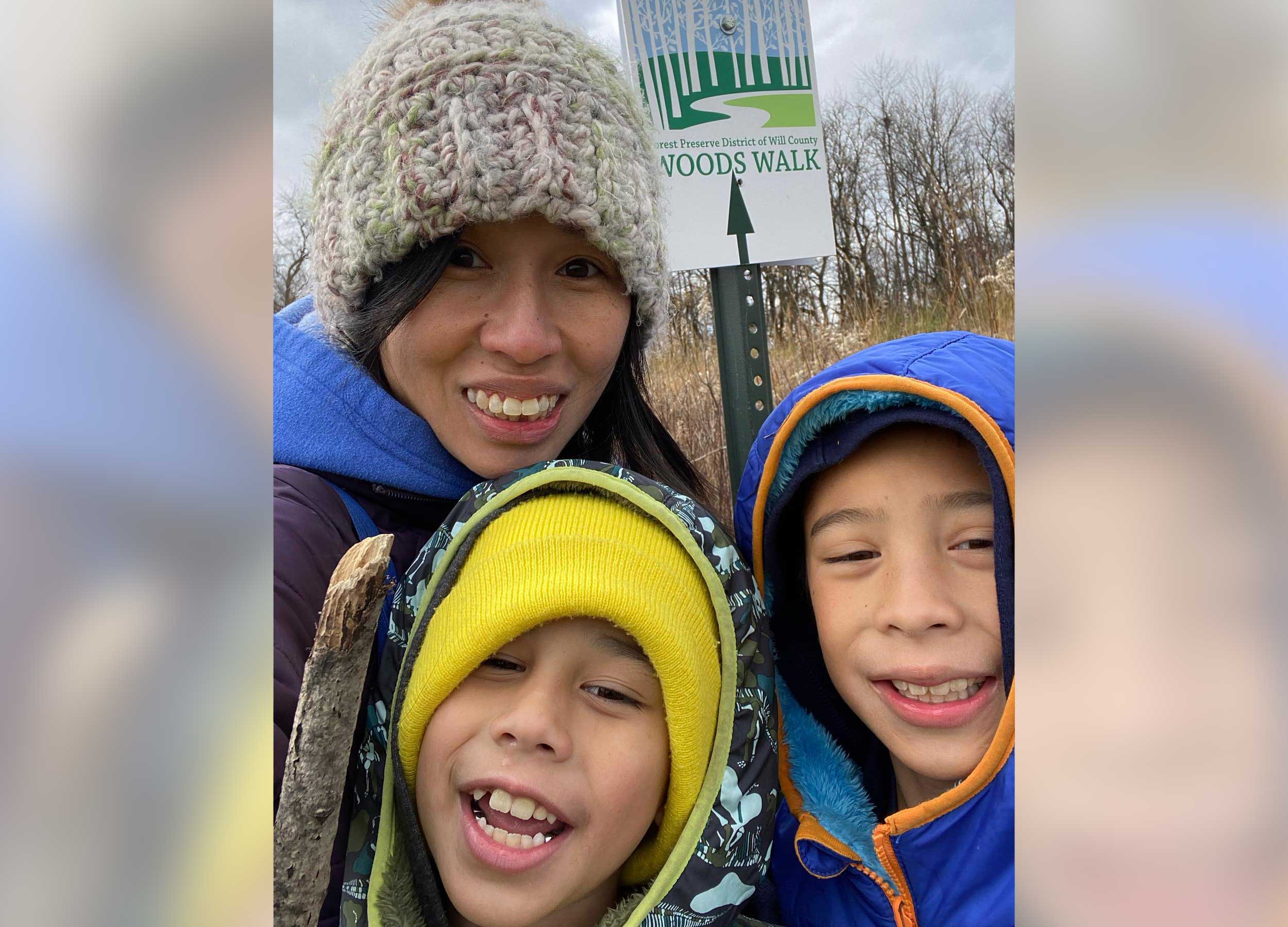 Ruth Hong of Romeoville and her two sons were late to begin the Woods Walk challenge this season, but the hikes they've tackled have already provided some lasting memories.
"When we are on the Woods Walk we do a bit of a scavenger hunt for items that we haven't experienced before," said Hong, who walks with her boys, Odie, 8, and Eli, 6.
"For example, the boys have never seen a horseshoe print before on the trails we've encountered. And we found one at the Wauponsee Glacial Trail and also saw two hawks. On the Hammel Woods nature trail we found leaves of the sycamore tree which look like they're almost white when they fall."
Hong said via email that her sons love to pick up branches and pretend they're walking sticks as they hike and they love being in nature. The Hongs learned about the Woods Walk program from staff at Isle a la Cache Museum, which the family loves to visit.
Woods Walk participants have until Wednesday, Nov. 30, to walk seven of the 10 designated trails for the 2022 hiking challenge. Those who accomplish this feat will get a commemorative medallion.
Hong said she hopes to hike at least two more trails on her sons' Thanksgiving break before the program concludes.
"We don't know if we'll be able to get to seven to get the commemorative medallion but look forward to getting back on the trails to see what other unique things we can find," Hong said. "Our wish is to find a puffball mushroom at least once!"
Program participants record hikes in a travel log, which must be submitted by Dec. 31 to be eligible to receive the medallion.
Also, for those who love the challenge or are curious about it, a Woods Walk Celebration program is scheduled for 9-11 a.m. Saturday, Dec. 3, at Hickory Creek Preserve – Hickory Creek Junction in Frankfort Township. All are welcome, whether they've hiked all 10 trails, just a few or none at all. Registration is not required.
And if you completed the Woods Walk challenge and are looking for more hiking opportunities, check out the Event Calendar, which lists numerous hikes scheduled for the winter months including a Hoot Hike and Craft, Morning Bird Hike programs, a Winter Hike and Craft, a Soup-er Chili: Hike to Whalon Lake program, a Wander and Wonder Hike and more.