Rare bird alert: White-faced ibis spotted at Whalon Lake
8/30/2021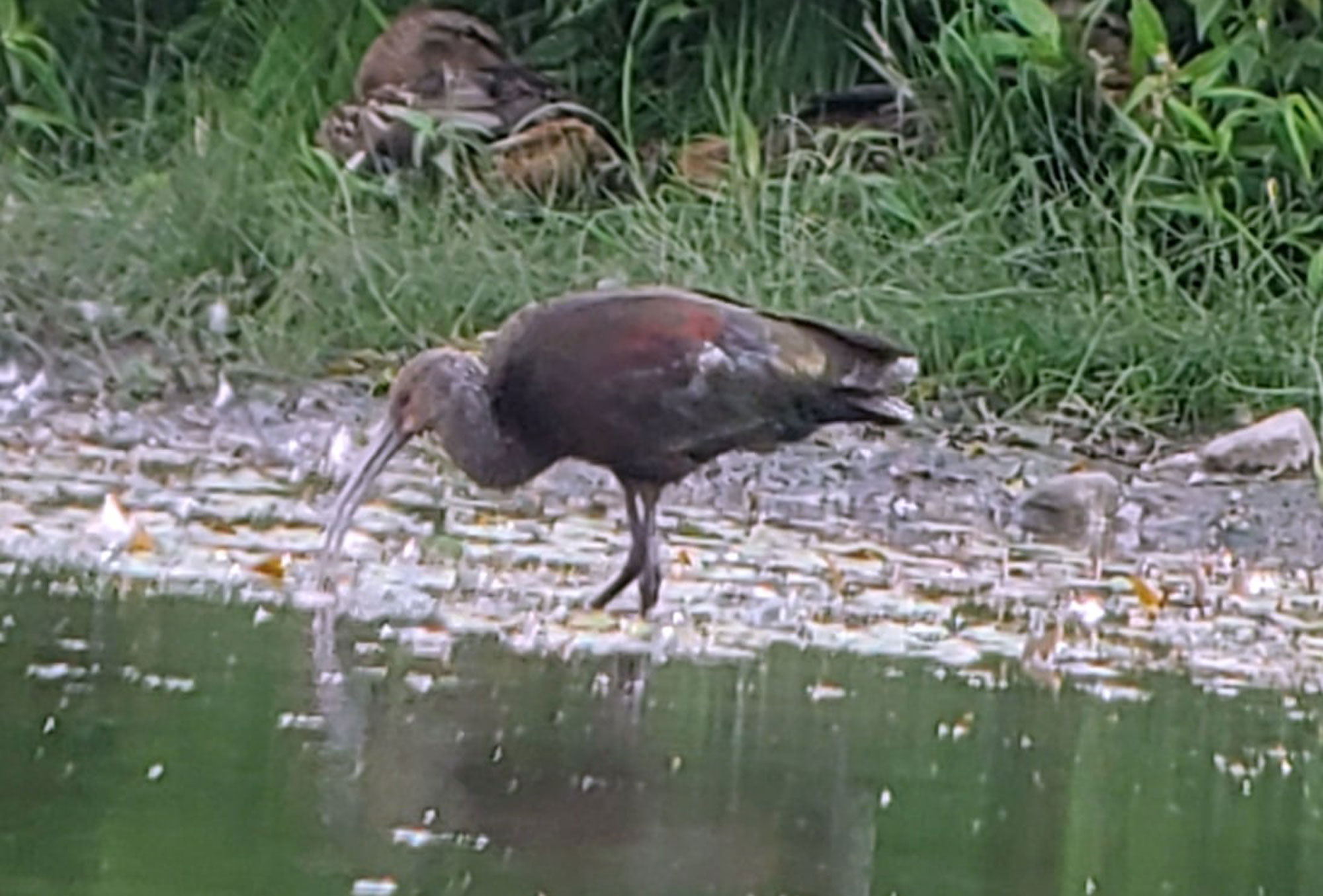 Visitors to Whalon Lake over the weekend were treated to a rare sight: a white-faced ibis.
The ibis was reported at the preserve on Saturday and Sunday, with many birders documenting their find on eBird. The sighting was reported on the District's Will County Wildlife Facebook group. It's not the first time a white-faced ibis has been recorded in Will County, but it's far from a regular occurrence.
The birds' normal range is west of the Mississippi River. They breed in scattered spots in the West and mostly winter in Mexico, according to the Cornell Lab of Ornithology. Although spotting a white-faced ibis in Illinois is rare, seeing it in wetlands like those at Whalon Lake is not. White-faced ibises are aquatic waders, preferring wetlands, marshes and wet fields.
White-faced ibises have been spotted in Will County and the surrounding area only a handful of times in the past five years, according to eBird data. Chris Gutmann, facility supervisor at the Forest Preserve District's Four Rivers Environmental Education Center in Channahon, said the rare sighting may be a migrant bird that flew off course or the result of post-breeding dispersal.
Ibises generally are easy to identify from their long, thin, curving bills, but identification of a white-faced ibis can be challenging because of their similarity to another species, the glossy ibis, according to the National Audubon Society.
Neither the white-faced nor glossy ibis is seen in Illinois with any regularity, but both have been reported on rare occasions, according to eBird data. The key to differentiating between the two species is their faces, the Audubon Society reports. While both birds have bare skin between their eyes and their bills, white-faced ibises in breeding plumage have a band of white feathers surrounding their bright pink bare skin, and their eyes are red. The bare skin on glossy ibises is gray, and their eyes are dark colored.
The white-faced ibis that was spotted is an adult in non-breeding plumage.
Rare bird sightings in and around the preserves are always exciting, and lucky for us last year proved to be a banner year. For example:
In December, a great kiskadee was seen along Front Street near McKinley Woods — Kerry Sheridan Grove in Channahon. It was the first recorded sighting of a great kiskadee in Illinois, according to eBird.
Also in December, a western tanager was spotted spending time in Channahon, discovered by birders looking for the great kiskadee.
In November, a Eurasian wigeon was seen in the same area the great kiskadee was seen in Channahon.
In September, a yellow-crowned night heron was spotted at Whalon Lake.
In August, American avocets visited Whalon Lake.
In June, some black-bellied whistling ducks dropped in at Monee Reservoir.
When you're out and about, keep your eyes peeled. If it's a bird you've never seen before, it may be one that avid birders haven't either.