Quiet space at Four Rivers comforts those with sensory processing needs
3/7/2023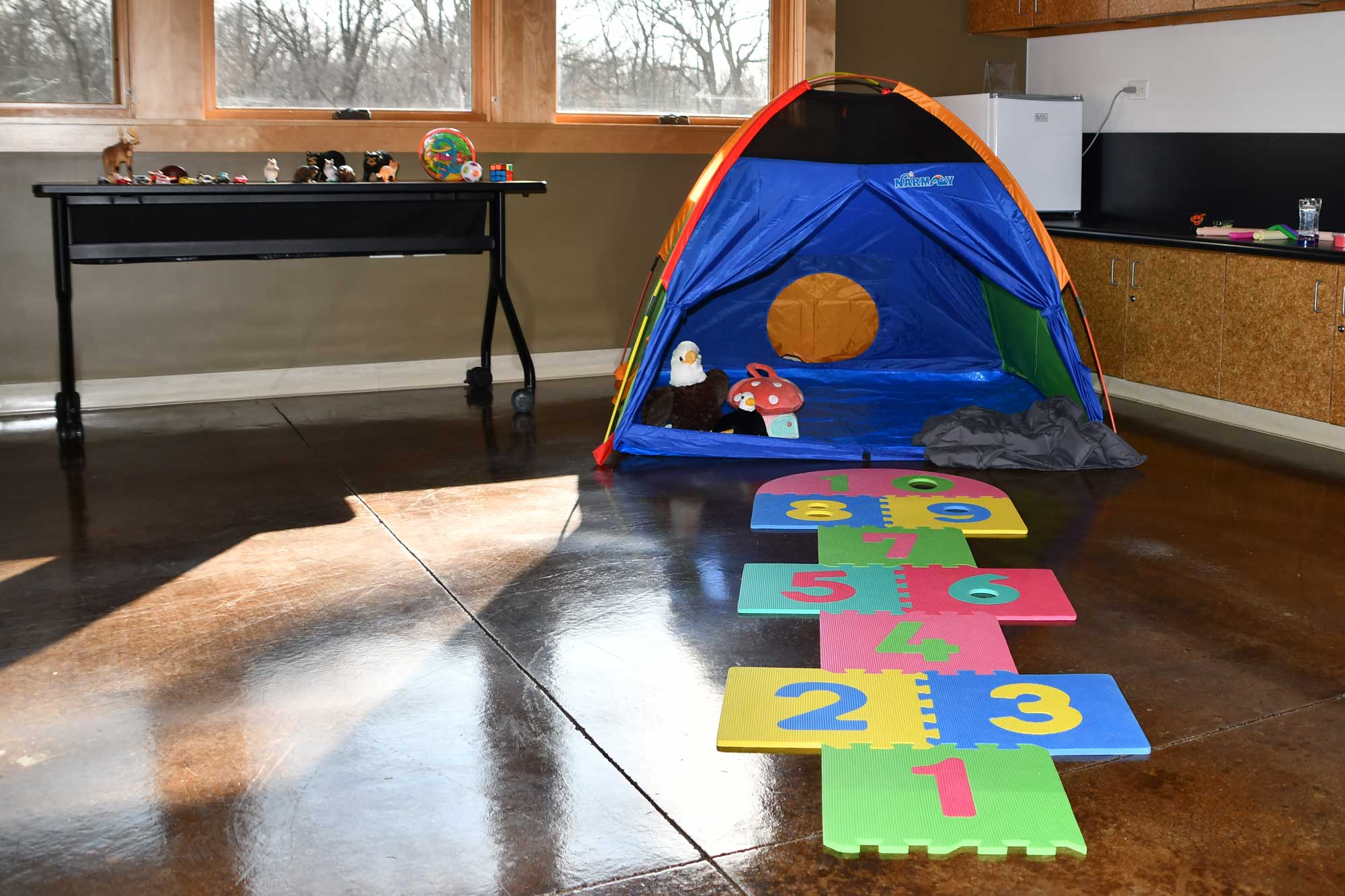 Not every child or adult can handle the stimuli they are confronted with in their daily lives.
In recognition of this fact and to fully accommodate individuals with sensory processing needs, Four Rivers Environmental Education Center in Channahon has created a quiet space inside the visitor center.
"Individuals with sensory processing challenges often benefit from having a space away from all of the stimuli," said Jerome Gabriel, facility supervisor at Four Rivers. "A quiet space is removed from the noise, crowds and traffic and it gives kids or adults a place to calm themselves."
Stocked with calming items
The quiet space is stocked with items that might comfort someone who is feeling overwhelmed during a visit or when attending larger events.
"Our quiet space includes a tent for personal isolation, fidget items, weighted blanket, soft plush animals, noise canceling headphones, and multiple tactile sensory items such as therapy putty, gel orbs and kinetic sand," Gabriel said.
The quiet space is located in a classroom with a bathroom at the farthest corner of the building, though during major events when the classroom is in use the quiet space will be moved to another area inside the building. At either location, the area allows guests to have their own personal space and isolate themselves.
Buddy bags also are available at Four Rivers near the front desk.
"The buddy bags are a kind of portable quiet space with sensory items that families can take with them to help those who may need to have a more positive experience at the facility," Gabriel explained. "They have noise-canceling headphones, fidget items and manipulatives, as well. We encourage people who need them to take a bag and walk the facility or preserve and then return the bag when done."
REGISTER FOR A SENSORY SUNDAY PROGRAM
A place to de-escalate
Offering quiet areas benefits visitors and staff alike, said Amanda Kloo, director of inclusive recreation for The National Inclusion Project.
"While the hustle and bustle of group activities and events can be exciting, it can also be overwhelming," she said. "Especially for individuals who are sensitive to different levels of sight, sound, touch and smell."
The quiet space at Four Rivers provides a safe place for those individuals, she added.
"It's located in a calm setting, and it's filled with sensory support tools to help re-center, reset and refocus," Kloo said.
And while the quiet space was created for those with sensory processing needs in mind, it can provide relief to anyone who is feeling overwhelmed, she said.
"Sometimes a lot of sensory input throws our brains, bodies, and emotions into a tailspin and we need a chance to de-escalate," Kloo said. "Everyone needs a moment to step away and just breathe every once in a while!"
Removing barriers
The quiet space at Four Rivers is part of the visitor center's goal to achieve accreditation as an inclusive facility via The National Inclusion Project. As a part of this process, signs have been added to the building showing the way to the quiet space and encouraging people to take a buddy bag if needed, no check-out required.
"The idea is that we are removing as many barriers as possible," Gabriel said. "So, if you want the quiet space, it's always available here, you don't have to come ask us. If you want a buddy bag, just take one. You don't have to go to the front desk to ask permission to take it."
The work on inclusion will continue, Gabriel said.
"We are finding ways to make sure everyone can come to our facility to learn, engage and experience nature and feel like they belong in these spaces. We want you to come here, we want you to experience it, we want you to be welcome."