October 'Buzz' moseys into migration and wanders through Thorn Creek Woods
10/21/2022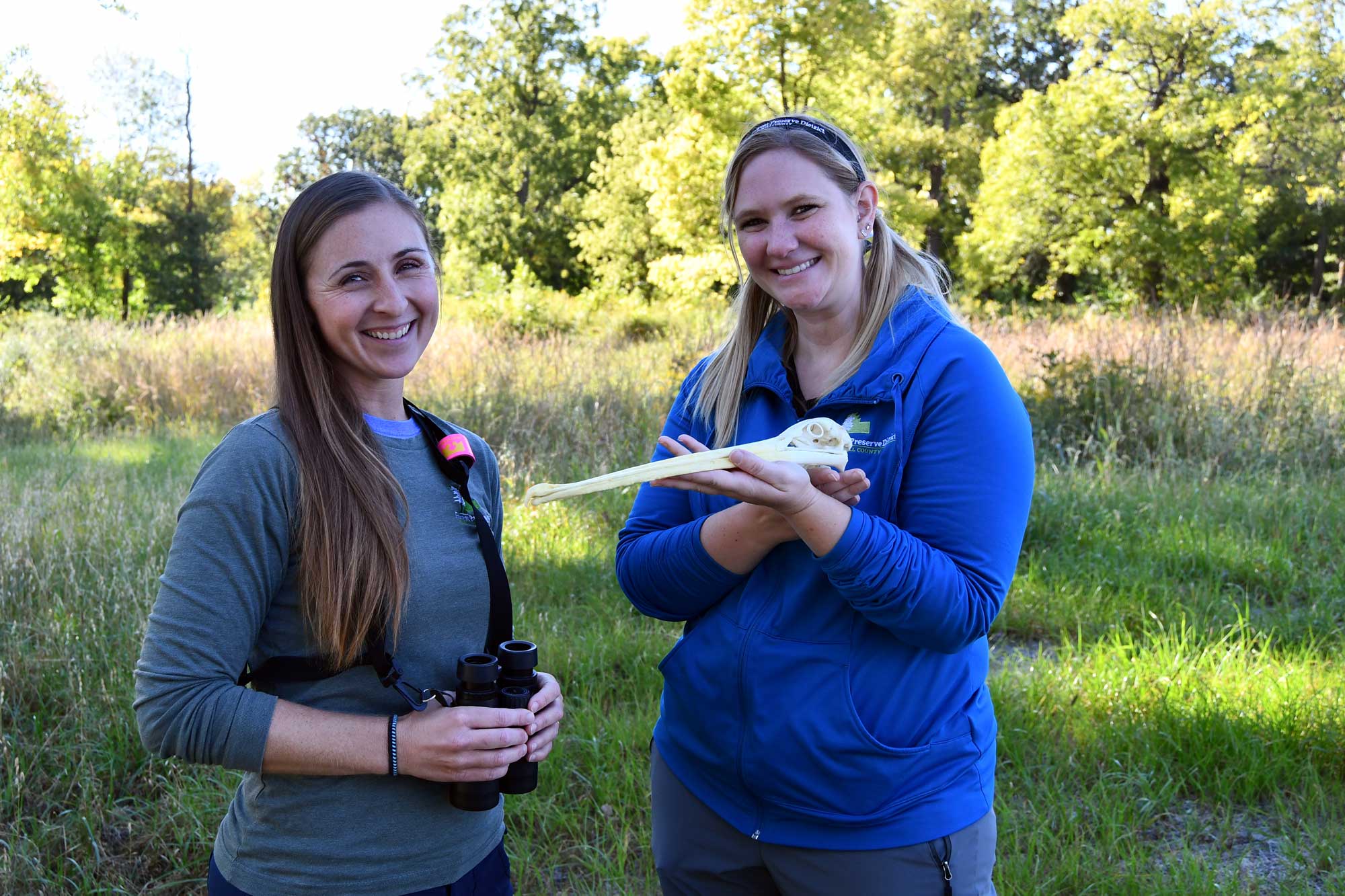 Watch "The Buzz" this month to learn which birds are winging their way through Will County at this time of year as they head south for the winter and to find out more about Thorn Creek Woods Nature Preserve's interesting history and habitat.
The program debuts at 8:30 p.m. Wednesday, Oct. 26, on the Forest Preserve's Facebook and YouTube pages and at 9 p.m. Friday, Oct. 28, on WJYS TV, courtesy of funding from The Nature Foundation of Will County. Local cable stations also carry the show in Joliet, Naperville, New Lenox, Romeoville and Tinley Park.
"The Buzz" host Suzy Lyttle, a Forest Preserve program manager, will interview Jess McQuown, a Forest Preserve interpretive naturalist, about fall migration.
"We will talk about the American white pelicans that hang out in our preserves at this time of year, of course, but there are so many other birds passing through, such as sandhill cranes, warblers, loons and many more," said Chad Merda, the Forest Preserve's digital communications manager who oversees "The Buzz" production. "We also give some tips for birders who are just getting started, and we hope this program segment serves as inspiration for people to get outside and really look and listen to see some birds they may not have noticed before."
View all episodes:
SUBSCRIBE TO OUR YOUTUBE CHANNEL
At Thorn Creek Woods, Lyttle will chat with Forest Preserve staffers Andrew Hawkins, director of conservation, and Judith Wallace, a natural resource management crew leader.
"During this segment of the show, we take a closer look at how and why this sprawling piece of open space was saved from development and then tour the site with Judith," Merda said.
Wallace spent a lot of time at Thorn Creek, both personally and professionally, and she will take "The Buzz" viewers to her favorite spots and point out some interesting plants she's found while performing plant monitoring.
"Thorn Creek can be a bit of a drive for those on the western side of the county but hiking through here is a great escape because within a few minutes of embarking on the trail, the sights and sounds make you feel like you're in the middle of a sprawling state park in the middle of nowhere," Merda said.