Take It Outside while sporting our new merch
5/15/2023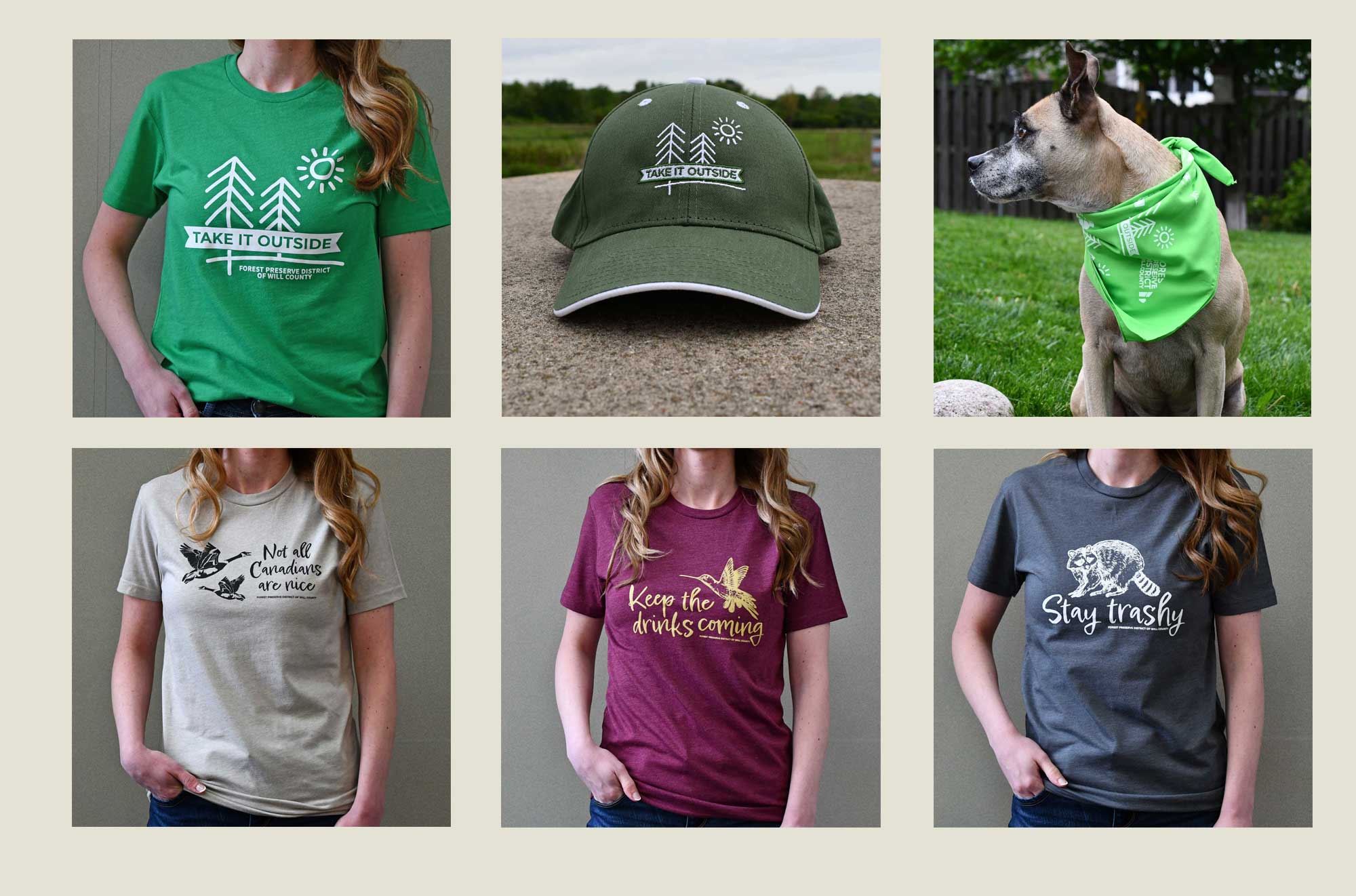 Nature enthusiasts, outdoor weekend warriors and Take It Outside Challenge participants can express their wild side with a line of fun, nature-themed products now available through the Forest Preserve District's new online store.
Inspired by the District's popular Take It Outside Challenge, which encourages spending time in nature, the store launched Monday, May 15. Merchandise includes T-shirts with attitude, caps and magnets with a unique nature flare and even a dog bandana that's just dog-gone stylish.
"The interest in creating an online store first began when challenge participants found out we were offering a Take It Outside T-shirt as part of a prize pack we give away monthly to a few lucky winners," explained Laura Kiran, the Forest Preserve's director of Marketing and Communications. "Once word of that got out, the requests starting coming in asking if they could buy one. So, of course, once the store became a reality the first item we included was the sought-after Take It Outside tee. From there, ideas for other items just started to grow."
Not only are all items exclusive to the Forest Preserve, but all proceeds from the sales support The Nature Foundation of Will County, which helps fund a variety of initiatives for the Forest Preserve District. In 2022, the Foundation provided $425,000 to support a number projects, including "The Buzz" nature show, the Willy's Wilderness website, Woods Walk, special exhibitions, construction of the All-Persons Trail at Four Rivers Environmental Education Center and improvements across the District.
"We hope people will like the items we've selected," Kiran said. "Each one is truly unique, fun to wear, and they make great gifts for other nature lovers you may know."
Orders purchased from the online store will be shipped twice each week. For questions about orders that have been placed, email [email protected].
The yearlong Take It Outside Challenge began in January and to date has more than 1,000 participants, with more than 40,000 total missions completed. And don't worry if you haven't joined in yet, because the fun is far from over. New missions are posted weekly, and the challenge doesn't conclude until Dec. 31.
To participate, download the free Goosechase app on your smartphone and start completing nature-themed missions to earn points and prizes. Part of a larger Take It Outside Campaign, the challenge is sponsored by The Nature Foundation.